Russia Stocks, Bonds Slide as Putin Faces More Sanctions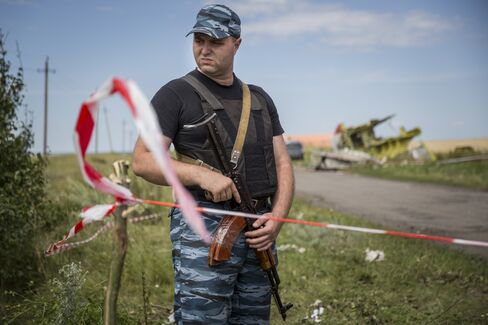 Russian stocks fell the most since the nation's incursion in Crimea, bonds slid and default risk climbed as global indignation over the downing of a Malaysian Air jet spurred speculation new sanctions will be imposed.
The Micex Index dropped 2.7 percent to 1,384.50 by the close in Moscow, the most since March 3. About $47 billion was erased from the gauge's market value last week, the most in four months, according to data compiled by Bloomberg. OAO Gazprom, the bourse's biggest weighted company, dropped 2.3 percent. The yield on ruble debt due 2027 rose 19 basis points to 9.23 percent, a more than two-month high. The cost of insuring against losses on Russia's sovereign debt rose to the highest level since May.
U.S. President Barack Obama said today "Russia will only further isolate itself from the international community" and costs will "only increase" if it doesn't get separatists in Ukraine to cooperate. Russian President Vladimir Putin said the MH17 tragedy wouldn't have happened had Ukraine not fomented the conflict. EU foreign ministers will meet in Brussels tomorrow to discuss the crisis.
"Putin will have to either drop his support for the separatists or face tough sanctions," Andrey Vashevnik, who manages $25 million as chief investment officer at R&B Investment Fund Ltd. in Moscow, said by phone. "If new sanctions are imposed, they'll probably hit the biggest Russian companies."
Fund Outflows
U.S. exchange-traded funds that invest in Russia led net outflows of capital from emerging markets last week. Russia-focused ETFs lost $28.54 million in the five days through July 18, according to data compiled by Bloomberg.
Bonds, stocks and the ruble slumped on July 17 after the U.S. leveled fresh sanctions against Russian companies. Morgan Stanley cut Russia's and Ukraine's credit to the equivalent of sell, citing the absence of any "easy" resolution to the conflict, according to an e-mailed note today.
The ruble fell 0.2 percent to 35.20 against the dollar by 7:12 p.m. in Moscow. The currency declined 2.3 percent on July 17, the biggest one-day plunge since September 2011.
Credit-default swaps climbed 15 basis points to 223 basis points, according to CMA. That compares with 166.5 basis points on July 9. A total of 9,726 CDS contracts covering a record $9.8 billion were outstanding as of July 11, according to the Depository Trust & Clearing Corp. That's up from about $5.5 billion at the start of the year.
JPMorgan Chase & Co. downgraded Russian stocks to the equivalent of sell on July 18, citing the latest round of U.S. sanctions, after having recommended buying last month.
'Major Decompression'
"Unless Mr. Putin renounces this tragedy, massive sanctions will likely be imposed on Russia," Gabriel Borenstein, a managing director at Enclave Capital LLC, a brokerage in New York, said in an e-mailed report yesterday. "The Russian economy faces a potential major decompression."
The economy may grow 0.5 percent this year, the slowest pace since a contraction in 2009, according to a Bloomberg survey.
The U.S. last week blocked OAO Rosneft, OAO Novatek, OAO Gazprombank and Vnesheconombank from accessing U.S. equity or debt markets for new financing with maturities longer than 90 days.
Rosneft lost 2.5 percent for a third day of declines and Novatek fell the same amount in its fourth day of retreat. OAO Sberbank, the nation's biggest lender, tumbled 4.6 percent to the lowest level since May 6.
'Tough' Situation
"The situation is tough," R&B's Vashevnik said. "When investors sell Russia, they exit the biggest companies."
The Micex trades at 5 times estimated earnings, making it the cheapest measure among 21 emerging markets tracked by Bloomberg. That compares with a multiple of 5.3 at the end of February, before Russia's incursion in Crimea. The dollar-denominated RTS Index fell 2.9 percent to 1,239.13 today, the lowest since May 12.
Gazprom dropped for a ninth day, the longest losing streak since January 2006.
Russia meets about 30 percent of Europe's gas needs, half of which goes through pipelines crossing Ukraine. Disputes between the two former Soviet nations disrupted supplies in 2006 and 2009. Gas flows have been normal since Russia cut supplies to Ukraine on June 16.
U.K. gas for August fell 1.7 percent to 37.45 pence a therm, according to broker data compiled by Bloomberg. The contract declined 4 percent July 18 after gaining 6.9 percent a day earlier, the most since April 7.
Most Important
"Russia is the most important supplier of gas to Europe," Dominic Schnider, Singapore-based head of commodities research at UBS AG's wealth-management unit, told Bloomberg television today. "We don't expect really the EU or the international community will go so far that we're going to see a disruption in energy supply."
Gains in crude prices driven by new sanctions on Russia will be limited because there's sufficient spare export capacity and no shortage of global supply, Nomura Holdings Inc. and Sapient Global Markets said last week. Brent crude futures rose 2 percent to $111.20 on March 3 after Ukraine mobilized its army reserves as its neighbor seized control of the Black Sea region of Crimea. Brent fell 0.1 percent to $107.10 a barrel in London today.
Before it's here, it's on the Bloomberg Terminal.
LEARN MORE