Karl Albrecht, Billionaire Co-Founder of Aldi, Dies at 94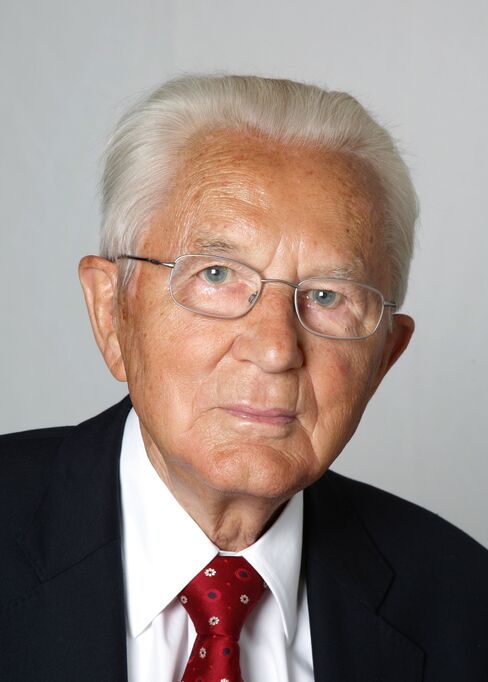 Karl Albrecht, the German businessman who became one the world's wealthiest people after co-founding the Aldi discount supermarket chain in the 1960s, has died. He was 94.
He died on July 16, Sarah Twyman, an Aldi spokeswoman at Weber Shandwick, said in an e-mailed statement. Albrecht died in Essen, Germany, and was buried in a private ceremony today, the Frankfurter Allgemeine Zeitung reported earlier.
Albrecht was the second-richest person in Germany and the 35th-wealthiest in the world, with an estimated fortune of $20.9 billion, according to the Bloomberg Billionaires Index. With his brother, Theo, he built a business that ranked as the world's 11th-biggest retailer in 2013, according to London-based research company Planet Retail.
"He had a strong belief that everyone should be able to consume high-quality food and beverages at the lowest possible prices," Twyman said in the statement. "He devoted his life to making this belief a reality.
The Albrecht brothers split the Essen-based chain into separate companies -- Aldi Sued and Aldi Nord -- in 1962, following a feud over whether to sell cigarettes in the stores. Karl didn't give interviews and withdrew entirely from public life early in his career.
Rejected Honors
''Karl Albrecht preferred to avoid public attention and rejected any honors awarded to him, always pointing toward the successes achieved by his employees,'' Twyman said.
He took up management of Aldi Sued, which has outlets in southern Germany as well as the U.S., the U.K., Australia and eastern Europe. Aldi Sued operates more than 4,860 stores, according to its website. Its 2013 revenue was about $51 billion, Planet Retail data show.
The brothers pioneered the low-cost business strategy that focused on a limited assortment of goods, pared down supply expenses, and offered a minimal level of advertising. The result was a shopping experience that lacked the refinement of brightly lit supermarket chains. In return, consumers often paid less than they would have elsewhere. The retailer's name derives from a combination of Albrecht and the German word Diskont, or discount.
''The key to success was to stick to that strategy without compromising,'' Dieter Brandes, a member of the Aldi Nord supervisory board from 1975 to 1985, said in an interview in 2012. ''It's a very simple shopping experience. The Aldi system will, for sure, work for another 10 years successfully.''
Early Years
Karl Hans Albrecht was born on Feb. 20, 1920, in Essen. His father was a miner and baker, and his mother ran a grocery store. He served in the German army during World War II and was wounded on the Russian front.
The Albrecht brothers took over their mother's store in Essen in 1946 and within seven years they developed it into a 30-outlet network of discount supermarkets that served the region. The first Aldi supermarket outside Germany opened in Austria in 1967 and the first U.S. store in 1976.
In 1971, Theo was kidnapped by amateur con men, who demanded 7 million deutsche marks from the family. Karl successfully negotiated his release before the kidnappers -- a convicted burglar and his accomplice lawyer -- were arrested. Karl stepped down as Aldi Sued chief executive officer in 1994 and as chairman in 2002.
Theo Albrecht, who also owned Trader Joe's stores in the U.S., died in July 2010 at age 88.
Karl Albrecht established the Elisen Foundation to support cultural causes, and his Oertel trust, which controlled a portion of Aldi Sued, also donates to medical research.
With his wife, Maria, he had a daughter, Beate, and a son, Karl Jr., both of whom survive him. Albrecht's hobbies included golf, raising orchids and collecting antique typewriters.
Before it's here, it's on the Bloomberg Terminal.
LEARN MORE