Boston Bomb Suspect's Friend Convicted of Obstruction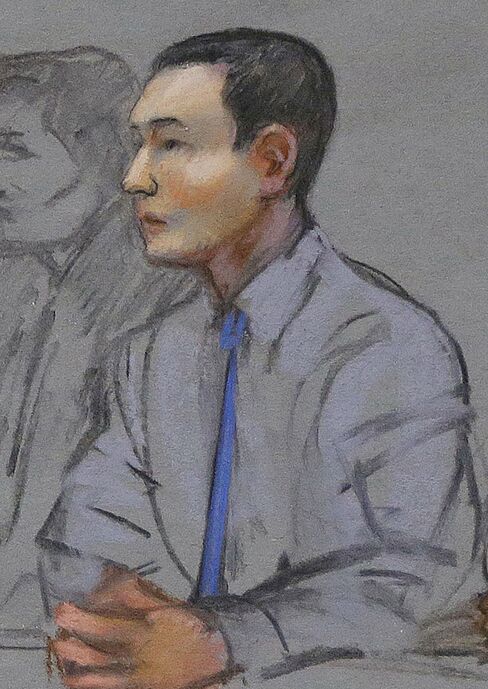 A college friend of accused Boston Marathon bomber Dzhokhar Tsarnaev was convicted of hindering a terrorism probe in the first trial stemming from the attack about three months before Tsarnaev's case goes before a jury.
A federal panel of seven men and five women in Boston today found Azamat Tazhayakov, 20, guilty of obstruction and conspiracy to obstruct justice for removing a backpack from the suspect's dorm room. The jury, after 15 hours of deliberations over three days, found Tazhayakov didn't take a laptop computer as prosecutors alleged.
"You don't have to convict on every count to have a win for law enforcement," said Michael Kendall, a former federal prosecutor in Boston who's now a defense lawyer at McDermott Will & Emery LLP and isn't involved in the case. The verdict "captured the essence of what they were trying to prosecute."
Tazhayakov faces as long as 20 years in prison when he's sentenced on Oct. 16. Two other former students who were friends with Tsarnaev and who visited his dorm with Tazhayakov are set to be tried separately -- one for obstruction and the other for lying to investigators. Tsarnaev, 20, faces a possible death penalty if a jury finds him guilty at a trial scheduled to start Nov. 3 in Boston.
Incriminating Bag
Tazhayakov was charged with conspiring to take Tsarnaev's laptop and a bag containing fireworks casings, a thumb drive and Vaseline, used in bomb construction, from the dorm in the hours after federal investigators released surveillance images of him and three days after the bombing.
His trial included six days of testimony from federal agents and Tsarnaev's former roommate, a key government witness.
Tazhayakov, wearing a dark blue suit and tie, put his head in his hands and shook his head from side to side after the verdict was read out. His mother, seated nearby, wept loudly.
Prosecutors claim Tazhayakov, who was in the U.S. on a student visa from Kazakhstan, was motivated by his friendship with Tsarnaev, a U.S. citizen originally from Russia's Dagestan region. Both men are Muslim and speak Russian.
"We are tremendously gratified by the jury's decision," U.S. Attorney Carmen Ortiz said outside court.
Tazhayakov told federal agents that he and his friend took the items and threw some of them away, prosecutors said. The backpack was later retrieved from a landfill.
Salesman Juror
Juror Daniel Antonino, a salesman from Duxbury, Massachusetts, said it was clear Tazhayakov had taken the backpack to "get rid of evidence," while the situation surrounding the laptop appeared to have mere financial motives.
"The laptop was taken, we felt, more as a valuable item -- we're taking this because it's worth $500 to $600, whatever it's worth," Antonino said outside court today. "They didn't destroy it in any way."
Tsarnaev, 20, is accused of carrying out the terrorist attack in retaliation for the U.S. military's killing of Muslim civilians. The double-bombing near the marathon's finish line on April 15, 2013, killed three people and injured 260.
Dias Kadyrbayev, Tazhayakov's housemate who is also from Kazakhstan, is charged with taking the laptop and backpack. Robel Phillipos, a U.S. citizen, is accused of lying about what he knew about the visit. None of the three men are accused of assisting in the attack or knowing about it in advance.
Tsarnaev and the three friends charged in the case all attended the University of Massachusetts at Dartmouth.
Defense lawyer Matthew Myers said after court today that he'd seek "the most lenient sentence possible" for his client.
"It's a brutal day for all of us -- somewhat of a surprising verdict," Myers said. "It's difficult to try a case in this culture. We have to respect the verdict but we'll press on with the motions we have to make."
Text Message
Four FBI agents and a Homeland Security investigator testified during the trial that Tazhayakov told them in unrecorded interviews that he and his housemate took the items after Kadyrbayev got a text message from Tsarnaev saying, "take anything you want," coupled with a smiley face.
Myers had argued that the federal agents shouldn't be believed because they hadn't taken notes during their interrogation of Tazhayakov or recorded the interview.
The defense also urged jurors not to find Tazhayakov guilty "by association" with Tsarnaev or prejudge him because he's Muslim.
Federal agents testified Tazhayakov knew months before the bombing that Tsarnaev believed radical Islamic martyrs "go to heaven with a smile on their face" and revealed to friends that he knew how to make a bomb.
Brother Killed
Tsarnaev is accused of carrying out the bombing with his brother Tamerlan, who was killed in a police shootout.
The defense called no witnesses during the trial and said agents constructed their case based on alleged statements by Kadyrbayev and purposely didn't record interviews with Tazhayakov or ask him to sign a statement.
Tazhayakov's lawyers said he was coerced into giving statements after he was restrained, kept shirtless and not allowed to use the bathroom until he signed a form waiving his rights. U.S. District Judge Douglas Woodlock rejected that argument and ruled his statements were made voluntarily.
The case is U.S. v. Kadyrbayev, 13-cr-10238, U.S. District Court, District of Massachusetts (Boston). The Tsarnaev case is U.S. v. Tsarnaev, 13-cr-10200, also in Boston federal court.
Before it's here, it's on the Bloomberg Terminal.
LEARN MORE