Spain Marks Year of Recovery in Economy Hooked on Exports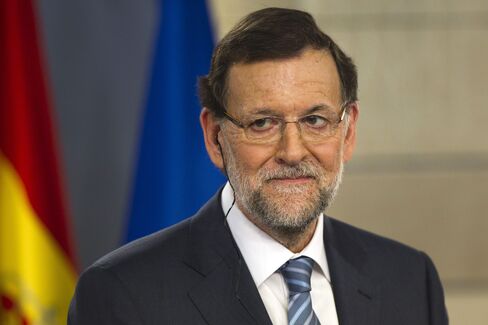 As Spain looks to enter a second year of recovery, Mariano Rajoy's repair job on the euro region's fourth-biggest economy might only be half done.
While a Bank of Spain estimate may show in coming days that it completed a full 12 months of growth in the last quarter, that report and unemployment data will also reveal how much work the prime minister has left to do to. The economy remains dependent on exports fueled by the country's adjustment during the debt crisis, with limited support from domestic demand.
With an election due next year, Rajoy can take comfort from bond yields close to record lows, a recovery that has shown some durability, and surveys revealing manufacturing growth at a seven-year high. Yet, much of the industrial rebound driving the economy hinges on declining wages and government measures aiding car sales and job hiring rather than product innovation.
"It remains to be seen whether the recovery is sustainable," Maria Yolanda Fernandez Jurado, a professor at Madrid's Pontificia Comillas University, said in a telephone interview. "Seeking competitiveness through lower labor costs will eventually backfire unless there is an effort to encourage better quality and higher technology products."
Economic Expansion
In the second quarter, Spain's economy probably expanded 0.4 percent, growing faster than the euro-region average for two straight quarters for the first time since 2007, according to two Bloomberg News surveys published last week. Official gross-domestic-product data is due to be published on July 30, though the Bank of Spain typically releases its own estimate before that and has consistently predicted the correct number.
Employment figures for the three months through June may show that net jobs increased, Social Security Deputy Minister Tomas Burgos told Spanish newswire Europa Press today, echoing previous government comments that the end of a six-year slump is kick-starting job creation, reflected by a rising number of contributors to the state-run pensions system. Still, unemployment data due on July 24 is expected to show that about a quarter of the workforce remains jobless, close to the highest level in Spain's democratic history. Together with austerity measures, that has weighed on spending as the average annual wage has declined 0.3 percent since 2010.
The fragility of the rebound prompted the government to approve a plan last month to inject 11 billion euros ($15 billion) into the economy through European, government and private funds, as well as loans to companies. The measures include 175 million euros to extend a program to prop up auto sales for a sixth time, raising the total amount to 715 million euros.
Car Incentives
"Government fiscal incentives for the automobile industry have contributed to support domestic demand since the second half of last year," said Miguel Cardoso Lecourtois, chief economist for Spain at Banco Bilbao Vizcaya Argentaria SA in Madrid. "Exports will be key going forward as the vigor of spending is likely to slow."
Overseas sales have surged since 2010, a performance Rajoy's government attributes to an improvement in Spain's competitiveness, after a 2012 overhaul of labor laws made it easier for companies to cut wages and fire workers. Record tourist inflows also bolstered the economy.
The automobile industry, which represents about 10 percent of manufacturing production and 7 percent of jobs, also benefited from those steps as carmakers such as Renault SA boosted output while renegotiating wage agreements. Car production last year rose by 11 percent after dropping to its lowest level in over 10 years in 2012. It gained another 5 percent through May.
'Tough Market'
A survey of factory purchasing managers due on Aug. 1 will signal whether the momentum in growth is holding out. May trade data suggested exports are slowing, with a 1.27 percent decline from a year ago even as they rose 0.81 percent so far this year.
The yield on Spain's 10-year benchmark bond fell three basis points to 2.57 percent at 2:53 p.m. in Madrid today, compared with a euro-era record of 7.75 percent in July 2012.
Frail domestic demand is an obstacle for those companies that have bet on innovation rather than trying to compete on prices. In Alicante, Forest Chemical Group, an industrial glue manufacturer which employs 30 people, says it goes to other European countries or Northern Africa to sell its fast-sticking concentrated paste.
"It's tough to find buyers for niche products here," said executive manager Pedro Fernandez Climent.
'Intensive Care'
In a country where construction and services contribute 73 percent of added value generated every year, the effort in research and development is among the lowest in the region, amounting to 1.3 percent of GDP compared with a European Union average of 2.1 percent. As the government focused on shrinking the EU's fourth-largest budget gap and companies on cutting costs, spending on innovation has fallen 8 percent since 2010.
"Spain is recovering lost competitiveness -- it'll take time for spending to recover," said Rafael Pampillon, an economy professor at IE Business School. "There is an improvement -- income is increasing, house purchases are rising -- but you can't expect a patient to eat a paella straight out of intensive care."