Why Big Tobacco Shrugs at a $24 Billion Verdict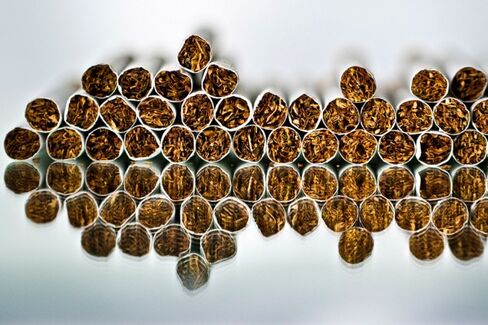 Twenty-four billion dollars—the value of the punitive award imposed late on July 19 by a Florida jury on Reynolds American—sounds like a lot of money. But it probably doesn't matter, at least not in terms of the overall future of the cigarette industry. The dollar amount won't stand up on appeal, and the consolidating cigarette industry long ago calculated the flow of individual liability verdicts into its cost of doing business.
From the larger industry perspective, the latest punitive hit is less momentous than Reynolds's announcement just days earlier of an acquisition that, if approved, would leave the company and its larger rival, Altria Group, with a 90 percent lock on the U.S. cigarette market.
The impressive-sounding punitive verdict in Florida accompanied a more modest, if still substantial, $16 million compensatory award to Cynthia Robinson. Her husband, Michael Johnson, a chain smoker, died of lung cancer in 1996 at the age of 36.
Reynolds called the award to Robinson excessive and said it would appeal. Reviewing courts routinely knock down super-size punitive awards under U.S. Supreme Court precedent requiring some reasonable relationship between actual harm, as measured by compensatory damages, and the punishment represented by punitive damages. The Associated Press provided some useful comparisons to other recent tobacco-liability results in Florida, a hotbed of this kind of litigation:
In September, the 3rd District Court of Appeals affirmed $25 million in punitive damages and $10 million in compensatory damages against Lorillard, the country's No. 3 cigarette maker, for Dorothy Alexander, whose husband died in 1996 of lung cancer. Lorillard, based in Greensboro, North Carolina, unsuccessfully argued the damages were excessive and raised a number of other claims.

The 1st District Court of Appeals upheld in June 2013 a $20 million punitive damage award to another smoker's widow, more than a year after reversing a $40.8 million award in the same case against Reynolds. After the appeals court rejected the first award as excessive, the award amount was recalculated.
The other Florida cases offer a more realistic sense of where the Robinson award is likely to end up.
Antitobacco activists praised the Robinson case as a reminder of the tobacco industry's well-established history of obfuscating the health risks related to their products. "Wall Street analysts like to say the industry's liability risk is manageable. What this verdict shows is the tobacco industry's risk is far greater than Wall Street analysts would lead investors believe," says Vince Willmore, spokesman for the Campaign for Tobacco-Free Kids.
It's true that in June, the U.S. Supreme Court declined to hear cigarette manufacturers' appeals of more than $70 million in court judgments awarded to Florida smokers. Still, the Wall Street analysts seem to have a handle on the hard, cold financial realities of this situation. With some $90 billion in annual revenue, the cigarette industry can afford to pay multimillion-dollar awards, as long as verdicts are stretched out over time. Legal developments in Florida have created incentives for smokers and their relatives to sue in that state, but even there, the universe of potential cases is finite.
Meanwhile, Reynolds, the No. 2 manufacturer, agreed this month to buy Lorillard, the No. 3 competitor, for $25 billion. The savvy financial engineers behind that deal clearly see at least a short- and medium-term future of profitability in cigarettes, even as smoking rates gradually erode and juries in some pro-plaintiff jurisdictions continue to punish tobacco companies for a legacy of deceit.
Before it's here, it's on the Bloomberg Terminal.
LEARN MORE