Odebrecht, Founder of Biggest Latin America Builder, Dies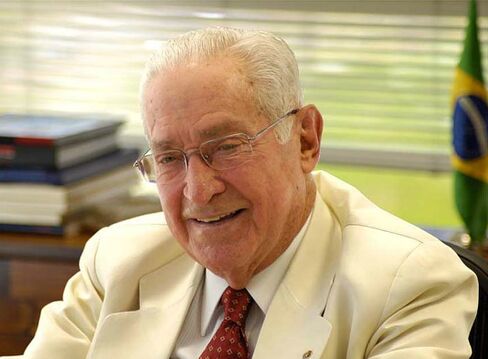 July 20 (Bloomberg) -- Norberto Odebrecht, who turned a local Brazilian engineering firm into Latin America's biggest construction company, has died. He was 93.
He died yesterday in the Brazilian state of Bahia following heart complications, according to a statement posted on the website of the company he created, Odebrecht SA. His funeral is today.
Odebrecht created the company in 1944 in Bahia state, expanding it into other regions of Brazil in the 1960s by building state-owned oil company Petroleo Brasileiro SA's main office building in Rio de Janeiro, according to the website. The company expanded abroad in the 1970s.
Odebrecht's gross revenue grew 16 percent last year to 96.9 billion reais ($43.5 billion), making it the biggest closely held company in Latin America, with 175,000 employees and more than $30 billion of work in the pipeline. It is involved in dozens of projects in more than 26 nations, including highways in Angola and the expansion of Miami International Airport.
In Brazil, Odebrecht helped build and modernize stadiums for this year's World Cup soccer tournament. It is working on the world's largest dam under construction in the Amazon, floating production storage and offloading rigs for deep-water oil exploration, and in its latest foray, missiles and submarines for the military.
Born in 1920 to a family of German lineage, Norberto Odebrecht studied engineering and started out working for his father's construction business where he was in charge of transportation and warehousing.
He turned over the chairmanship of his company to his son Emilio in 1998 and focused on the Odebrecht Foundation, an educational and environmental non-profit organization. His grandson Marcelo is chief executive officer of Odebrecht SA.
To contact the reporter on this story: Randall Woods in Santiago at rwoods13@bloomberg.net
To contact the editors responsible for this story: Andre Soliani at asoliani@bloomberg.net Marie-France Han