James Garner, Star of 'Rockford Files,' 'Maverick,' Dies at 86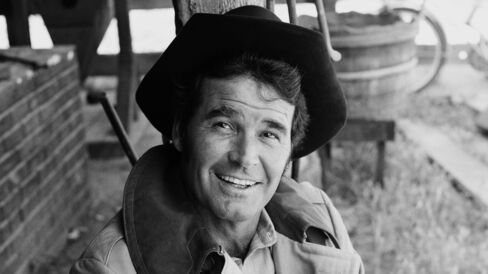 James Garner, whose folksy Oklahoma manner translated into lasting stardom on American television as an Old West gambler on "Maverick" and a private detective on "The Rockford Files," has died. He was 86.
Garner died of natural causes at his Brentwood home yesterday, Los Angeles police officer Alonzo Iniquez told the Associated Press. Officers had responded to a call around 8 p.m. local time and confirmed the actor's identity from family members, Iniquez said.
In his best-known roles, Garner portrayed winsomely human versions of the Old West con man and the determined gumshoe.
"People don't think I act; they think I just am what I am," Garner said in a 1999 interview with the Archive of American Television. "They don't know how hard I have to work to do what I do, to make it appear I'm not acting."
An unlikely star, Garner said he dreaded public speaking and never aspired to show-business fame until, at 25, he had an unplanned reunion with a friend who was a producer and agent.
"I had no ambition," Garner recalled in a 2002 interview with Charlie Rose on PBS. "I didn't want to be a star. I just wanted to do something to make a living."
He acted on stage and in movies before moving to television.
"Maverick" aired on ABC from 1957 to 1962. Garner played Bret Maverick, a likeable, horse-riding card shark who moseyed from town to town searching for poker games and trying to avoid trouble. He shared top billing, and alternated weekly starring roles, with Jack Kelly, who played Maverick's brother, Bart.
Warner Dispute
The series -- "a subversive Western with a dark sense of humor," according to the Museum of Broadcast Communications -- won an Emmy Award in 1959. Garner left the series in 1960 because of a contract dispute with Warner Bros.
The role earned him a place in the Hall of Great Western Performers at the National Cowboy & Western Heritage Museum in Oklahoma City. Garner said the key to his success was that he understood the appeal of the antihero.
"Everybody else was steely-eyed, the straight shooters," Garner said in the 1999 interview. "But Maverick, he didn't fight. He'd rather smile and laugh. He was a reluctant hero. That really gave us room to poke fun at all the others. We did that in 'Rockford' later, too, the same thing."
"The Rockford Files," which ran on NBC from 1974 to 1980, featured Garner as Jim Rockford, a falsely accused ex-convict turned Los Angeles private investigator who worked cases from his beach-side mobile home and preferred to wield his wit rather than a firearm.
'Credible Human'
Rockford stood out as "the first TV private eye -- perhaps the first literary one -- to be created as a fully credible human being, rather than simply a dogged, alienated purveyor of justice," according to the Museum of Broadcast Communications.
Garner won an Emmy in 1977. He was nominated six other times for his portrayals of Maverick and Rockford.
"The Rockford Files" had a long afterlife in syndication, and Garner appeared in movies and specials based on his Rockford and Maverick characters in the 1980s and 1990s. More recently, he played a grandfather on "8 Simple Rules for Dating My Teenage Daughter," joining the cast after its star, John Ritter, died.
The Screen Actors Guild gave Garner a lifetime achievement award in 2005.
His movies included "The Great Escape" (1963), "Victor Victoria" (1982), "My Fellow Americans" (1996), "Space Cowboys" (2000) and "The Notebook" (2004). He was nominated for an Academy Award for his role opposite Sally Field in "Murphy's Romance" (1985).
Production Company
His starring role in "Grand Prix" (1966), director John Frankenheimer's tale of an American driver on the global racing circuit, stoked Garner's lifelong love of cars and racing. It was one of two dozen movies and TV shows made by Garner's production company, Cherokee Productions.
Garner and actress Mariette Hartley made a series of popular TV commercials for Polaroid cameras beginning in 1977.
James Scott Bumgarner was born on April 7, 1928, and raised in Norman, Oklahoma, the last of three sons born to Weldon Bumgarner, who ran a country store, and the former Mildred Scott Meek. His mother died when he was 4; in his memoir, he said he later learned the cause was uremic poisoning caused by a botched abortion. He officially shortened his name to Garner several years after studio executives first did it, without his permission.
He said he was a rebellious, sports-loving kid who rarely applied himself in school. The day he turned 16, he dropped out and joined the U.S. Merchant Marine.
He worked odd jobs, including janitor and carpet-layer in Oklahoma and California, did some modeling, was wounded during 14 months in Korea with the U.S. Army and briefly studied business at the University of Oklahoma. Finally, he tried acting.
Favorite Role
Garner landed a non-speaking role in Broadway and national productions of "The Caine Mutiny Court-Martial," which starred Henry Fonda. That led to the contract with Warner Bros.
He said his favorite role was in "The Americanization of Emily" (1964), an anti-war movie adapted for the screen by Paddy Chayefsky. Garner played an American soldier in London during World War II who falls in love with his British driver (Julie Andrews) while working for a U.S. admiral intent on arranging for the Navy to suffer the first fatality during the invasion of Europe.
"We knocked war pretty good, and rightly so," Garner said.
Garner and wife Lois married in 1956. Their daughter, Greta "Gigi" Garner, became a licensed private investigator. Garner also had a stepdaughter, Kimberly, from his wife's first marriage.