Maze of Secret Gaza Tunnels Targeted by Israel Offensive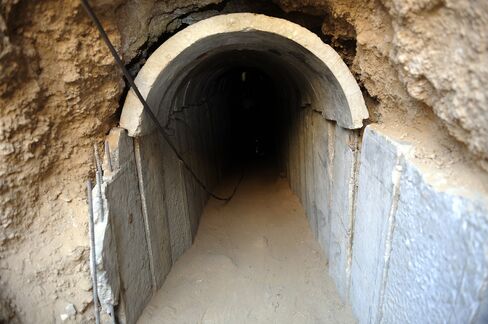 As Israeli soldiers stand guard, an excavator forces its way through the earth in an open area of the southern Gaza Strip, smashing through the concrete walls of an underground tunnel snaking its way under Israel's border.
The military is distributing video footage about tunnels it says it's discovered to press its case for the ground war Israel is waging in the Hamas-controlled territory. Its declared aim: to cripple the network of passages infiltrators built to burrow into Israel to kill or kidnap its citizens.
While the Iron Dome missile defense system has proven largely successful at intercepting rockets launched from Gaza at Israel's cites and towns, no such technology has proven similarly efficient at detecting underground passageways dug under the border. Israel sent ground troops into Gaza after air strikes failed to cripple the infiltration conduits, which militants used three times this month to slip into Israel, including today.
Demolishing those tunnels, some dug 100 feet (30 meters) deep, will be no simple task, said retired Brigadier-General Gad Shamni, former commander of the Israeli army's Gaza Division.
Locating the entrances to the tunnels will require Israeli forces to advance as much as a mile (2 kilometers) into Gaza, "up to the outskirts of the urban areas," Shamni said in a phone briefing. "Then you have to penetrate the urban areas to protect your forces looking for these tunnels."
Booby-Trapped Buildings
Israel has lost 18 soldiers in Gaza since the ground offensive began. The Palestinian death toll in two weeks of fighting has topped 500, Al Jazeera television reported today, citing Gaza Health Ministry figures. Sixty were killed in one battle in a Gaza City neighborhood, the ministry said.
Finding a tunnel's access points also means searching in buildings that may have been booby-trapped. More footage released by Israel shows combat engineers entering a home where they discover a portable radio modified into a bomb, and explosives packed into the walls.
After two days in Gaza the army said it discovered at least 46 entrances to 14 subterranean passages.
"Beneath the Gaza Strip lies an underground Gaza, an offensive tunnel network that is almost entirely hidden on the surface and as elaborate as a labyrinth," Israeli military spokesman Lieutenant-Colonel Peter Lerner said in an e-mailed statement last week.
The ground offensive, begun July 17 after nine days of air raids, was ordered a day after 13 Palestinian militants emerged from a tunnel about 250 meters (820 feet) inside Israel and headed for a kibbutz. Air fire turned them back.
Infiltrators Killed
After the ground war began, two soldiers were killed by infiltrators who tunneled into Israel and fired a rocket-propelled grenade at army jeeps. The militants were wearing stolen Israeli army uniforms and carrying sedatives and plastic handcuffs with the aim of kidnapping soldiers, the army said in a statement.
Today, the military said it detected two militant squads who slipped into Israel through tunnels. Aircraft struck one squad, and soldiers killed 10 infiltrators from the other in a gunbattle, it said in a text message.
"Because it isn't possible to deal with the tunnels only from the air, our soldiers are now doing so on the ground," Israeli Prime Minister Benjamin Netanyahu said in his announcement of the Gaza incursion.
The military wing of Hamas, the militant movement that controls Gaza, accused Israel of fabricating allegations about tunnels.
Fabrication Alleged
"The occupation's claim that it found tunnels and seized it by showing pictures is a complete lie designed to claim heroism and rehabilitate the reputation of its weak army," the Ezzedeen al-Qassam Brigades said in an e-mailed statement. "All the occupation found were underground corridors dug into a training facility that belongs to our group near the border." Israel, the U.S. and European Union consider Hamas a terrorist group.
Israel last entered Gaza in force for a three-week operation that began in December 2008. Israel has clashed with Gaza militants repeatedly since 2005, when it ended its 38-year occupation of the territory while restricting, along with Egypt, the movement of its people and goods by controlling border crossings.
Although Israel has given no deadline for concluding this Gaza incursion, Shamni estimates it will take the military about a week to destroy most of the tunnels. It's unlikely they will find them all, he said.
Dozens Built
Hamas and other militant groups have built at least several dozen infiltration tunnels, all with offshoots that go in different directions, he said. Unless the entire tunnel is destroyed, "it's relatively easy to fix," he said.
The capture of Israeli soldier Gilad Shalit in 2006 illustrates the potentially sweeping benefits these underground passages hold for militants. Armed men sneaked into Israel through a tunnel and emerged behind his border outpost, killing two soldiers and hauling him to Gaza. Shalit was released in 2011 in a prisoner exchange that freed more than 1,000 Palestinians from Israeli jails.
While systems using electromagnetic or thermal technology are partially successful in mapping underground terrain, they can be affected by environmental factors such as ground composition and water deposits, said Dan Blumberg, a professor in the geography department at Ben-Gurion University of the Negev in Beersheba and head of the school's Homeland Security Institute.
Operational Gaps
"The gap between our capability to do so in a laboratory or similarly accommodating circumstances, compared to doing so operationally in military combat conditions, is still very wide," Blumberg told Israel Radio.
Israel has also had to grapple with another network of underground tunnels militants built to smuggle weapons and civilians goods into Gaza from Egypt. Egyptian security forces have destroyed most of those passages since Islamist President Mohamed Mursi was overthrown last year, seeing them as a threat to their country's stability as well. Egypt banned Hamas activities on its soil earlier this year.
Israel's current ground offensive in Gaza is not targeting the smuggling tunnels, military spokeswoman Lieutenant Libby Weiss said by phone.
Materials Barred
Another tactic Israel has pursued against tunnels has been to restrict the entry of construction materials into Gaza. After Israel uncovered a mile-long tunnel (1.7 kilometers) into its territory last October, built with about 500 tons of concrete and cement, it barred those materials from entering Gaza for any use except specific public projects sponsored by the international community.
That move has drawn criticism from human rights groups, which say the restrictions are crippling a Gaza economy reliant on the construction industry. It also leaves thousands of Palestinians without the means to build or repair homes, including those destroyed or damaged by Israeli military operations, they say.
"Any benefit Israel sees in restricting these building materials are vastly outweighed by the harm to the civilian infrastructure, and the massive unemployment that it's causing in Gaza," said Sari Bashi, founder of Gisha, a group that advocates for freedom of movement and goods for Palestinians.
Shamni says Egypt's closing of the smuggling routes from Gaza will make it more difficult for Hamas to obtain the building materials it needs to replace destroyed tunnels. Ultimately, periodic ground incursions remain Israel's only effective military means of stopping the tunnels, the former Gaza commander said.
"I just hope that this round" will extend the interval between such operations "as long as possible," Shamni said.
Before it's here, it's on the Bloomberg Terminal.
LEARN MORE