Israeli Army Expands Ground Attack in Gaza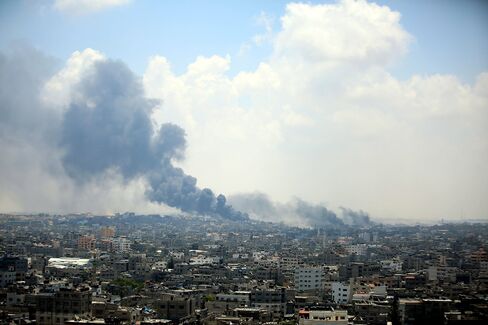 Diplomatic efforts to end two weeks of Gaza Strip violence intensified after dozens of Palestinians and 13 Israeli soldiers died in the conflict's bloodiest single day.
The Palestinian toll mounted to 514 today as fire from fighter jets and tanks claimed dozens of lives across Gaza, including nine children and adults killed in an airstrike on a house, Gaza Health Ministry official Ashraf al-Qedra told reporters. Twenty Israelis, including two civilians, have also died since Israel escalated its campaign against Gaza militants following weeks of rocket fire at its communities.
Israeli Prime Minister Benjamin Netanyahu said the offensive in Hamas-controlled Gaza "will continue until it achieves its aim: restoring quiet to the citizens of Israel for an extended time," according to an e-mail from his office. Defense Minister Moshe Ya'alon said more troops entered Gaza overnight and additional reserve soldiers may be called up, according to an e-mailed statement.
The bloodshed in Gaza is further destabilizing a region already mired in conflict from Iraq to Yemen. With death tolls mounting and Israel's ground operations escalating, the need to find a formula to stanch the Gaza bloodshed grew more urgent.
Egypt's Role
U.S. Secretary of State John Kerry is scheduled to arrive in Egypt today to prod truce efforts. United Nations Secretary-General Ban Ki-moon is already in the Mideast, conferring with regional leaders. Egypt, historically a mediator of Gaza-Israel truces, proposed a plan last week that Israel accepted and Hamas rejected.
Hamas said the proposal didn't guarantee lifting Israel's blockade on Gaza, imposed in 2007 after the group wrested control of the territory. Spokesman Fawzi Barhoum said yesterday that "when we rejected the Egyptian initiative we didn't reject the Egyptian role."
Sami Abu Zuhri, a Hamas spokesman in Gaza, said in an e-mailed statement that the diplomatic efforts to end the fighting were meant to rescue Israel. "The armed resistance won't respond to the pressures and will dictate its conditions through our superiority in the field," Abu Zuhri said.
'Serious Concern'
The number of Gazans seeking shelter from the fighting with the UN Relief and Works Agency may soon be as high as about 100,000, the agency said in an e-mailed statement. Dubai began airlifting emergency supplies to the territory on Sunday, including 45,000 mattresses and 10,000 blankets, according to the statement.
Israel's benchmark TA-25 index for stocks rose 0.5 percent at 3 p.m. in Tel Aviv. The shekel strengthened 0.2 percent to 3.4221 per dollar.
President Barack Obama, in a call with Netanyahu, "raised serious concern" about growing civilian and military casualties in Gaza, the White House said yesterday in an account of the conversastion provided to reporters.
Eighty-seven Palestinians were killed yesterday, including 60 who died in Israeli artillery and tank fire in the Shuja'iya neighborhood of Gaza City, according to Health Ministry officials.
'Doomsday'
"It was like doomsday," Hanadi al-Kabariti, 33, said by phone after she fled Shuja'iya. "There is nowhere to hide in Gaza. It's dangerous wherever you go."
The Israeli military lost 13 soldiers yesterday, more than it did in its entire three-week war in Gaza in 2009. Two of them were U.S. citizens, the State Department said.
Kerry will seek a return to a 2012 truce Egypt brokered, Obama told Netanyahu in their phone call, according to the White House. That accord held out the possibility of easing Israeli restrictions on the movement of people and goods in and out of Gaza.
Hamas has demanded an end to all restrictions in any future truce. The leader of Lebanon-based militant group Hezbollah, Hassan Nasrallah, weighed in on the conflict today for the first time, supporting Hamas's "rightful demands to end the current battle," according to an e-mailed account of his conversation with Hamas chief Khaled Mashaal.
Demilitarization Call
Israel has called for the demilitarization of Gaza and has claimed good progress in diminishing the militants' rocket capabilities and crippling a network of tunnels they built to carry out cross-border raids.
Destroying those passages is Israel's stated objective of the ground war it opened on July 17 after days of air strikes. Two militant squads infiltrated Israel today through two tunnels; one was hit by air and ground troops killed 10 gunmen from the second group, the army said.
"I hope people don't turn on the government," said Joshua Baskin, 37, a U.S. army veteran living in Israel. "I don't want people to change their minds on the ground invasion because the army has to do its job to keep citizens safe."
The "lion's share" of the tunnels will be destroyed within two to three days, Ya'alon said yesterday at a news conference with Netanyahu in Tel Aviv. It was the first time such a timetable has been given.
Today, Ya'alon said additional troops were sent in overnight to locate additional passages. "We are prepared to continue our activities as long as necessary, and if needed, we will call up more reserve soldiers until we make Gaza quiet," Ya'alon told parliament's Defense and Foreign Affairs Committee, according to an e-mailed statement from the panel.
Israel has already authorized the mobilization of 65,000 reservists.