EU Struggles to Turn Outrage Into Action After Plane Shootdown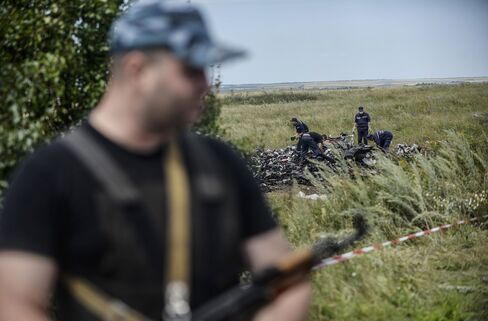 July 21 (Bloomberg) -- European leaders vented their outrage at the shooting down of a passenger jet over territory held by Ukraine's rebels and at Russian President Vladimir Putin for frustrating the investigation. Translating that anger into action is another matter.
The killing of all 298 passengers and crew of Malaysia Air MH17, desecrated bodies strewn about grain fields with rebels hampering the work of international rescue workers, and denunciations of Putin for sowing Ukraine's underlying chaos don't alter the economic links and energy dependence that make the European Union more reluctant than the U.S. to punish Russia.
While the U.S. pushes the EU to get tougher, the likely response is more incrementalism. At a meeting in Brussels tomorrow, EU Foreign ministers will consider blacklisting more Putin associates and, for the first time, Russian companies accused of profiting from Ukraine's woes. Those steps will stop short of the "sectoral" sanctions that would mean all-out economic warfare.
"So far, I don't really see any real EU initiative to move to tougher sanctions on Russia," Jan Techau, director of the Brussels office of the Carnegie Endowment, said in a phone interview. "Western leaders have to do something because the shooting down of the jet is a game changer, but it doesn't have to be sanctions."
Rosneft, Gazprombank
The U.S. has gone after companies including OAO Rosneft, Russia's largest oil producer, and OAO Gazprombank, the country's third-largest lender. Rosneft's chief executive, Igor Sechin, a Putin confidant, has come into the U.S.'s crosshairs, in an attempt to penalize the Russian power structure.
Limited trade exposure to Russia is one reason why the U.S. has gone further. American companies sell less than 1 percent of their exports to Russia, according to the U.S. Commerce Department. The figure for Europe is 6.9 percent, and the EU is the top foreign investor in Russia. With Europe needing every ounce of growth to get past the euro debt crisis, a cutoff of business with Russia could be economically damaging.
U.S. pressure on Europe mounted over the weekend. Secretary of State John Kerry said on Fox News yesterday that "we are trying to encourage our European friends to realize this is a wake-up call, and hopefully they will also join us in these tougher sanctions."
Asset Freezes
The EU has imposed asset freezes and travel bans on 72 mostly politicians and military officers for destabilizing Ukraine and engineering Russia's annexation of Crimea in March. Two state-owned companies in Crimea, now in Russia's hands, were also banned from business with the EU.
The consensus-driven 28-nation EU moves at the pace of its slowest member: sanctions require unanimity. Last week, the bloc's leaders raised the pressure on Russia, barring credits for Russian projects from the EU-owned investment bank and pledging to use the bloc's influence to get the European Bank for Reconstruction and Development to do the same.
On July 19, the EU put in place a legal mechanism that, in theory, would allow it to match the U.S. in blackballing businesspeople and companies in Russia's economic and political heartland.
EU Targets
New legal language enables the EU to cast its net wider, taking aim at people "responsible for, actively supporting or implementing, actions or policies" which undermine Ukraine or "obstruct the work of international organizations" in the war-torn country. Now, companies are also in the EU's sights, with an initial list of targets due to be announced by the end of July.
A wider list would precede, or possibly take the place of, so-called "stage three" curbs on broad swathes of economic activity between Europe and Russia. The targets are the subject of furious debate in EU circles. National governments differ over who to sanction and have been slow to provide intelligence, EU officials told reporters in Brussels on July 18.
Britain wants a new blacklist before the end of the month and is pushing for the EU to sanction the entire Russian defense industry, a U.K. official said in London yesterday on condition of anonymity. Defense is a sore point within the EU: France has repeatedly rebuffed calls to cancel the sale of two Mistral helicopter carriers to Russia.
Gas Supplier
The arguments against biting sanctions have been well rehearsed. Russia supplies about 30 percent of the EU's natural gas, with the Russian share in gas imports as high as 75 percent in an arc of countries stretching from Estonia in the north, through Austria and down to Greece. Russia is Germany's No. 4 trading partner outside the EU, after China, the U.S. and Switzerland.
A phone call yesterday among U.K. Prime Minister David Cameron, French President Francois Hollande and German Chancellor Angela Merkel, stewards of the EU's three largest economies, showed how hard it is to coordinate policy. According to Cameron's office, the three agreed that the EU "should be ready to impose further sanctions" at tomorrow's meeting; Hollande didn't go as far, saying the foreign ministers would "draw the consequences" of a failure by Putin to provide access to the crash site; while Merkel didn't mention repercussions for Russia in a statement.
"Some our European allies have been less enthusiastic and I hope that the shock of this incident will see them now more engaged, more willing to take the actions necessary to bring home to the Russians that when you do this kind of thing it has consequences," U.K. Foreign Secretary Philip Hammond said on the BBC's "The Andrew Marr Show" yesterday. He didn't identify the foot-draggers.
Sanctions weren't uppermost on the mind of the Dutch government, which lost 193 of its citizens in the crash of the Malaysian plane en route from Amsterdam to Kuala Lumpur. Its focus "is absolutely directed at securing the bodies," said Foreign Ministry spokesman Friso Wijnen.
To contact the reporter on this story: James G. Neuger in Brussels at jneuger@bloomberg.net
To contact the editors responsible for this story: Alan Crawford at acrawford6@bloomberg.net; John Fraher at jfraher@bloomberg.net Leon Mangasarian, John Fraher