European Court Advised to Overturn France's Ban on Gay Blood Donors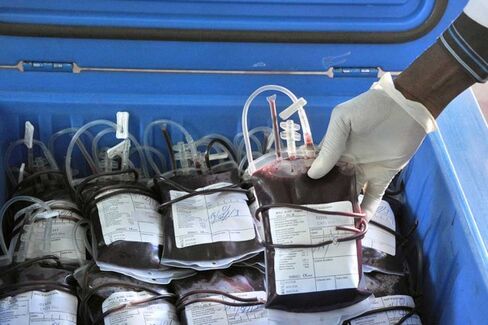 A gay Frenchman has won a small victory in his legal struggle for the right to donate blood.
In an advisory opinion, the advocate general of the European Court of Justice, Paolo Mengozzi, sided with rejected donor Geoffrey Léger and found that France's ban on blood donations from men who have had sex with men violates European Union law. Mengozzi wrote that while protecting public health is a legitimate public policy goal, permanently excluding gay and bisexual men from donating but not heterosexuals who have had unprotected sex with people with HIV is fundamentally unfair. France, he wrote, should instead assess all prospective donors' risk behaviors. The European Court of Justice is now deliberating the case.
France's policy parallels that in the U.S., where the Food and Drug Administration currently bars any man who has had sex with a man since 1977 from ever donating blood. In 2010, a Department of Health and Human Services Advisory Committee declared the ban "suboptimal" but didn't conclude it should be overturned. In 2013, the American Medical Association urged HHS to scrap the policy. HHS has said it's under review, but members of Congress have expressed concern over the pace of that process. "It's almost like racial profiling," California Democratic Congressman Mike Honda said last year. "You know, 'If you're a gay man you must therefore have diseases which makes it impossible to donate blood.'"
Last week, activists in 61 cities held a "National Gay Blood Drive" in which gay men showed up at blood drives and were turned away. (Many brought eligible proxy donors.) "Although scientific evidence has not yet demonstrated that blood donated by MSM [men who have sex with men] or a subgroup of these potential donors does not have a substantially increased rate of HIV infection compared to currently accepted donors," an FDA spokesperson said in a statement to Time, "the FDA remains willing to consider new approaches to donor screening and testing."
Before it's here, it's on the Bloomberg Terminal.
LEARN MORE