Don't-Buy-Those-Bonds Call Showing Lawsuit Risk: Brazil Credit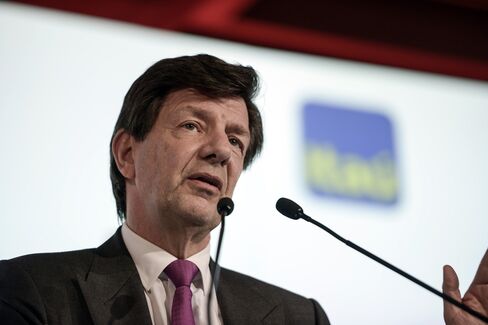 As Brazilian state-owned bank Caixa Economica Federal prepared to sell bonds this month, Marco Aurelio de Sa, the head of trading at Credit Agricole SA, told his clients to stay away.
The securities are too risky because Caixa is the lender most vulnerable to losses after a court ruling against the nation's banks in May fueled concern they may also lose related lawsuits that would put them on the hook for an estimated 341.5 billion reais ($151 billion). The costs could force the government to re-capitalize Caixa, causing the bank to exercise a clause in the bonds to write off the principal and interest.
While Caixa managed to sell $500 million of the notes this week, de Sa's warning underscores the risk investors in Brazil's bank bonds face from class-action lawsuits by depositors who lost money because of the policies the government adopted to fight hyperinflation in the 1980s and 1990s. Brasilia-based Caixa's sale follows a similar offering last month by state-controlled Banco do Brasil SA, which is also being sued. Brazil's highest court delayed ruling on the cases in May without saying when deliberations will resume.
"Caixa could have serious capitalization issues if the Supreme Court rules against the banks, and then there's a big risk the bond is written off," de Sa, a 20-year emerging-market veteran, said in an e-mail. "Even if it's a quasi-sovereign, the clauses are very clear on what could lead to a write-off. The returns aren't enough to compensate for the risk. We didn't recommend it to clients."
Caixa Offering
While riskier than a senior note, the deal is safe, according to Chief Financial Officer Marcio Percival. The price was in line with the lender's expectations, and the operation was four times subscribed, he said. Caixa sold the 10-year bonds to yield 7.25 percent July 16.
"Caixa's risk is zero, the risk of a write-off is zero," Percival said in a telephone interview from New York. "The market will need some time to understand the operation. Caixa is fully government-owned, and there is no risk it goes bankrupt."
A Banco do Brasil official, who asked not to be identified in accordance with policy, declined to comment in an e-mail on the lawsuits and their potential impact on its bonds.
Caixa's subordinated notes are expected to be rated BB+ by Fitch Ratings, two levels below the bank's investment grade of BBB. The bonds are the first tier 2 capital notes to be issued in Brazil, according to Percival.
Offering Demand
Without the write-off clause and the risk of the lawsuits, Caixa would have sold the notes to yield as little as 5.25 percent, according to Bulltick Securities LLC. Demand for the offering would have been higher even with the clause if the lawsuits didn't exist, Bulltick said.
Banco do Brasil's $2.5 billion of perpetual notes have dropped 1.66 cent to 98.34 cents on the dollar since they were issued on June 11, pushing yields up 0.09 percentage point to 9.09 percent as of 2:26 p.m. in New York.
The Brasilia-based bank's $2 billion of subordinated notes issued in 2013 have dropped 5 cents to 80.21 cents since May 21, when the country's Superior Court of Justice ruled that delinquent interest should be calculated from the time that the class-action lawsuits were filed, rather than when each plaintiff requests payment. Banks are appealing the ruling.
Seven days after the lower court ruling, Brazil's highest court postponed a decision in a separate but related case where depositors have sued the banks for lowering interest rates on savings accounts during the 1980s and 1990s, a policy the government imposed as a way to fight surging inflation.
Bank Association
The central bank has estimated a ruling against the banks in this case could cost them as much as 341.5 billion reais. Caixa's Percival said the impact of a negative ruling has been overestimated.
Lenders complied with the law that was in effect at the time and shouldn't be penalized, Brazil's bank association, Febraban, said in an e-mailed statement. Depositors also lost money at the time as the government froze bank deposits and introduced new currencies.
"We don't know when the court will rule, but when they do, you'll be depending on a decision by the government on whether to pay these bonds or not," Klaus Spielkamp, the head of fixed income at Bulltick, said in a telephone interview from Miami. "It's a good yield and a quasi-sovereign risk, but I'd rather stay away from this."
Esin Celasun, an analyst at Fitch, said that while the court ruling is hanging over the bonds, it's too soon to consider the impact it could have on the banks.
Government Support
"Caixa is fully government-owned and a systemically important bank, so we believe the government would step in before the loss absorption clauses are triggered," she said in a telephone interview from Rio de Janeiro. "It's hard to say if it could trigger the clauses."
Caixa's subordinated bonds can be used to comply with international banking rules known as Basel III. For subordinated debt to count as equity under the new rules, the bank must be able to convert the debt to shares if its capital falls below preset levels.
Some of Canada's largest bond investors are asking regulators to examine a Royal Bank of Canada debt offering, saying not enough time was given to analyze its July 11 sale of C$1 billion ($930 million) in subordinated notes that can convert to equity, The Canadian Bond Investors Association said in a letter this week to provincial securities regulators. Toronto-based Royal Bank said it met all requirements.
After the court ruling against Brazilian lenders on May 21, Itau Unibanco Holding SA Chief Executive Officer Roberto Setubal said the decision may triple or quadruple the amount banks can be held liable for in such cases.
"We can't estimate precisely what the impact of the Supreme Court decision would be," Credit Agricole's de Sa said. "But the write-off clauses are too broad. The market could re-price the bond risk as it considers what the potential impacts could be."