Plane Disaster in Ukraine Deepens Malaysia Airlines' Tragic Year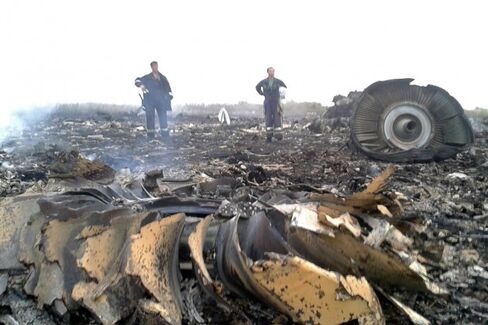 Four months after the disappearance of Malaysia Airlines Flight 370, tragedy has again struck the Southeast Asian carrier. According to the government of Ukraine, a Malaysian plane carrying 295 people crashed in the strife-torn eastern part of the country, near the border with Russia.
Malaysian Prime Minister Najib Razak has issued a statement on Twitter saying he is shocked by the crash and is launching "an immediate investigation." Defense Minister Hishammuddin Hussein, who drew criticism for his handling of the Flight 370 disaster, is back in the spotlight and reported via Twitter that he is in constant touch with the prime minister, foreign minister, and transport minister.
The disaster comes while Malaysia Airlines is still trying to recover from the damage to its business from the disappearance of Flight 370. More than 150 Chinese nationals were on board the lost plane, and anger about the way the airline and government handled the crisis has kept many Chinese tourists away from Malaysia. Malaysia Airlines suffered a 4 percent decline in traffic for May, and the company's stock price has dropped 27 percent so far this year.
Still, before Thursday's crash in Ukraine, investors had demonstrated some optimism that the worst was over for the carrier. Khazanah Nasional, the government-owned investment fund that controls Malaysia Airlines, is considering restructuring the company along with possibly delisting the stock. After speculation last month that the investment fund would look to the Middle East for a partner to step in and help save Malaysia Airlines, the company's Kuala Lumpur-listed shares soared 14 percent in one day. Contributing to the excitement were reports that the airline would team up with Etihad Airways, the carrier based in Abu Dhabi.
Etihad has indeed shown interest in bailing out distressed carriers, but unfortunately for Malaysia Airlines, so far those airlines are in Europe. Last month, Etihad unveiled a plan to take a 49 percent stake in Italian airline Alitalia, part of what Etihad Chief Executive James Hogan calls its role as a "rescue investor." Among the other airlines getting a lift from Etihad are Aer Lingus and Air Serbia.
Whether Malaysia Airlines joins the list of sick airlines on the receiving end of an Etidhad lifeline remains to be seen. Khazanah issued a statement on July 3 saying media reports about a plan to take the airline private were "speculative." The company did add, however, that "a comprehensive review of restructuring options for [Malaysia Airlines] is being undertaken and evaluated."
Before it's here, it's on the Bloomberg Terminal.
LEARN MORE