Pound Bulls to Profit as Wagers on Euro Outstrip Dollar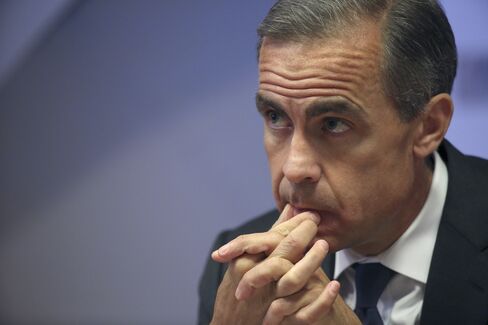 July 18 (Bloomberg) -- Pound bulls should bet on the U.K. currency strengthening against the euro because further gains versus the dollar are limited, trading patterns suggest.
A strategy that gauges a currency's momentum from whether it closes higher or lower than the previous day's open implies sterling will strengthen about 2 percent to 77.55 pence per euro, according to Bank of America Corp. Another technical measure shows cable, or the pound versus the dollar, is unlikely to rise above $1.7231, from $1.7066 at 12:16 p.m. in New York, the U.S. lender predicts.
"If you look at euro-sterling, it's a pretty textbook downtrend," MacNeil Curry, Bank of America's head of technical strategy in New York, said in a July 16 phone interview. "Cable's been a pretty sizable uptrend for the past year and a half, but there's a whole host of signs that say -- from the perspective of momentum pattern recognition, as well as a whole bunch of resistance areas -- that further gains should be limited."
The pound has climbed 12 percent against the dollar over the past year, the most among 31 major currencies tracked by Bloomberg, amid speculation the U.K. will be among the first developed countries to raise interest rates since the financial crisis. Bank of England Governor Mark Carney said last month that the first increase "could happen sooner than markets currently expect."
Engulfing Candle
The pound has strengthened 4.8 percent against the euro this year, on pace for the biggest annual gain since 2009, and reached an almost two-year high of 78.89 pence yesterday. That still leaves room for further gains, according to Bank of America.
The euro-pound rate formed what's known as a bearish engulfing candle pattern that implies sterling will strengthen to, or above, its July 2012 high of 77.55 pence per euro, Bank of America's Curry said. The pound would need to weaken to a resistance level of 80.16 pence to 80.33 pence for it to reverse, which is "a very low-probability event," he said. Resistance is an area where sell orders may be clustered.
Steve Barrow, the head of Group of 10 research at Standard Bank Plc in London, is cautious about the pound's prospects versus the 18-nation euro.
Barrow said he's "neutral" on the pair in the short term and prefers to bet on the pound against the dollar. He's more bullish on sterling versus the euro over one to two years and forecasts a gain to 70 pence to 75 pence, from 79.19 today.
Rally Wariness
"The decline that we've seen in euro-sterling since Carney made his comments about a potential rate hike have probably been a little more significant than we've seen in the past, without any consolidation or correction," Barrow said by phone on July 16. "That's the only thing that makes me wary."
A technical measure called a diagonal triangle gauge shows further gains in the pound versus the dollar may be unlikely. Sterling started forming this triangle with its low of $1.6252 on Feb. 5, and it now implies a decline after the currency touched an almost six-year high of $1.7192 on July 15.
Britain's currency will advance more than 1 percent against the euro by year-end, according to the median forecast of 55 strategists surveyed by Bloomberg, while another poll predicts a drop versus the dollar of about the same amount.
Speculation about higher interest rates, which should support sterling against both the dollar and euro, has been stoked by Britain's accelerating inflation and a slide in unemployment.
Consumer prices rose 1.9 percent in the year ending June, approaching the BOE's 2 percent target, while the jobless rate fell to a 5 1/2-year low of 6.5 percent in the three months through May, adding to signs of a recovery in Europe's third-biggest economy.
BNP Paribas SA, France's largest bank, predicts the pound will climb to 76 pence per euro by year-end, and sees it little changed at $1.71.
Euro-sterling is "probably where you get most bang for your buck," Kiran Kowshik, a foreign-exchange analyst at BNP Paribas in London, said by phone on July 16.
To contact the reporter on this story: Rachel Evans in New York at revans43@bloomberg.net
To contact the editors responsible for this story: Dave Liedtka at dliedtka@bloomberg.net Paul Armstrong, Robert Burgess