Line Said to Pursue U.S. IPO With Confidential Filing to SEC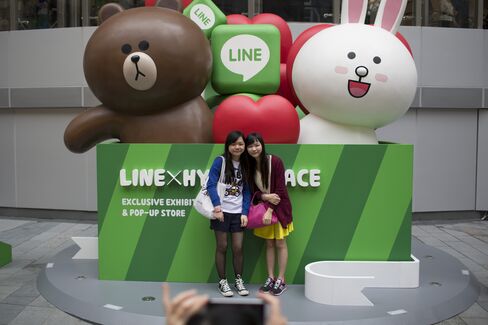 Line Corp., operator of Japan's most popular mobile messaging service, filed confidentially for an initial offering in the U.S., people with knowledge of the matter said, taking a step closer to a dual-listing in New York and Tokyo.
Morgan Stanley is managing the U.S. share sale, said the people, who asked not to be named because the process is private. Companies with less than $1 billion in revenue can submit their filings privately under the Jumpstart Our Business Startups Act, which is aimed at encouraging smaller companies to go public.
Line, a free messaging service that makes money by asking smartphone users to pay for teddy bear icons and games, has more than 470 million users in 230 countries, according to its website. The company, controlled by South Korea's Naver Corp., also submitted an application for an IPO to the Tokyo Stock Exchange, according to a July 16 statement. The offering could value the company at more than 1 trillion yen ($9.9 billion), people familiar with the situation said this week.
"Listing in New York that helps expand Line's global presence and name recognition may be unavoidable for the company to better compete with their rivals" such as WhatsApp Inc., said Yasuhide Yajima, chief economist at NLI Research Institute in Tokyo. "To fend off their competitors, Line would need to further increase their value and services via mergers and acquisitions after they go public."
Fumiko Hayashi, a Tokyo-based spokeswoman for Line, declined to comment, as did Mary Claire Delaney, a spokeswoman at Morgan Stanley. Nomura Holdings Inc. is managing the Tokyo listing, people familiar with those plans have said.
Rival Apps
Line Chief Executive Officer Akira Morikawa declined to comment on potential listings in the U.S. and Japan when asked today after an event at the University of Tsukuba in Ibaraki prefecture. Morikawa spoke to students interested in starting their own companies.
Morikawa encouraged students to improve their skills, to seek funding and to meet people overseas who can help them start businesses.
Rakuten Inc., Japan's biggest online mall operator, announced in February it was acquiring Viber Media Ltd. for about $900 million, just five days before Facebook Inc. said it agreed to buy rival messaging service WhatsApp for as much as $19 billion. Line, led by CEO Morikawa, is targeting 500 million to 600 million users by the end of the year. He said in April he plans to double the number to at least one billion globally in 2015.
The company, which has 666 employees, began its free messenger app in June 2011 after the earthquake in northeastern Japan knocked out telephone services, according to its website.
Revenue for Line's core business more than tripled in the first quarter to 14.6 billion yen, according to a May 8 statement. The company has added features such as games, comics, free voice and video calling, photo and video sharing, and tie-in apps including a camera.
Before it's here, it's on the Bloomberg Terminal.
LEARN MORE