Netanyahu Orders Military to Ready Wider Gaza Incursion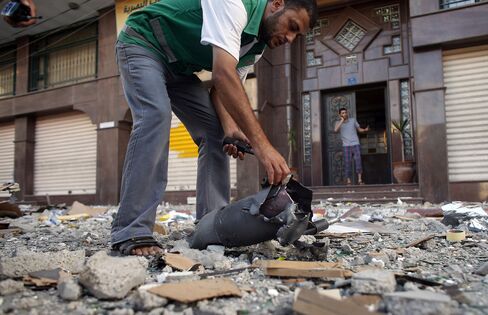 July 18 (Bloomberg) -- Israeli Prime Minister Benjamin Netanyahu said he ordered the military to prepare to widen a ground operation against militants in the Gaza Strip that began after days of aerial bombardment.
Israeli soldiers, backed by tanks, heavy artillery, aircraft and warships, moved into the Hamas-controlled enclave late yesterday after 2,100 air strikes over 10 days failed to quash barrages of rockets fired from Gaza at Israel.
At least 272 Palestinians, including dozens of children, and two Israelis have been killed since fighting intensified last week. Ground troops were sent into the densely populated territory of 1.8 million after Israel foiled a raid by militants who crossed the border through a tunnel, Netanyahu said.
The objective of the ground incursion is to go after "terror tunnels" that have eluded the air force and restore peace to Israel, he said in televised comments before his cabinet met at the Defense Ministry in Tel Aviv. The military has been instructed "to prepare for a significant expansion of the ground operation," he said.
Israeli forces have uncovered 26 tunnel entrances since entering Gaza, the army said, providing photographs that show concrete-lined passageways snaking under the border area.
'Hearing the Bombs'
Israel has clashed with Gaza militants repeatedly since 2005, when it ended its 38-year occupation of the territory while restricting, along with Egypt, the movement of its people and goods by controlling border crossings. The incursion is the first significant Israeli ground offensive in Gaza since 2009, when an operation lasted about three weeks.
Troops moved in after Hamas and other Gaza-based militant groups rejected an Egyptian proposal to end the fighting. Hamas and the Islamic Jihad group both said the initiative didn't guarantee lifting the blockade on the coastal enclave. A provision in the proposal said Gaza's border crossings would be opened for both people and goods "once the security situation becomes stable on the ground."
"The era of Palestinian concessions is over," Osama Hamdan, a member of Hamas's politburo, said in an interview with Al-Jazeera television.
Power Cut
After Israeli troops poured in, power was lost in large areas of Gaza, leaving Ahmed Madhoun, his wife and six children sitting in the dark listening to a battery-powered radio.
"Outside I keep hearing the bombs and inside, we're listening to the reports of people getting killed," the 46-year-old resident of Gaza City's Sheikh Radwan neighborhood said. "Nobody's in the street, just ambulances."
At least 34 Palestinians have been killed since Israel went into Gaza late yesterday, according to Ashraf al-Qedra, spokesman for the Hamas-run Health Ministry. The UN Relief and Works Agency said "many" Palestinians were displaced in southern Gaza and that the number of those sheltered in UN facilities in northern and central Gaza has risen to more than 40,000. The 140-square-mile (363 square kilometer) territory is about the size of Detroit.
Hamas's armed wing, the Ezzedeen al-Qassam Brigades, published a statement saying: "We have been eagerly awaiting this ground operation to teach the Israelis a lesson." The U.S. and European Union list Hamas, whose charter calls for Israel's destruction, as a terrorist organization.
Restraint Call
The United Nations called on Israel to show restraint and the U.S. called for a pinpoint strike against tunnels in line with the directive Netanyahu set out. Palestinian President Mahmoud Abbas, who traveled to Egypt seeking a cease-fire, warned that the incursion would complicate the situation, according to the official Palestinian news agency Wafa.
Shares of Israeli companies listed in the U.S. declined yesterday to the lowest level in a week after the ground offensive was announced. The Bloomberg Israel-US Equity index fell 1 percent to 116.78 in New York, led by Mellanox Technologies Ltd., which tumbled 3.5 percent.
The Israeli shekel weakened 0.05 percent to 3.4293 per dollar today at 8:24 p.m. in Tel Aviv. The Tel Aviv Stock Exchange was closed when troops moved across the border.
The violence flared after youths on both sides of the conflict were kidnapped and killed in recent weeks.
Rocket Sprees
Dozens of rockets continued to fly toward Israel after ground troops went in, bringing the total to over 1,637 since the aerial campaign began last week, the Israeli military said. The rockets have reached further into Israel than ever before, as far as 80 miles (128 kilometers) north, and hundreds have been intercepted by missile defenses.
Israel called up 48,000 reservists before the invasion, and Channel 2 TV said ministers have authorized the mobilization of 18,000 more.
Netanyahu said he spoke with U.S President Barack Obama today and stressed that Hamas is using Gaza's resident as human shields, and is thus responsible for civilian casualties.
To contact the reporters on this story: Saud Abu Ramadan in Jerusalem at sramadan@bloomberg.net; Calev Ben-David in Jerusalem at cbendavid@bloomberg.net
To contact the editors responsible for this story: Alaa Shahine at asalha@bloomberg.net Amy Teibel, Jack Fairweather