From YMCA Flying Fish to France: My English Channel Swim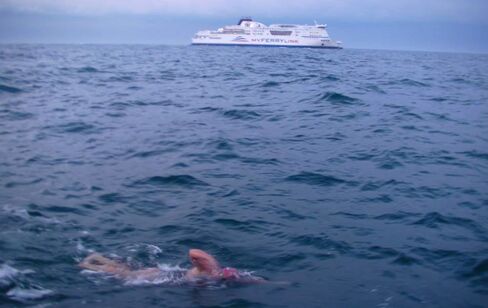 July 18 (Bloomberg) -- Just 104 swimmers crossed the English Channel last year, a fraction of the climbers who reached the summit of Mount Everest. This month, after about 14 hours in the water, I hope to become one of them.
During 21 miles (34 kilometers) across the world's busiest shipping lane, I'll sing snippets of songs -- trying to erase "The Ship Titanic" from Girl Scout camp from my mind -- I'll count and give myself pep talks. I'll look out for jellyfish, but my biggest fear doesn't come from the water: I worry about landing on sharp rocks and failing to haul myself out of the sea without help, a requirement to complete the swim.
Sometime in the next week, weather and wind permitting, I'll wade into the English Channel outside Dover in a swimsuit, cap and goggles. Wetsuits aren't allowed by the official sanctioning bodies. The head-to-toe grease sported by American Gertrude Ederle when she became the first woman to swim the channel in 1926 has given way to a few daubs of petroleum jelly in areas likely to chafe.
It's a long way from the South Bend, Indiana, YMCA where I worked my way up the lessons ladder to Flying Fish. I splashed with my siblings in Lake Michigan every summer, though I didn't like the lake at Notre Dame where minnows nibbled at my toes.
I'm a strong swimmer, not especially fast but not slow either. I love the sport, maybe because I never had a 5 a.m. practice in my 46 years on the planet. I've swum in the Thames and the Hudson; Lake Zurich; around Cape May on the New Jersey shore; from Alcatraz to San Francisco; in Sicily and Slovenia. Now I'm attempting the channel because I think I can succeed.
Water Ballet
My aquatic education came from hours doing handstands and cartwheels in the Elks lodge pool next to the Ayr-Way and Village Inn pizza parlor till my fingers pruned. A summer of attempting to reenact Nadia Comaneci gymnastic routines underwater culminated in a call to fill in for a girl who broke her arm in a water ballet to "Puff the Magic Dragon."
That gave me an invaluable feel for the water every time I reach forward for the catch and pause a split second before pulling back toward my body.
I spent my summers working as a lifeguard and swim instructor. Swimming was my go-to sport: when I came back from a year of a beer-and-pastry diet in Austria; when my eyesight was too poor for softball and my knees too creaky for volleyball.
I mostly stuck to pools until I went on a holiday to Croatia in 2007, where a dozen of us jumped into chilly water for a couple of hours a day for a week. That was followed by trips to Greece, Scotland and Turkey. Five-kilometer distances gave way to 10 kilometers and the 10.5-mile length of Windermere, England's largest lake. I joined a London club run by Tim Denyer, who swam the channel in 2005.
Viking Princess
Last year, I booked the same team he used on the Viking Princess boat to take me across. Swimmers reserve pilots as early as three years in advance and pay a deposit of 1,000 pounds ($1,700) to secure the most desirable slots on neap tides, when the difference between high and low tides is the smallest. The balance of about 1,700 pounds is due when you set off.
Two organizations ratify the swims, the Channel Swimming Association and Channel Swimming & Piloting Federation, and ensure that athletes have done a 6-hour qualifying swim at 60 degrees Fahrenheit (15.5 Celsius) or less.
You need an official observer from either on the boat to make sure that participants follow the rules of wearing a standard swimming costume and cap, entering the sea from the departure shore and finishing on dry land -- or at steep cliffs -- on the opposite shore without assistance or artificial aids.
No help allowed means that my coach and four-person support crew will toss down plastic bottles of carbohydrate drinks every 45 minutes and possibly a banana studded with painkillers from time to time.
Captain Matthew Webb
I'll swim front crawl in the warmest July sea in two years (17.4 degrees Celsius) to join female pioneer Ederle in the small community of solo channel swimmers. Approximately 1,440 individuals have completed the crossing since Captain Matthew Webb did in 1875. By comparison, more than 4,000 people have climbed Mount Everest so far, including about 650 last year.
Crossing times have dropped over the decades. Back in 1926, Ederle swam in 14 hours 31 minutes. The records are now 6 hours 55 minutes for men and 7 hours 25 minutes for women. The average is just over 14 hours, according to the CS&PF.
3,420 Laps
During training, I've swum more than 210 miles since the beginning of March, the equivalent of 3,420 laps of an Olympic pool. I've been in the sea in Devon, Croatia and the Spanish island of Mallorca, where I picked up a couple of jellyfish scars that look like they're here to stay.
Like everybody on board, I need to bring my passport. When I reach the shore and clear the water, the boat will sound the horn that will mark the end of my swim. After a minute or two in France, I'll come back to the U.K. on the Viking Princess.
I might be swimming all night, with lights attached to my goggles and swimsuit like I did on a 12-hour, 20-minute three-person relay last year. We took turns in the water for an hour followed by two on the boat. One of my relay teammates will risk seasickness again on the slow-moving boat to help keep watch on my solo attempt.
Only a half dozen people will witness the feat in person. Teammates, friends and family from San Francisco to Sydney will follow a moving yellow dot on a computer screen showing my boat's progress across the straits and -- hopefully -- see me become a channel swimmer.
To contact the reporter on this story: Sara Marley in London at smarley1@bloomberg.net
To contact the editors responsible for this story: Christopher Elser at celser@bloomberg.net Cecile Daurat