Foreclosures Fall in U.S. to Pre-Bust Levels: Mortgages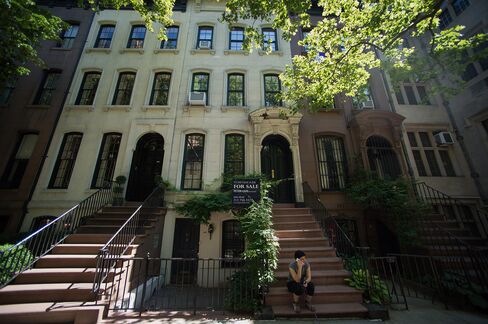 Foreclosure filings in the U.S. fell in June to levels not seen since before the housing bubble burst eight years ago, causing 5.5 million people to lose their homes.
Properties with a default, auction or repossession notice totaled 107,194 last month, down 16 percent from a year earlier and the lowest since July 2006, Irvine, California-based RealtyTrac Inc. said today in a report. Prices peaked a month later and then collapsed amid mortgage defaults that led to a more than 30 percent drop nationally and as much as 60 percent in the hardest-hit communities.
The U.S. housing market has turned around from the worst crisis since the 1930s after extraordinary Federal Reserve measures to revive the financial system, employment gains and purchases of thousands of houses across the country by institutional landlords. The foreclosure mop-up in most parts of the U.S. is now bolstering home values as discounted distressed deals make up a smaller share of total sales.
"We've seen light at the end of the tunnel and foreclosures are more like a troublesome gnat than a mortal threat to the housing market," RealtyTrac Vice President Daren Blomquist said in an interview.
U.S. existing-home prices soared the most in almost three years in May to a median $213,400 and are projected to keep climbing as the job market improves and foreclosures make up a declining share of inventory, Lawrence Yun, chief economist of the National Association of Realtors, said on June 23.
Institutional Landlords
Bulk buyers such as Blackstone Group LP and American Homes 4 Rent as well as small investors have underpinned local markets after the crash and helped underwater borrowers with investments in homes that may have otherwise stood empty, according to Jed Kolko of Trulia Inc.
"Housing is moving in the right direction with lots of favorable shifts from distressed to conventional sales," Kolko, chief economist for the San Francisco-based online listings firm, said in an interview. "It was inevitable that would happen as foreclosures declined, and it continues to happen quickly in some places like California and Arizona."
RealtyTrac forecast that foreclosures will be initiated on a record-low 630,000 homes this year, down from 747,700 last year and 2.1 million in 2009, the peak, said Blomquist.
The 70 percent decrease shows how constrained lending has become after banks issued subprime loans to borrowers with impaired credit during the bubble, said Paul Willen, a senior economist at the Federal Reserve Bank of Boston.
Tighter Credit
About 80 percent of lenders that tightened credit from 2007 to 2010 after defaults spread from subprime to loans meant to be higher-quality still haven't loosened rules, according to the Fed's quarterly survey. Some credible borrowers have been shut out by efforts to eliminate lending practices that allowed the riskiest mortgage customers to get loans during the bubble years, Willen said.
"Lenders have become much more uptight, and this is a big problem for the person who wants to buy a starter home," Willen said in an interview.
A total of 613,874 properties were in some stage of foreclosure during the first six months, down 23 percent from 2013, RealtyTrac said in the report. Only nine states showed increases in the period, including New Jersey, Massachusetts and Maryland, which use courts to oversee repossessions.
Florida, also a judicial state, had the top foreclosure rate in the first half at one filing for 74 households. California ranked 13th, Arizona was 18th and Nevada was fifth. All of the so-called sand states had fewer filings in the period compared with a a year earlier.
In California, the number of homes entering the foreclosure process dropped in the second quarter to the lowest level since late 2005, according to a separate report today by research firm DataQuick, a unit of Irvine, California-based CoreLogic. A total of 17,524 default notices were recorded with California counties in the period, down 32 percent from a year earlier.