Builder Optimism SIgnals U.S. Housing Starts Will Rebound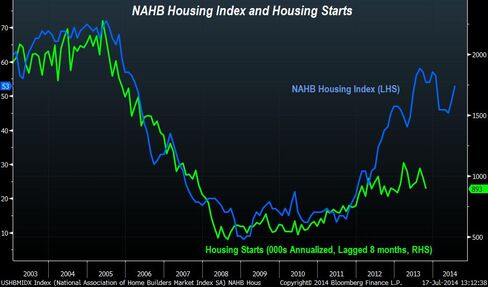 There's a disconnect between builders' views on the U.S. housing market and how it looks on paper. That may bode well for the industry.
Housing starts fell 9.3 percent to an 893,000 annualized rate in June, the weakest reading in nine months and due to a construction slump in southern states, figures from the Commerce Department showed today in Washington.
At the same time, builders say the outlook for residential real estate is sunny. The National Association of Home Builders/Wells Fargo sentiment index, which leads starts, has broken to the upside -- rising to a six-month high of 53 in July from 49 the prior month. Readings greater than 50 signal conditions are "good."
"At face value, the confidence index points to a strong rise in starts from current levels," Paul Diggle, a property economist at Capital Economics in London, wrote in a research note. Since starts aren't keeping up with growth in households, it "points to a strong rise in homebuilding," he said.
Construction could pick up as renters become owners, said Jed Kolko, chief economist at Trulia.com, an online marketplace for home buyers, sellers and real estate professionals. At the same time, young people may be moving out of their parents' houses and becoming renters, he said, pushing up multifamily demand.
"As the economy continues to recover, and more people, particularly in their 30s, think about homeownership, that will give some lift to single-family" housing, Kolko said. "I think we will see single-family continue to increase; the vacancy rates are still slowly falling which means we're slowly filling up the vacant homes that are still out there."
Before it's here, it's on the Bloomberg Terminal.
LEARN MORE