Argentina Default Worries Renewed as Fernandez Defiant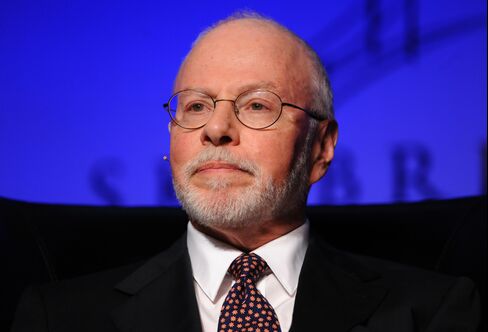 Bond trading shows investors are becoming less confident that Argentina will reach a settlement with holders of defaulted debt amid defiant comments by President Cristina Fernandez de Kirchner.
Two weeks after a U.S. judge blocked Argentina from paying interest on its restructured bonds because it didn't abide by a ruling to pay holdout creditors that won a court order for full repayment, Fernandez dismissed concern the nation risked reneging on its obligations again if it doesn't reach a deal. The comment deepened the first weekly drop in Argentine bonds in a month, pushing losses to 5.6 percent since July 11 on benchmark notes due 2033.
While the securities have still risen 7.4 percent in the past month on speculation the nation will strike a deal to avoid defaulting for the second time since 2001, Fernandez's comment underscores the risk Argentina will refuse to negotiate, according to Patrick Esteruelas, an analyst at Emso Partners Ltd. Argentina has until July 30 to settle with creditors including billionaire Paul Singer's Elliott Management Corp. or risk a default on its performing bonds.
"It does inform some level of caution and underlines that a settlement is far from done," Esteruelas said in a telephone interview from New York.
'Keep Paying'
At a summit yesterday in Fortaleza, Brazil, Fernandez said Argentina will continue to pay its debts. The country deposited $539 million in interest with bond trustees last month, before a U.S. judge blocked the payment.
"Only countries that stop paying their debt fall into default," she said. "Argentina will keep paying its debt and meeting its obligations."
Fernandez said holders of defaulted debt should accept the same terms as creditors who swapped their notes in 2005 and 2010 at losses of 70 percent. She said paying holdouts in full is "impossible" because Argentina would be violating the Rights Upon Future Offers, or RUFO, clause in restructured bond contracts, which prevents the nation from voluntarily improving terms for the holdouts without making the same offer to investors who went along with the previous swaps.
"We're always willing to negotiate but within the margins of the law, within the judicial system and when it's fair and for that reason we invite them to join the swap," she said. "The only ones who don't want to negotiate are the vulture funds."
Holders of restructured debt asked U.S. District Judge Thomas Griesa yesterday to allow intermediaries to identify debtholders so the government can seek their waiver of the RUFO clause. Holdouts argued the move may be a ruse to circumvent the court and pay restructured debtholders.
Court Ruling
Argentina has been under pressure to find a solution to the impasse since June 16, when the U.S. Supreme Court left intact a ruling that the government must pay the holdouts $1.5 billion whenever it pays restructured bonds.
While Argentina has met twice with court-appointed mediator Daniel Pollack in New York, no face-to-face meeting with the defaulted-debt creditors has taken place. Elliott and Aurelius Capital Management LP say Argentina is refusing to negotiate, while government officials insist that U.S. courts must suspend the effect of the ruling before talks can start.
"Aurelius, together with other pari passu plaintiffs, has done everything it can to negotiate with the government of Argentina, to no avail," the hedge fund said in an e-mailed statement on July 14. "Argentine officials refuse to meet with us or even negotiate with us indirectly. Argentina has demonstrated itself wholly undeserving of another stay now."
'Declining' Odds
Bond investors have overestimated the odds Argentina will reach a deal to avoid a default, according to Siobhan Morden, the head of Latin America strategy at Jefferies Group LLC. The notes due 2033 extended losses today, falling 0.76 cent to 86.96 cents at 2:40 p.m. in Buenos Aires, according to data compiled by Bloomberg.
"The probability is much tighter than the market infers -- it's maybe 50/50 and declining," she said in telephone interview from New York. "We're not privy to these conversations, but you can see the relationship by the reaction of the holdouts and also Argentina and it doesn't suggest there's a deal in the works."
Alejandro Senorino, a fixed-income trader at Buenos Aires-based Advanced Capital Securities SA, said Argentina's defiance is aimed at showing restructured bondholders that it's not voluntarily offering better terms to holdouts, which would violate the RUFO clause.
"It's all part of the game to leave as much evidence as possible that Argentina is arriving at this situation involuntarily," he said in a telephone interview.
Still, Argentina's tactics may backfire, according to Emso Partners's Esteruelas.
The government could "be at risk of overplaying its hand, believing it has more leverage than it actually does," he said.