Amazon Nudged to Weigh More Content as Fox Bids: Real M&A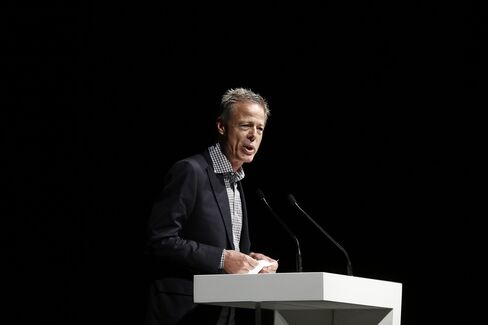 After Rupert Murdoch's attempt to grab Time Warner Inc., online giants Amazon.com Inc. and Google Inc. may decide to accelerate their expansion into content.
The bid from Twenty-First Century Fox Inc. would create the world's biggest media company and bring HBO's "Game of Thrones" and "The Lego Movie" into Murdoch's fold. Amazon has started creating original TV shows, and Google's YouTube has funded filmmakers to fill new channels, though neither is a formidable competitor to Netflix Inc. or Hulu LLC. A takeout of Time Warner could drive Google and Amazon to get more serious about expanding, said CRT Capital Group LLC.
The Internet companies may prefer to sign licensing deals or build more content on their own, said JMP Group Inc. If they wanted to be bolder, Google or Amazon could buy their way to more programming with a purchase of "The Hunger Games" maker Lions Gate Entertainment Corp., or Amazon could even buy Electronic Arts Inc., CRT said. French video-game maker Ubisoft Entertainment would be easier to digest, said Bank of Montreal. Google could even go as far as to make a bid for Time Warner, Wunderlich Securities Inc. said.
Should Fox and Time Warner combine, "a lot of chips are in one hat at that point," Neil Doshi, an analyst at CRT, said in a phone interview. Amazon and Google would "have to get pretty aggressive in terms of how they think about content, what they want to do."
A representative for Mountain View, California-based Google declined to comment. A representative for Seattle-based Amazon didn't respond to requests for comment.
Offer Confirmation
Time Warner, the owner of HBO and TNT, confirmed this week that it received a more than $75 billion offer from Fox. While the New York-based company rejected the bid, Murdoch is willing to pay even more, people with knowledge of the matter said, a sign the billionaire is undeterred by the rebuff.
The confirmation comes after Time Warner Chief Executive Officer Jeff Bewkes was asked last week whether Google or Fox would be interested in a purchase. If Time Warner is in play, Google may be inclined to weigh an offer, Wunderlich said July 16.
The potential acquisition sparked a rally in media stocks representing about $90 billion of shareholder value as investors bet it may presage more consolidation. Content providers could combine to build scale and strengthen their power to negotiate with distributors, which are striking deals of their own. It could also mean Amazon and Google may want to double down on content.
Working Plans
Proprietary shows and movies are appealing to the Internet companies because it gives consumers one more reason to engage with their platforms. Amazon has already been developing programming and financing pilot episodes for children's shows and comedies to air through the company's Instant Video service.
A few years ago, Google announced it would spend about $100 million to support video programming on YouTube. The company also said last year that the site would begin selling subscriptions to film and TV services over the Internet to compete with Netflix.
Amazon and Google "are trying to build this consumer ecosystem to be the one-stop shop for media consumption," Kerry Rice, an analyst at Needham & Co., said in a phone interview.
Exclusive Producers
A takeover of a company such as $4.4 billion Lions Gate by either Amazon or Google could make sense, said Doshi of CRT. Alibaba Group Holding Ltd., China's biggest e-commerce company, is teaming up with Lions Gate to stream Hollywood movies and TV shows through a new set-top box.
"A lot of these movie studios want to get deeper entrenched in online," Doshi said. "And if Amazon or Netflix or Google has deep pockets and is willing to pay a lot of money to do deals, I don't know if it would be too far off for one of these companies to potentially acquire a movie studio and be able to make movies exclusively for their subscribers."
For Google, a deal would bolster the YouTube brand and allow the company to charge more for advertising on a high-quality film, the analyst said. Yesterday, the company reported sales that exceeded analyst estimates.
Amazon could consider buying a video-game maker, maybe even a company as large as Electronic Arts, which is valued at $11.6 billion, to drive more people to gaming on its Fire TV system, according to Doshi.
Ubisoft, with a market value of about $2 billion, may be a more logical first step into video-game content for Amazon should it pursue that path, said Edward Williams of BMO.
'Left Field'
"Amazon could step in and buy a console game company and then look to help that company take its content onto mobile through the Kindle ecosystem," the analyst said in a phone interview from New York. "Buying an Ubisoft, which is a fraction of the size of EA, financially is just an easier one to swallow. It's definitely a left-field move, but it'd be kind of an intriguing one."
Shares of EA rose 3.6 percent to $38.38 today. Lions Gate gained 2.7 percent to $32.06, while Ubisoft dropped 1.7 percent to $13.16. Google rallied 4.2 percent to $605.11, and Amazon increased 1.8 percent to $358.66.
Representatives for Redwood City, California-based EA and Ubisoft said their companies don't comment on speculation. A representative for Lions Gate, based in Santa Monica, California, didn't respond to requests for comment.
Better Yet
Getting bigger in content doesn't necessarily mean acquisitions. Buying a major media company is a risky and expensive endeavor, and Amazon and Google may prefer to just license shows and movies or negotiate a joint venture arrangement, said James McQuivey, an analyst at Cambridge, Massachusetts-based Forrester Research Inc.
"Frankly, owning the content creates all kinds of hassles," he said in a phone interview. "I think most of these companies would want to think twice."
Buying an established content producer could undermine the neutrality of the companies' platforms, said Ron Josey of JMP Securities, a unit of JMP Group. Amazon and Google may also prefer to develop their own shows and movies. Such a move would mimic Netflix, whose "House of Cards" and "Orange is the New Black" have grown in popularity.
"Both of these companies are sufficiently large, they can sort of do whatever they want," said Josey, a New York-based analyst. Google and Amazon probably "feel they can at least give it a good try on their own before they have to go out and buy someone to have that type of offering. History suggests that they believe they can build things just as well as anybody."