Yum Brands Profit Trails Some Estimates on Pizza Hut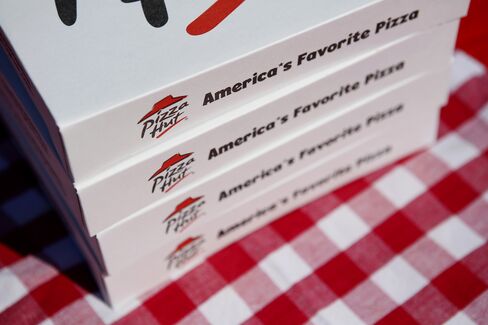 Yum! Brands Inc., the owner of fast-food chains such as KFC and Taco Bell, posted second-quarter profit that trailed some analysts' estimates, dragged down by a slump at its Pizza Hut restaurants.
Net income rose 19 percent to $334 million, or 73 cents a share, from $281 million, or 61 cents, a year earlier, the Louisville, Kentucky-based company said yesterday in a statement. While that matched the average of 22 analysts' projections compiled by Bloomberg, some estimates were as high as 81 cents. Revenue gained 10 percent to $3.2 billion, missing the $3.24 billion average estimate.
Yum, which said in May that Greg Creed will take over as chief executive officer next year, has struggled to keep the 56-year-old Pizza Hut chain relevant at a time when customers are flocking to new fast-casual restaurants. The company also faces steep discounting from rivals such as Domino's Pizza Inc., which is selling $5.99 two-topping pies. Sales at Pizza Hut stores open at least 12 months fell 3 percent in the quarter. Analysts had estimated a 0.1 percent gain, according to Consensus Metrix.
Pizza Hut's stores are "pretty old, and they're not necessarily seen as all that innovative," Peter Saleh, an analyst at Telsey Advisory Group in New York, said before the earnings release. "They've been focusing their attention and their capital on China and other parts of the world."
Stock Tumbles
The shares fell as much as 5.3 percent to $78.32 in New York, the biggest intraday decline in more than nine months. Yum's stock had climbed 9.4 percent this year through yesterday, compared with a 2.8 percent increase for the Standard & Poor's 500 Restaurants Index.
Yum reiterated its full-year forecast for at least a 20 percent increase in profit per share, excluding certain items.
Companywide same-store sale rose 15 percent in China, compared with 9 percent the previous quarter. Analysts estimated a gain of about 11 percent, the average of 15 projections compiled by Consensus Metrix, a researcher owned by Wayne, New Jersey-based Kaul Advisory Group.
After an investigation into the company's supply chain and an outbreak of avian flu hurt sales in China last year, Yum has been trying to reassure customers that its food is safe to eat. The company gets about half its revenue from stores in China and is planning to open at least 700 new restaurants there this year.
Yum has more than 6,300 restaurants, including East Dawning and Little Sheep, in China. Same-store sales are considered an indicator of a retailer's performance because they include only older, established locations.
Pizza Competition
Pizza Hut's U.S. competitors are expanding. Chipotle Mexican Grill Inc. invested in fast-casual restaurant Pizzeria Locale and is opening more locations. Buffalo Wild Wings Inc. last year invested in a pizza concept, PizzaRev. Other startups, including Blaze Pizza and MOD Pizza, are emerging.
Yum's pizza chain earlier this week said it would sell new desserts including an eight-inch chocolate chip cookie. The dessert pie is similar to Papa John's International Inc.'s mega-sized chocolate chip cookie, which was introduced in September.
Taco Bell's same-store sales also trailed analysts' estimates, gaining 2 percent, less than the average projection for a 3.6 percent increase. In March, the chain began selling breakfast fare, including waffle tacos, nationwide. Today, it is scheduled to introduce a new Cantina Power protein menu.