Qantas to Stay Australia-Owned as Ownership Rules Ease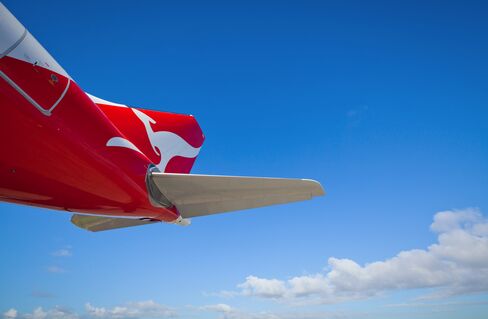 July 16 (Bloomberg) -- Qantas Airways Ltd. will remain majority Australian-owned after the government backed down on its proposal to allow increased overall foreign investment in the airline.
Under a political compromise reached with the opposition Labor party, a 49 percent cap on foreign ownership and requirements the carrier keeps most of its operations in Australia will remain. Instead, a 25 percent limit on ownership by individual foreign investors and a 35 percent cap on holdings by foreign-owned airlines will both rise to 49 percent, Labor transport spokesman Anthony Albanese said.
The airline known as the "Flying Kangaroo" has been forced to cuts jobs, freeze staff pay and delay or sell aircraft as a market share battle with Virgin Australia Holdings Ltd. drove it to a A$235 million ($220 million) first-half loss. Chief Executive Officer Alan Joyce has accused Virgin of using foreign government cash to undermine his airline and lobbied the government to "level the playing field."
"These changes don't go as far as Qantas would like given the competitive disadvantages faced by the business," Scott Carroll, senior equities analyst at Morningstar Inc. in Sydney, said in a phone interview. "The reality is individual investors can already take a 25 percent stake in Qantas but have been unwilling to do so. At 49 percent, companies and individuals still don't gain control."
Shares in Qantas declined 1.6 percent to A$1.245 in Sydney, while the benchmark S&P/ASX 200 index gained 0.1 percent.
Lower House
The amendment to the 1992 Qantas Sale Act is expected to pass the Senate and will be sent to the lower house for approval, Albanese said in a phone interview.
"This is a win for Australia's national interest," he said.
Virgin has been backed in the domestic battle against Qantas by government-controlled shareholders Air New Zealand Ltd., Singapore Airlines Ltd. and Etihad Airways PJSC. Prime Minister Tony Abbott's government in March ruled out guaranteeing Qantas's debt.
"It's positive that there's general agreement that Qantas is disadvantaged by the Sale Act and that change is needed," the airline's spokesman, Andrew McGinnes, said in an e-mailed statement. "While removing all restrictions that apply only to Qantas remains our preference for leveling the playing field, changing the 25 and 35 percent limits would represent an improvement on the status quo."
The government is prepared to accept the proposals by Labor to "give some stability to the rules governing the ownership of Qantas and I am confident that will pass," Treasurer Joe Hockey said in an Australian Broadcasting Corp. interview today. "It is important that we try to get Qantas onto the same playing field as its competitors."
To contact the reporter on this story: Jason Scott in Canberra at jscott14@bloomberg.net
To contact the editors responsible for this story: Rosalind Mathieson at rmathieson3@bloomberg.net Edward Johnson, Iain McDonald