Pernod Seeks Profit Boost With a Little Vodka From Berlin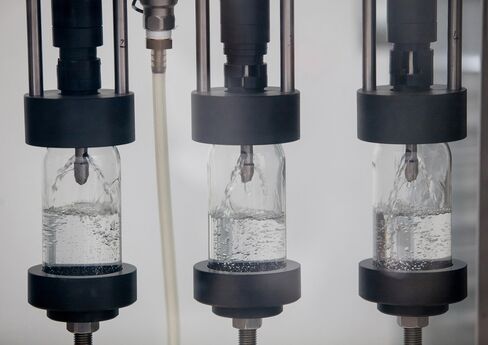 As enthusiasm for all things local surges and sales of its Absolut vodka soften, Pernod Ricard SA is looking for a profit boost from a new brand made on the riverside docks of Berlin.
The vodka is called Our/, as in Our/Berlin, Our/Melbourne or Our/NameYourCity. The strategy is to supply the equipment and the recipe, then hire entrepreneurs in cities worldwide to do most of the work in exchange for a small shot of the profits.
Pernod introduced the Berlin version last year and is rolling out Our/Detroit this summer. Ten other cities are in the works, from London and New York to Nashville and Austin.
"We provide the water and the ethanol," said Jon Sanders, a Berlin branding consultant Pernod partnered with to make Our/Berlin. "We don't use Pernod's sales channels. We are completely responsible for the selling ourselves."
The Paris-based company is betting that pairing local production with its global reach as the world's second-largest distiller will appeal to drinkers who eschew big names in favor of the little guy around the corner.
"People who are into this trend aren't necessarily turned on by big brands," said Asa Caap, the Absolut executive who created and heads the program. "They want more personal and inclusive things."
Reclaimed Wood
Vodka sales fell 1 percent from 2007 to 2012, International Wine & Spirits Research estimates. Big players such as Pernod and Diageo Plc, the owner of Smirnoff, have compensated by introducing variants to keep drinkers interested. While Absolut has added "city" bottles such as Vancouver, Rio, and Miami -- which don't claim any local provenance -- the brand's growth has averaged only 1.2 percent annually from 2007 through 2012, according to IWSR.
Pernod is seeking profit growth of 1 percent to 3 percent this year even as nine-month sales stagnated, weighed down by slowing demand in China and tough economies in western Europe. Its shares have slid 2.9 percent in the past 12 months, falling 0.3 percent to 85.61 euros at the close of trading in Paris.
Our/Berlin is produced by Sanders and Pauline Hoch in an old river port district that's attracting clubs and bars. It's sold from a storefront outfitted with Ikea cabinets topped by reclaimed wood, which fronts a former garage where the vodka is made by mixing Pernod's flavorings with bulk alcohol and tap water.
Behind the till, there's a wall of squat Our/Berlin bottles with the name scrawled in handwritten font. Pernod says it will support the Our/ partnerships until they make money and then take 80 percent of the profit. Each plant can produce 40,000 to 60,000 9-liter cases a year, or a fraction of the 11.3 million cases IWSR says Absolut made in 2012.
Caribbean Rum
The ideal partners for Pernod, Caap says, aren't already involved in distilling. Hoch and Sanders paid nothing for the franchise but have used their contacts and marketing smarts to build the brand.
In addition to the dockside shop, Our/Berlin has contracts with 150 bars, cafes, and stores. A 350­milliliter bottle costs 13 euros ($17.70), about double the price of Absolut there.
The localized approach is a departure for big-name liquor brands, which pride themselves on coming from one place -- think Scotch whisky or Caribbean rum.
"In contrast to beer, it's extremely unusual for a spirits brand to franchise production," said Chris Wickham, an analyst at Oriel Securities in London.
Consumers, though, are turning away from ubiquitous brands, giving a boost to drinks with limited production and hands-on makers, said Matt Woodhams of branding consultant Added Value.
"There's a certain status accorded to drinking craft spirits," Woodhams said. "You're an aficionado."
Beefeater Gin
While Pernod is keen to take advantage of the growing interest in local products, it says it won't disguise that Our/ vodka is made by the distilling giant behind behemoths such as Beefeater gin and Chivas whisky. The Pernod Ricard name isn't currently on the Our/Berlin label, but the company says it plans to add it.
Though the strategy may not do much to boost Pernod's overall sales, it could give profits a lift. Local, small-batch spirits can command hefty prices, according to Nick Turner, a partner at Deloitte specializing in consumer goods.
"There's a significant chunk of margin that comes with selling a craft brand," he said. "The consumer makes the assumption it's a unique, exclusive product they're happy to pay more for."
Before it's here, it's on the Bloomberg Terminal.
LEARN MORE