MTR Stock Suspended Pending China High-Speed Rail Study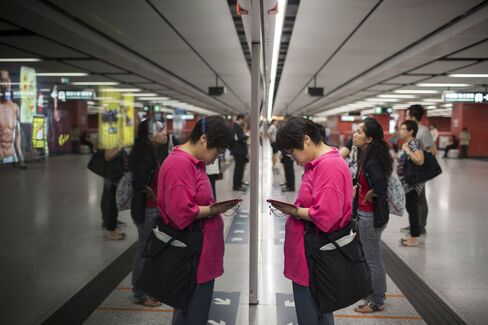 MTR Corp., the Hong Kong train operator, suspended its shares from trading pending a report regarding a high-speed rail link that connects the financial hub to the Beijing-Guangzhou line in China.
Trading was suspended from 11 a.m. pending the release of the report, the train operator said in a statement to the Hong Kong stock exchange today. The company will hold a press briefing at 4:30 p.m. in Hong Kong to share details of the report. MTR Chairman Raymond Chien and IBC Chairman Frederick Ma will attend the press conference.
MTR is building the rail link that connects Hong Kong to the Beijing-Guangzhou track at a cost of HK$68.4 billion ($8.8 billion), an estimate that was raised from HK$66.9 billion in May because of delays in the project. The total costs would be finalized by July, Antonio Choi, MTR's general manager for the project, told lawmakers in May.
Completion of work on the Hong Kong section of the express rail link will be delayed to 2016 from 2015, MTR's project director Chew Tai-chong told reporters in April. The line is expected to open for passenger services in 2017, Chew said.
MTR is 76.3 percent owned by Hong Kong's government, according to data compiled by Bloomberg. The stock fell 0.5 percent before it was halted for trading.