Mergers Keep Bankers -- and Investors -- Busy
Mergers, marriages and your money.
Investment bankers apparently got very little sleep last night. They were busy preparing the 10 mergers announced this morning involving U.S. companies. Three transactions in particular attracted our attention: Rupert Murdoch's proposed bid for Time Warner Inc. (rejected as of now... stayed tuned); Italy-based GTECH SpA's (GTK ) announced the purchase of computerized slot machine maker International Game Technology (IGT ); and the new alliance linking apps from Apple Inc. (AAPL ) to cloud services from International Business Machines Corporation (IBM ).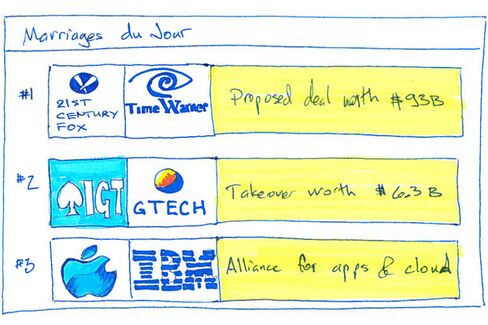 Robert Eatroff serves as co-head of mergers and acquisitions at Morgan Stanley. He joined us on Surveillance last week and cited three reasons for the surge in merger activity:
1. Plentiful financing, given low interest rates and willing lenders
2. The appeal of bolt-on acquisitions as an alternative to organic growth in a sub-3 percent GDP economy
3. Pent-up demand following years of cost control
Total merger activity involving U.S. companies is up 58.9 percent compared to the same period last year. At this rate, 2014 is on target to double last year's total and would surpass the record of $1.8 trillion set in 2007.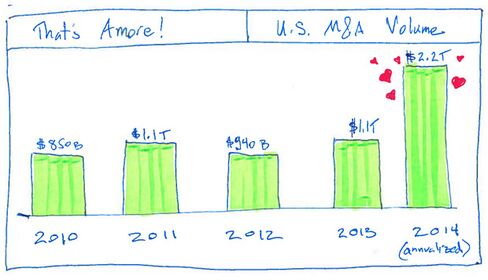 Investors seeking to participate in surging merger activity can purchase the IQ Merger Arbitrage exchange-traded fund (MNA ). The fund's managers deploy capital in announced deals, buying shares of targeted companies, and when appropriate, shorting shares of acquirers to capture any deal spread. The fund has returned 5.3 percent over the past 12 months, roughly in line with the historical norm of two to three times the benchmark risk-free rate of government securities.