Ex-Deutsche Bank Japan Salesman Gets Suspended Sentence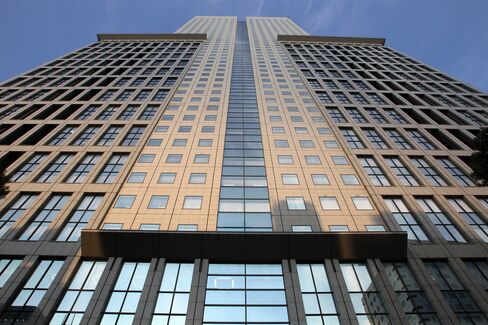 Former Deutsche Bank AG salesman Shigeru Echigo received a 10-month suspended jail sentence in Tokyo for bribing a pension-fund executive to buy investment products.
The Tokyo District Court today sentenced Echigo, 37, to the prison term, which was suspended for three years. Prosecutors sought one-year imprisonment after the defendant admitted to the bribery charges at a court hearing in April.
Following a criminal investigation, prosecutors said Echigo spent about 900,000 yen ($8,800) entertaining a pension-fund executive on 15 occasions in 2012. Echigo argued that he was following the instructions of his managers and such conduct at the German bank's Japan brokerage unit was widespread.
Tokyo District Court Chief Judge Akira Ando said Echigo can't be strongly blamed for the offenses because his bosses remained silent and failed to stop them. At the same time, his actions didn't reflect institutional misconduct, Ando said.
Japanese criminal law prohibits companies from providing benefits to public servants with the intention of obtaining business from them. Company officials who oversee public retirement funds as part of their assets under management are defined as civil servants. The law carries a maximum punishment of three years in prison or a fine of 2.5 million yen.
Regulatory Clampdown
Authorities in Japan have been beefing up oversight of the pension-fund industry since regulators found in 2012 that executives at AIJ Investment Advisors Co. covered up losses of retirement money it managed.
The Financial Services Agency ordered compliance improvements at Deutsche Bank's Japanese securities unit in December, following a regulatory probe that revealed sales staff provided special benefits to officials from three pension funds to persuade them to buy financial products. The unit of Germany's largest bank disbanded the pension sales team.
Deutsche Securities Inc. entertained officials from 45 funds that manage public pensions, according to a report obtained by Bloomberg News last month, signaling that the practice was more widespread than regulators had disclosed. The firm spent 22.1 million yen wining and dining fund officials from 2010 to 2012, according to the document prepared by the FSA's investigative arm and Germany's biggest bank.
Deutsche Securities Chief Operating Officer Bret Dandoy approved expenses for two overseas trips, and Chairman Norimichi Kanari joined in the entertaining on one occasion, the report showed. Dandoy and Kanari have said that they weren't aware that pension fund officials are regarded as civil servants, according to the report.
Echigo and the pension fund official at trading company Mitsui & Co. went out for meals at restaurants such as Sushi-Ten and barbecue specialist Jojoen in Tokyo's Nishi-Azabu district and visited nightclubs in the city's Roppongi area, a person with knowledge of the matter said in April.
The former Mitsui executive was given a suspended 18-month prison sentence earlier this year.
Before it's here, it's on the Bloomberg Terminal.
LEARN MORE