EU Said to Expand Russia Sanctions After Putin Holds Firm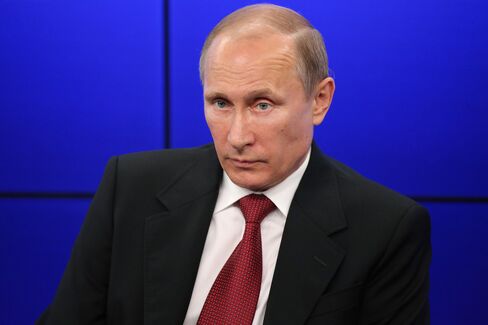 European Union governments are set to impose their broadest sanctions yet against Russia, punishing President Vladimir Putin for flouting an ultimatum to end the rebellion in Ukraine, a draft document showed.
EU leaders meeting in Brussels later today may agree to penalize Russian companies, halt lending for investment projects in Russia, stop bilateral cooperation programs and further clamp down on commerce with Crimea, according to the draft statement obtained by Bloomberg News.
Calls on Russia to stop meddling in Ukraine and supporting separatist rebels "have not been fully met," EU leaders said in the draft. The 28-nation bloc "condemns the continuation of illegal activities by armed militants in eastern Ukraine" and will "proceed with the expansion of restrictive measures."
If confirmed at the summit starting at 8 p.m., the draft will mark a compromise on a policy toward Russia that has been squeezed from all sides. While eastern European governments have pressed for economic and trade curbs, western and southern countries have urged diplomacy, and the U.S. has goaded the EU to overcome its internal divisions. Germany, the U.K. and France, the EU's three big powers, have all signaled recently they are on board for stiffer penalties against Putin.
U.S. Companies
U.S. companies are girding for the potential for sanctions against major Russian banks by the Obama administration as soon as today.
About 20 companies participated yesterday in a session organized by the Chamber of Commerce and National Association of Manufacturers, according to a person familiar with the meeting, who asked for anonymity because the discussions were private. The goal was to develop an organized response to any sanctions moves by the U.S.
Pentagon spokesman Army Col. Steve Warren said today Russia has 10,000 to 12,000 troops on the Ukrainian border, and that the Russian troop presence has been increasing in the last several weeks. Warren called the troop buildup "intimidating."
Russian Support
The threat of sanctions has roiled Russian markets since March when Russia annexed Crimea from The Micex Index was 0.5 percent weaker at 4:05 p.m. in Moscow. The yield on Ukraine's 2023 dollar bond rose four basis points, or 0.04 percentage point, to 8.45 percent.
The EU summit follows a meeting in Washington of EU ambassadors and U.S. officials, who told their European allies Russia was sending heavy weapons, including tanks and rockets, as well as other means of support to separatists in eastern Ukraine in contradiction to statements by Putin's government that it is trying to pursue peace.
Russia has "insufficiently met expectations" to use its influence on separatists in Ukraine and effectively patrol the Ukraine-Russia border, Steffen Seibert, German Chancellor Angela Merkel's chief spokesman, said at a regular government press briefing in Berlin today.
"There is a good case for going further and hardening sanctions," Jean-Christophe Gray, U.K. Prime Minister David Cameron's spokesman, told reporters in London. "Despite the words coming from Moscow, we've not seen enough action on ground."
Soldiers Killed
Russia hasn't acknowledged any direct support for the rebels, whom Ukrainian forces are trying to encircle and defeat in its eastern regions of Donetsk and Luhansk. It condemns the government in Kiev's efforts to confront the rebels and has said it reserves the right to protect Russian speakers abroad.
Eleven Ukrainian soldiers died in fighting since yesterday, Defense Ministry spokesman Andriy Lysenko said. One person was killed and nine were wounded in a battle in Luhansk, an eastern city of about 450,000 people, the municipal council said on its website today.
Lysenko said the fiercest fighting today between Ukrainian forces and the pro-Russian insurgents was taking place in the cities of Amvrosiyivka and Marynivka and near the border checkpoint Izvaryno. He said rebels also attacked government troops in the village of Grygorivka today before being repelled.
Building Bombed
Eleven more died and eight were wounded yesterday when a residential building was bombed in Snezhnoe, Donetsk region, according to a statement on the local administration's website. The village was attacked by an unidentified plane that was not from the Ukrainian military, Interfax reported yesterday, citing Lysenko.
Ukraine's government also has "indisputable proof" that Russia was involved in the shooting down of an An-26 military transport plane in eastern Ukraine on July 14, Interfax reported, citing the head of Ukraine's intelligence service Valentyn Nalyvaychenko.
So far, the EU has slapped travel bans and asset freezes on 72 people accused of destabilizing Ukraine and engineering Crimea's annexation. Two companies have also been blacklisted.
EU Draft
The draft EU measures would pave the way for the blacklisting of a broader array of Russian companies. The EU would halt lending for public-sector projects in Russia by the European Investment Bank, the bloc's in-house lender, and use its influence to stop new lending by the European Bank for Reconstruction and Development. EU leaders will also weigh "additional measures" to restrict commerce with Crimea.
The draft calls on international donors "to refrain from financing any projects that explicitly or implicitly recognize the illegal annexation of Crimea and Sevastopol."
For its part, the U.S. has halted virtually all military and economic cooperation with Russia, Assistant Secretary of State Victoria Nuland said on July 9. It has targeted Russian elites, restricted exports, and sanctioned banks, construction companies, and other businesses tied to Putin's inner circle.