ECB Tight With Cash for 31% in Poll Even After New Loans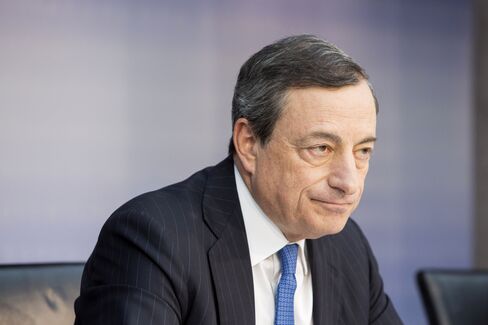 International investors say the euro area's economy is in its worst shape in more than a year and in danger of dropping into deflation, with a central bank that many believe is not doing enough to help, according to a Bloomberg Global Poll.
More than one in three described the region's economy as worsening, the most since May 2013, when Europe was just emerging from recession. Seventy-seven percent viewed disinflation or deflation as a greater threat than inflation to the area over the next year, the July 15-16 survey also found.
"The euro zone economy is deteriorating," poll participant Cyril Blaise, a vice president at Banco Bilbao Vizcaya Argentaria SA in Madrid, said in an e-mail. "European banks have more interest in deleveraging. They are not transferring the cheap" central bank credit into loans.
The renewed worries about Europe cast a pall over the rest of the world in the quarterly poll of investors, traders and analysts who are Bloomberg subscribers. Just more than a third portrayed the global economy as improving, the least optimistic assessment since November. A plurality of 44 percent said it was stable, while less than one in five saw it as deteriorating. Investors were also less optimistic about the U.S.
Bolster Euro-Area
In a bid to bolster the 18-nation euro area, European Central Bank President Mario Draghi introduced an unprecedented range of measures last month, including a record low benchmark interest rate, a negative deposit rate and new cheap loans for banks. In spite of those steps, 31 percent of respondents say the ECB's monetary policy is still too restrictive. Almost 40 percent believe the central bank's stance is about right, while less than one in four thinks it too accommodative.
"I am skeptical that monetary authorities recognize the issues fully and that policy will continue to lag events," poll participant Mike Jensen, chief investment officer for the Lancashire County Council's pension fund in Preston, U.K., said in an e-mail.
Inflation in the euro area was 0.5 percent in June, about a quarter of the central bank's goal. The core inflation rate, which excludes volatile items such as energy, food, alcohol and tobacco, increased 0.8 percent after a 0.7 percent advance the previous month. Unemployment stood at 11.6 percent in May, close to the record 12 percent set in February of last year. The region's markets were also roiled last week by news that a parent company of Portuguese lender Banco Espirito Santo SA had missed some payments on commercial paper.
Mixed Grade
The mixed grade that investors gave the ECB's monetary policies didn't dim their views about Draghi, with almost three-quarters viewing him favorably. That's his best rating since taking over the ECB in November 2011 and topped the 67 percent mark received by Federal Reserve Chair Janet Yellen.
The poll's pessimism about the euro zone was not nearly as pervasive as in the past, when investors were questioning its continued existence. Thirty-six percent of respondents in the latest survey described the region's economy as stable. In December 2011, during the euro crisis, nine percent held that view while 87 percent portrayed the economy as worsening.
Almost a quarter in the latest poll said the European Union's markets will be among those offering the best returns over the next year. While down from 32 percent in April, it was surpassed only by the U.S.'s 38 percent in the latest survey.
"Euro equity markets have underperformed Anglo Saxon equity markets for almost two years running now," Peter M. Rup, founder and chief investment officer for Artemis Wealth Advisors, LLC in New York, said in an e-mail after taking part in the poll. "They offer better valuations and will find capital support once they move upward."
Markets Up
The Stoxx Europe 600 Index has risen 23 percent since the start of 2013 while the Standard & Poor's 500 Index has climbed 39 percent.
Global investors tempered their optimism about the U.S. economy in the latest survey, with 56 percent describing it as improving, down from 64 percent in April and the lowest reading since November. Fourteen percent believe it is worsening, up from April's 8 percent.
Recent U.S. economic data have been mixed. While gross domestic product contracted in the first quarter by the most in five years, employers have increased payrolls by an average 230,830 per month since the start of 2014, up from 203,500 in the similar period in 2013.
Fifty-five percent of respondents saw inflation as a greater threat to the U.S. than deflation or disinflation over the next year. That's up from 47 percent in April.
Wholesale prices in the U.S. rose 0.4 percent last month, double what economists surveyed by Bloomberg had expected.
More Upbeat
Sentiment has turned more upbeat about the prospects for Japan's economy, the poll found. Thirty-seven percent said it was improving, up from 28 percent in April, when growth in the world's third largest economy was hurt by a sales-tax increase.
Prime Minister Shinzo Abe's policies were endorsed by 59 percent, up from 54 percent in April. Bank of Japan Governor Haruhiko Kuroda's favorability rating also increased, to 61 percent from 56 percent.
The poll of 562 Bloomberg customers was conducted by Selzer & Co., a Des Moines, Iowa-based firm. It has a margin of error of plus or minus 4.1 percentage points.
Before it's here, it's on the Bloomberg Terminal.
LEARN MORE