China Finds Debt Addiction Hard to Break in Growth Quest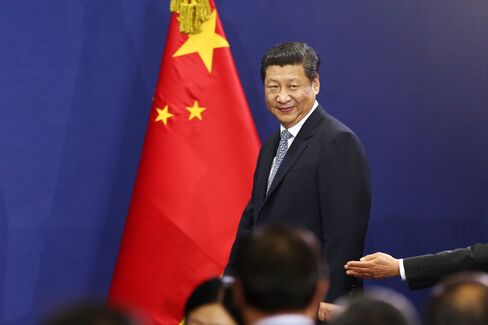 China's leaders are having trouble breaking their addiction to debt-fueled investment.
Outstanding credit rose to 206.3 percent of gross domestic product last quarter from 202.1 percent in January-to-March, according to data compiled by Bloomberg from government releases the past two days. Investment in fixed assets, a typical outlet for loans, accelerated in June for the first time since August.
President Xi Jinping's government is aiming for about 7.5 percent economic expansion this year, and a deeper slowdown could complicate structural changes he's implementing -- such as bringing more private capital into state-owned enterprises. The central bank has eased constraints on bank lending in recent months and ceased referring to a November projection that China might undergo an unwinding of its debt build-up.
"There are reasons to continue wondering how this is going to end," said Louis Kuijs, Royal Bank of Scotland Group Plc's chief Greater China economist in Hong Kong, who formerly worked at the World Bank. "Clearly they have made the decision that growth is still so important and we notice that they cannot meet their growth target at the moment without adding on more credit."
China will continue targeted measures to manage the economy and must meet the economic development goal, according to a government statement last night after a State Council meeting led by Premier Li Keqiang.
Growth Pickup
The world's second-largest economy grew 7.5 percent in the April-June period from a year earlier, the National Bureau of Statistics said yesterday, accelerating for the first time in three quarters after the government sped up spending and freed up money for loans to counter a property slump.
Fixed-asset investment excluding rural households increased 17.3 percent in the first half from a year earlier, up from a 17.2 percent pace in January-to-May, yesterday's report showed. China's broadest measure of new credit topped analysts' estimates in June and was the highest for the month since the lending spree of 2009, central bank figures showed on July 15.
Expansion in economy-wide credit has exceeded nominal GDP growth in every quarter since 2008, according to data compiled by Bloomberg. Financing rose 16.6 percent in June from a year earlier, compared with the second quarter's 8.5 percent increase in GDP unadjusted for inflation.
The Bloomberg-compiled data on the credit-to-GDP ratio, which exclude central government debt and equity issuance, showed a ratio of 166.6 percent at the end of 2011.
Potential Defaults
"If the Chinese want to avoid a painful correction, they have to keep pulling these levers," said Yao Wei, China economist at Societe Generale SA in Paris. "Debt has been growing very fast. There potentially can be a lot of defaults and systemic risk if growth also slows. They don't want to risk that. This is actually a fear of the unknown."
Economists at banks including Citigroup Inc. and JPMorgan Chase & Co. raised their 2014 growth forecasts following the data. Citigroup revised its estimate to 7.5 percent from 7.3 percent, while JPMorgan increased its projection to 7.3 percent from 7.2 percent.
Housing will continue to be a risk for growth, Yao said. While yesterday's report showed new property construction dropped 16.4 percent in the first half, home sales increased in June from the previous month.
Qualified Lenders
The central government has loosened policies including reserve requirements for qualified lenders and changes in the way loan-to-deposit ratios are devised. Local governments are starting to ease curbs on home buying to sustain the property industry.
Corporate-bond issuance last quarter jumped 56 percent from the previous three months to a record in data compiled by Bloomberg, as yields on two-year AAA rated corporate notes have dropped 134 basis basis points this year to 4.9 percent, near the lowest since August 2013.
"Beijing can get as much growth as it wants as long as it allows debt to grow commensurately," said Michael Pettis, a finance professor at Peking University and author of the 2013 book "Avoiding the Fall: China's Economic Restructuring." "Politically, Beijing is not yet ready to deal with much slower growth, so we're continuing to see credit expanding much too quickly."
The PBOC said in its quarterly monetary-policy report in November that "after a relatively big increase in leverage in recent years, the economy may go through a deleveraging and capacity reduction process over a relatively long period of time." It has omitted the language from subsequent reports.
Small Impact
Not everyone sees the stimulus adding financial risks. China is relying more on the central government than local authorities and the PBOC is providing some funding, suggesting that the negative impact on the financial system is "relatively small," Lu Ting, head of Greater China economics at Bank of America Corp. in Hong Kong, said in a note yesterday.
Credit risks for infrastructure projects and affordable housing are smaller than general property projects, said Li Miaoxian, a Beijing-based economist at Bocom International Holdings Co.
The statistics bureau said in its April statement on first-quarter GDP that leaders "stood firm" in the face of a "complicated and severe economic environment at home and abroad." Yesterday's statement omitted the wording on standing firm and said the Communist Party and State Council have "adopted scientific measures to stabilize economic growth."
'Safe Zone'
The government "has always attached great importance to the debt issue" and China's debt level "will continue to stay within the safe zone," Sheng Laiyun, a bureau spokesman, said at a briefing yesterday.
Xi and the Communist Party leadership in November underscored the state's primacy in the economy while elevating the role of markets at the conclusion of a summit known as the third plenum. Signs of momentum include April's $36 billion deal that will shift assets from Citic Group -- China's first state-owned investment corporation -- to its main Hong Kong-listed unit, and this week's announcement that six state-owned companies have been selected for trials that would include permitting mixed ownership structures.
"While the government has indeed made progress in some areas, the root-and-branch reform proposals for China's growth model are at best a work in progress, and more likely, rhetoric," George Magnus, a senior independent economic adviser to UBS AG in London, said in an e-mail. "The economy continues to be driven by credit-fueled investment spending and rising levels of debt."
(An earlier version of this story corrected the date the central bank released credit data.)
— With assistance by Kevin Hamlin
Before it's here, it's on the Bloomberg Terminal.
LEARN MORE