Pistorius Involved in Altercation at Johannesburg Nightclub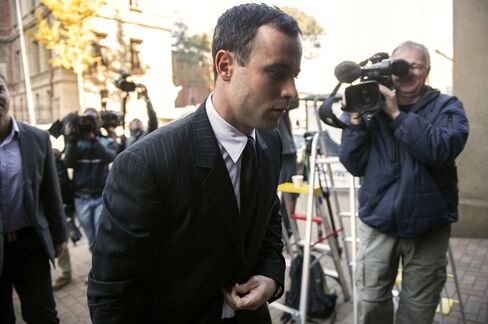 July 15 (Bloomberg) -- Oscar Pistorius, the 27-year-old Paralympian athlete accused of murdering his girlfriend on Valentine's Day last year, was involved in an altercation at a Johannesburg nightclub, according to his spokeswoman.
Pistorius and his cousin were at the VIP club in the wealthy suburb of Sandton when they were approached by a man who "aggressively interrogated him" about the murder trial, spokeswoman Anneliese Burgess said in an e-mailed statement yesterday. An argument ensued and Pistorius soon left the club, she said.
EyeWitnessNews, a Johannesburg-based broadcaster, said today the incident happened on July 12 and nightclub bouncers had to intervene after the man pushed Pistorius to the ground. Burgess said the incident wasn't a "bar brawl" and Pistorius regrets the decision to go to a public space and invite "unwelcome attention."
Pistorius, the first double amputee to compete at the Olympic Games, has pleaded not guilty to the charge of murder and says he thought his girlfriend Reeva Steenkamp was an intruder when he fired four shots through a toilet cubicle door at his home. The 39-day trial, heard in Pretoria, is adjourned until Aug. 7, when the prosecution and defense will start making closing arguments.
'Unfortunate Incident'
"We want the incident to go away -- it was an unfortunate incident and I hope that it doesn't occur again," Brian Webber, an attorney for Pistorius, said by phone today when asked about the altercation in the nightclub. Pistorius wasn't in violation of his parole "that I'm aware of," Webber said.
After not posting messages on his verified Twitter Inc. account for five months, Pistorius quoted a Bible verse on July 13 saying: "The Lord is close to the brokenhearted." The South African athlete also posted a picture montage of him with a number of children, some of whom were also double amputees.
Leo Pistorius, an uncle of Oscar Pistorius, issued a statement on behalf of the family, denying allegations that his nephew made an insulting comment about South African President Jacob Zuma or boasted about his family's influence during the incident at the club. He said the man who confronted Pistorius made those allegations.
"Being in a public space such as this, and thereby putting himself in a place where this kind of confrontation could take place, was ill considered," Leo Pistorius wrote in the e-mailed statement. He said his nephew "is grappling with an extreme level of emotional pain that is manifesting itself in some of his recent unwise actions and choices."
To contact the reporters on this story: Renee Bonorchis in Johannesburg at rbonorchis@bloomberg.net; Paul Burkhardt in Johannesburg at pburkhardt@bloomberg.net
To contact the editors responsible for this story: Dale Crofts at dcrofts@bloomberg.net Nasreen Seria, Jim Silver