Iran Nuclear Deal Falters as Contingency Plans Considered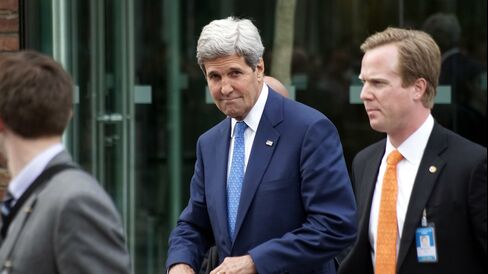 The top diplomats from the U.S. and Iran said progress in nuclear negotiations may not be enough to meet a July 20 deadline for clinching a long-term accord.
U.S. Secretary of State John Kerry flew back to Washington after failing to reach a breakthrough with his Iranian counterpart, Mohammad Javad Zarif. Iran's foreign minister is staying on in Vienna in an attempt to bridge the gaps to an agreement over the next five days.
Kerry will meet with President Barack Obama and consult with Congress over "a path forward if we do not achieve one by the 20th of July," he told journalists today in Vienna. Both sides are in a "difficult position" to reach a deal by the deadline, Zarif said at a separate press briefing.
Fourteen days into negotiations, neither side has shown a willingness to budge on the key issue of Iran's uranium-enrichment capacity. If a deal isn't reached before next week, Iran has said it's ready to restart nuclear activities it had suspended. The U.S. Congress has said it's ready to introduce tighter sanctions.
"Today it has been about damage control," said Ali Vaez, an Iran analyst at the International Crisis Group. "Neither side wanted to admit failure and need to show some progress to justify an extension."
'Tangible Progress'
After learning that diplomats couldn't achieve a breakthrough, the chairman of the U.S. House Foreign Relations Committee, Ed Royce, called on the administration to "finally engage in robust discussions with Congress about preparing additional sanctions against Iran," according to an e-mailed statement.
Even as "tangible progress" was made between world powers -- China, France, Germany, Russia, the U.K. and the U.S. -- and Iran, "very real gaps" continued to dog negotiations, Kerry said, adding that Iran must cut the 19,000 uranium-enriching centrifuges it currently has installed.
"We need to have the option" of making nuclear fuel, said Zarif. While the current interim deal may be extended until Nov. 25, a prolongation hinges on whether a final accord is "feasible" and the extra time "helpful," he said.
Obama and German Chancellor Angela Merkel, in a phone conversation today, agreed it's "imperative that Iran take the necessary steps to assure the international community that its nuclear program will be exclusively peaceful," according to a White House statement.
Core Issues
While negotiators made progress in giving international monitors access to Iran's nuclear infrastructure and winning modifications to a reactor under construction, they remain at loggerheads on core issues. In addition to disputes over enrichment, Iran seeks more clarity over how sanctions will be lifted. World powers want more insight into the possible military dimensions of Iran's past nuclear work.
A decision of some sort will be announced on July 20, according to Zarif. Negotiators from the world powers, convened under the auspices of European Union chief diplomat Catherine Ashton, will keep working on the text of a possible agreement.
"I'm obviously prepared to come back here if we have the team say to me that there's a reason to do so, but I have no plans to do so as I leave to go back to Washington to consult with the president," Kerry said.