Gowex Chief Orchestrated Sham Hiding Lies in Plain Sight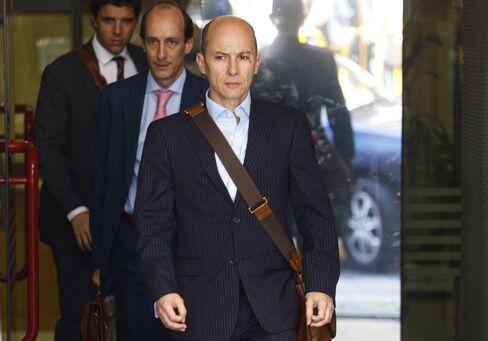 In the end, the most shocking part of Let's Gowex SA's implosion this month wasn't that the Wi-Fi company, worth 1.9 billion euros ($2.6 billion) just three months ago, was a fraud. It's that it wasn't spotted sooner.
Gowex founder Jenaro Garcia fabricated clients and contracts, listed a defunct company as a holding company for his stake in Gowex, and put numbers in reports that didn't make any sense, even as matters of basic arithmetic.
It was all so brazen that Gotham City Research LLC, the short-seller whose July 1 report exposed the sham, even began to question whether its conclusion -- that Gowex was overstating revenues -- was off-base.
"We were looking for things that might undermine our view," Gotham founder Daniel Yu said in an interview last week in New York. "It was like that movie 'Groundhog Day' where we're waking up, expecting to see a different outcome, but each day validates our thesis."
Garcia owned up to the deeds, resigning from the company on July 5 and saying on Twitter he made a "confession" and would cooperate with investigators. He met privately with a judge yesterday and admitted to falsifying financial accounts as early as 2005, using frontmen to create companies that acted as fictitious clients, and stashing more than 3 million euros in a Luxembourg bank.
Yu and his team spent eight months poring over publicly available information about Gowex. They spoke to Garcia, other company representatives, and competitors. Their conclusions sparked a sell-off in Gowex shares, which fell 60 percent before trading was suspended on July 3. The company filed for creditor protection yesterday.
Judge Pedraz
Authorities are now sifting through the wreckage of the one-time darling of the Spanish tech community and the alternative exchange on which it traded. Meanwhile, investors chasing bigger returns in remote corners of the public markets have another reminder that some entrepreneurs who steer clear of highly regulated exchanges do so for a reason.
Garcia and his lawyer didn't respond to calls or an e-mail seeking comment. They exited a closed-door meeting with Judge Santiago Pedraz yesterday without speaking to reporters gathered outside the national court. In a statement, Pedraz said charges could include falsifying accounts and the improper use of insider information, which could mean more than a decade behind bars for Garcia.
Police Van
This morning, at least nine police officers turned up at Gowex headquarters in Madrid's financial district. A police van was parked on Paseo de la Castellana, and officers guarded the entrance and stairs that lead to Gowex's offices. The officers and a representative of the police press office declined to comment on the operation. A Gowex spokeswoman standing at the door during the search declined to comment.
Gowex was one of the best performers on the MAB stock exchange, an alternative bourse for small businesses. MAB "is cooperating with all the relevant authorities to clarify the facts," the exchange said in a statement on its website. "The personal actions and grave irregularities that have been made public with regards to Let's Gowex cannot cast doubt on MAB."
"The whole system, from regulators to investors, didn't work properly," said Tontxu Campos, director of the Entrepreneurship Center at the Deusto Business School in Bilbao, Spain. "But at the end of the day the core failure is the lack of honesty and ethics by the entrepreneur."
In retrospect, many clues suggesting earnings manipulation were out in the open, available to anyone willing to examine offer documents, earnings statements and industry research.
Cheap Audits
Gotham started with the company's auditor. Gowex paid M&A Auditores SL 68,500 euros in 2013 on a purported 182.6 million euros in revenue. Competitors iPass Inc. and Boingo Wireless Inc. spent between 1 percent and 1.6 percent of annual sales for auditing, Gotham found. For Gowex, it was 0.04 percent.
M&A Auditores is located in a residential apartment complex on a tree-lined street in central Madrid. Bloomberg News spoke with the auditor, Jose Antonio Diaz, by phone after Yu's report appeared. He denied the claims and made jokes about Batman, the Caped Crusader working to save Gotham City from corruption and evil. Diaz hasn't since responded to calls for comment.
Other irregularities emerged. Garcia's wife, Florencia Mate, served as investor relations manager at Gowex and signed off on the company's financial statements, adding to questions about the numbers, Gotham said. The chief financial officer had ties to companies cited in the prospectus as being two of Gowex's biggest customers.
Wife, CFO
Mate and Francisco Martinez, the CFO, didn't respond to calls for comment.
Pedraz named Diaz, Mate, Martinez and Javier Solsona, a member of the Gowex board and director of corporate development, as suspects and is seeking to question them, a court official said today. The judge will also ask for help obtaining bank details for Garcia and his wife from Luxembourg authorities, the official said, asking not to be identified by name in line with court policy.
Yu and his team estimated that the company's 2013 revenue was exaggerated by a factor of 10. As an example, Gotham focused on Gowex's assertion that it generated more than 100 million euros in revenue from roaming -- charges billed to other carriers for using its network -- and related services.
Gowex says it rents more than half its hotspots from a U.S. competitor called Towerstream Corp., Yu notes. Since Towerstream says it made only $1 million in 2013 renting its network to other companies, Yu said, it's highly unlikely that Gowex managed to realize more than 100 times that much revenue from services using Towerstream's infrastructure.
'No Sense'
"How can you mint lemons at 1 cent each and sell them for $10?" Yu said. "It made no sense."
In the prospectus distributed ahead of Gowex's 2010 initial public offering, Garcia said he controlled Gowex through two companies, Biotelgy SA in Luxembourg and Cash Device SL in Madrid. On July 9, MAB said Biotelgy held 24 percent of Gowex and Cash Device 23 percent as of the end of June.
Documents reviewed by Bloomberg News cast doubt on both. Years before the Gowex IPO, Biotelgy had been ordered into liquidation for violating Luxembourg corporate law. Its auditor and board members resigned in 2004, the company had no headquarters or known home, and Biotelgy never filed any financial statements, according to court records. Garcia's name appears in none of the Biotelgy paperwork on file with the Luxembourg Registry of Commerce and Companies.
A hearing on the matter was held in December 2007, and no one showed up on behalf of Biotelgy, court documents show. Two months later, the court-appointed liquidator, attorney Donald Venkatapen, advised creditors to file any claims to the court. Venkatapen declared the company's assets fully dissolved and the court declared the case closed on Dec. 13, 2012. Venkatapen didn't reply to requests for comment.
Residential Address
Regulatory filings show that Cash Device is headquartered in a three-story building on a residential street in La Latina, a Madrid neighborhood known for its bars and nightclubs. From the outside, the building looks mostly residential, with bicycles and clotheslines on its balconies overlooking a small street. Just one doorbell had a name attached -- for a television repairman.
According to filings, Cash Device was created in 1996 and provides "technical engineering services." It has no employees and Garcia is listed as "sole administrator." While its reports are approved by a board, according to the filings, no members are listed in its past six annual reports. Cash Device doesn't refer to Gowex in any of its filings.
The man who answered the phone at the number listed on the latest report said he knew nothing of Cash Device and said the phone number is for an advisory firm. He refused to give his name or that of the company.
'Opaque Businesses'
When asked about Biotelgy and Cash Device, an MAB spokesman said companies listed on the exchange must disclose news about major shareholders if it could have a material influence.
As part of its research, Gotham arranged for an interview with Garcia to press him on details such as how many hotspots the company had, how much of its revenue came from advertising and who its largest telecom customers were. According to Gotham, Garcia wouldn't give specific numbers, saying "there's a Harvard Business Review report saying that opaque businesses work better in the stock exchange than transparent ones."
Harvard Business Review's communications department said the closest thing to such an article would be a 2006 report called "The Unexpected Benefits of Sarbanes-Oxley" on the tightening of accounting rules. It actually argues in favor of transparency. Just another of Garcia's tall tales?
Before it's here, it's on the Bloomberg Terminal.
LEARN MORE