Dublin Land for New $3.4 Billion Suburb Offered for Sale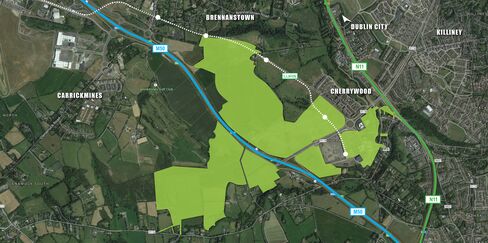 A site for a new suburb of Dublin was offered for sale with an asking price of more than 220 million euros ($300 million). The completed project will be valued at about 2.5 billion euros, according to Savills Plc, the broker managing the deal.
The buyer of the 400-acre (162-hectare) site at Cherrywood can build 37,800 square meters (407,000 square feet) of stores, more than 3,800 homes and about 220,000 square meters of office buildings, Savills Plc said in a statement today. The project, covering an area larger than London's Hyde Park, needs local government approval.
"Cherrywood is a suburban development unlike any other in Ireland," Mark Reynolds, a director at Savills, said in the statement. "No opportunity of this scale is ever likely to be presented again in Dublin."
Irish real estate is recovering from western Europe's worst property crash as a shortage of new homes and prime office buildings pushes up values and rents in Dublin. The Irish capital needs as many as 10,000 new homes a year compared with only 1,600 built last year, Ireland's National Asset Management Agency Chairman Frank Daly said July 4.
Tech Tenant
The property includes offices leased to companies including units of U.S. computer maker Dell Inc. and Dublin-based medical-equipment maker Covidien Plc, Savills said.
Income from the existing 52,500 square meters of office buildings, stores and leisure facilities at Cherrywood Business Park could rise to 10.5 million euros from 7.5 million euros a year when vacant space is leased, Savills director Domhnaill O'Sullivan said in the statement.
The site is being sold on behalf of receiver Grant Thornton. It's part of a larger land parcel that was designated a fast-track zone in April, meaning planning approvals by the borough can't be overturned by the appeals board.
There are three light-rail stops on the land and a journey to downtown Dublin takes about 40 minutes.
The value of leased office buildings in Ireland rose 25 percent in the 12 months through June, according to broker Jones Lang LaSalle Inc.'s Irish property index. Dublin home prices jumped 22 percent in May from a year earlier, the biggest increase since August 2006, according to the country's statistics office.
Before it's here, it's on the Bloomberg Terminal.
LEARN MORE