Crop Planting in India Accelerates as Monsoon Revives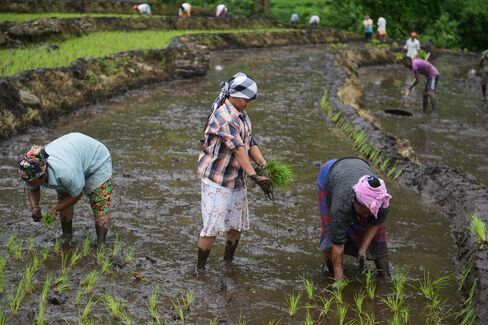 Farmers in India, the world's second-largest rice and cotton producer, are seen accelerating planting with a revival in monsoon rains ending the worst start to the rainy season in five years.
Most parts of India will get widespread rains in the week through July 22, the India Meteorological Department said on its website. Rainfall was 4 percent above average yesterday, trimming the seasonal shortage in showers to 41 percent from 43 percent a week earlier, department data showed.
Prime Minister Narendra Modi's government has ordered a crackdown on hoarders of onions to grains to contain Asia's second-fastest inflation. A revival in the monsoon may help ease concerns of a possible decline in farm output that would thwart efforts to revive economic growth from near the lowest in a decade. An estimated 833 million people out of the 1.2 billion population depend on agriculture for their livelihood and the sector accounts for 14 percent of the economy.
"Revival brings a hope that farmers will accelerate planting as they were waiting for a long period in many parts," Agriculture Commissioner J.S. Sandhu said. Parts of Gujarat, Madhya Pradesh and Maharashtra states, which remained largely dry since June, may get rains in the next two days, he said in an interview yesterday in New Delhi. The states are the top producers of cotton, soybeans and sugar cane.
Crop Area
The area under crops sown during monsoon are about 50 percent below last year's level as rains in June were the weakest since 2009 after showers were delayed over much of India, according to official data. The deficit may narrow to 30 percent by the end of July, Skymet Weather Services., a New Delhi-based private forecaster, said today. The chances of a drought in India increased to 60 percent from about 25 percent in April amid forecasts for El Nino, it had said on July 4.
The odds of a strong El Nino, which brings drought to the Asia-Pacific region and heavy rains to South America, are increasingly unlikely after the tropical Pacific Ocean cooled, Australia's Bureau of Meteorology said today. A general lack of atmospheric response over the last month resulted in some cooling, it said. Warming of the ocean over the past several months had primed the conditions for the event, it said.
"The key months for the monsoon are July-August, and even now, if rainfall shows some recovery, the impact on inflation will likely remain relatively manageable," Rahul Bajoria and Siddhartha Sanyal, economists at Barclays Plc, said in a report e-mailed today.
Price Gains
Consumer prices rose 7.31 percent in June from a year earlier, the Statistics Ministry said yesterday. That's the slowest pace since the index was created and compares with a 7.7 percent median estimate in a Bloomberg News survey.
The area under monsoon crops fell to 25.7 million hectares (63.5 million acres) as of July 11 from 50.2 million hectares a year earlier, according to the Agriculture Ministry. Cotton planting dropped to 4.5 million hectares from 9.2 million hectares a year earlier, while soybeans area slumped to 786,000 hectares from 8.4 million hectares, the ministry said.
"It is a cause of concern right now, but not a cause for panic," Dhiren Sheth, president of the Cotton Association of India, said by phone from Mumbai. "If the rains are good in the coming days, the planting could catch up."