BOJ Keeps View Inflation to Accelerate Toward 2% Target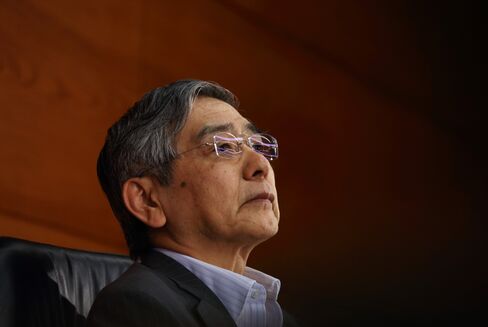 Governor Haruhiko Kuroda signaled confidence in the Bank of Japan's bid to drive inflation to 2 percent as the central bank maintained unprecedented stimulus.
The BOJ stuck with its goal to increase the monetary base by 60 trillion yen to 70 trillion yen ($690 billion) per year, it said in a statement today, as forecast by all 34 economists surveyed by Bloomberg News. Consumer prices excluding fresh food will rise 1.9 percent in the year starting April 2015, the median estimates of board members showed, matching its forecast three months ago.
Japan's economy is set to continue a moderate recovery, gradually shaking off the effects of April's sales-tax hike, Kuroda said. His challenge is to sustain momentum as rising prices and limited wage gains squeeze households, even as economists push back estimates for further easing.
"The economy and prices are developing along the BOJ's scenario," said Mari Iwashita, chief market economist in Tokyo at SMBC Friend Securities Co. "Still, it's too early for the BOJ to relax. The strength of the rebound is the most important factor to judge if prices will really go on a path to its target."
The Topix index of shares advanced 0.7 percent today in Tokyo, extending yesterday's rally amid earnings optimism. The yen declined 0.1 percent to 101.62 per dollar at 4:30 p.m. local time.
Accelerating Gains
Kuroda predicted the pace of price gains will accelerate in the second half of this fiscal year, saying there was "no possibility" that core inflation would drop below 1 percent.
"I expect there will be a decrease in companies that rely on price discounts to cultivate demand, the sort of behavior that occurred under deflation," Kuroda said at a press conference in Tokyo. "Broad-based price increases are expected to become more widespread."
The BOJ forecast its main inflation gauge will pick up to 2.1 percent in the year starting April 2016, today's statement showed, as it projected in April.
The bank lowered its economic growth forecast for this fiscal year to 1 percent, from 1.1 percent. It forecast expansions of 1.5 percent in the year from April and 1.3 percent in the following year.
The estimates are the median of the nine board members, with the price forecasts excluding the impact of increases in the sales tax.
October Focus
Thirty-eight percent of economists in a July 3-9 survey by Bloomberg predicted additional easing this year, down from 58 percent last month. The top pick for easing was October.
Kuroda, who was handpicked as governor by Prime Minister Shinzo Abe, began the BOJ's unprecedented easing in April last year to pull Japan out of 15 years of deflation.
The stimulus helped trigger an 18 percent slide in the yen against the dollar and boosted share prices last year. The currency has since strengthened about 4 percent and the Topix index has dropped.
Prices excluding perishables -- the BOJ's key inflation gauge -- rose 3.4 percent in May, the fastest gain in 32 years. Stripped of the impact of April's 3 percentage point sales-tax increase, the core price index rose 1.4 percent, according to a BOJ estimate.
Itoham Foods Inc. said yesterday it would raise prices of some cheese products by an average of 17 percent from August. Meiji Co. said last week that it would increase prices of cheese and butter from the same month.
Incomes have failed to keep up with prices. Base wages, which exclude overtime and bonuses, rose 0.2 percent in May from a year earlier -- the first increase in 26 months. Real wages fell 3.6 percent.
(An earlier version of this story was corrected to show the BOJ lowered its economic growth forecast for this fiscal year.)