Black Saturday Survivors Reach Record Australian Settlement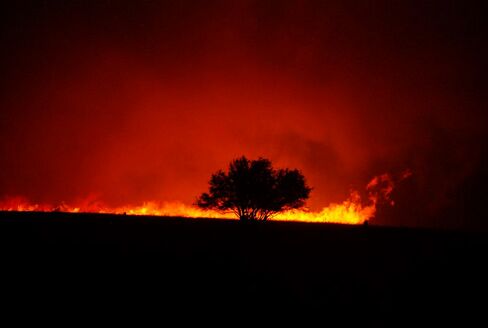 July 15 (Bloomberg) -- Survivors of the worst bushfires in Australian history secured a record class action settlement five years after the so-called Black Saturday tragedy, lawyers said.
A total of A$494.7 million ($465 million) will be paid to survivors of the Kilmore East fire in the southeastern state of Victoria, with electricity and gas company SP AusNet to pay A$378.6 million, the Melbourne-based company said in a statement today. The payout is more than double the previous record of A$200 million for an Australian class action settlement, according to Maurice Blackburn Lawyers.
The Black Saturday fires of Feb. 7, 2009, claimed 173 lives, as temperatures soared to as high as 48 degrees Celsius (118 degrees Fahrenheit), according to a Royal Commission into the disaster. The Kilmore East blaze was the most devastating, taking 119 lives and 1,242 properties, Maurice Blackburn said.
SP AusNet said the settlement was without admission of liability by the company or any other party.
"The conductor that broke and initiated the fire was damaged by lightning, compromising its fail-safety design in a manner that was undetectable at that time," the company said in the statement. "SP AusNet's management of its network did not involve any negligence."
The company remains a party to a class action over the Murrindindi fire, that left 40 people dead, and will "vigorously defend that claim."
To contact the reporter on this story: Phoebe Sedgman in Melbourne at psedgman2@bloomberg.net
To contact the editors responsible for this story: Edward Johnson at ejohnson28@bloomberg.net Chris Bourke