Yale Commons Cuts Breakfast as Part of Campuswide Budget Cuts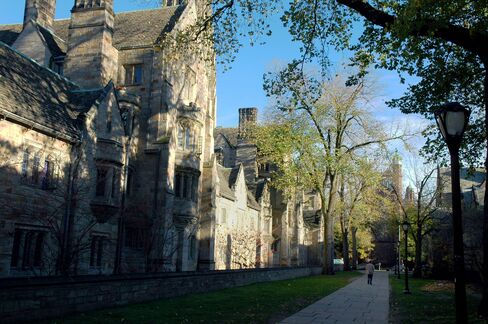 July 14 (Bloomberg) -- Yale University students craving pancakes and eggs in the morning will no longer find them at Commons this fall as breakfast at the historic dining hall gets axed amid campuswide budget cuts.
The dining hall will remain open only during lunch hours, the Yale Daily News student newspaper reported late last week, citing a list of changes provided by college's dining service. The service will also move preparation of cold foods to a central kitchen from the 14 individual dining halls to reduce overlap, the newspaper said.
Yale, whose $20.8 billion endowment makes it the second-wealthiest university, said last year it had a $39.2 million gap in fiscal 2013. Department heads need to "cut costs from personnel and non-personnel administrative budgets," to avoid exhausting $160 million in reserves in the next few years, Yale President Peter Salovey said in a November memo.
Tom Conroy, a spokesman for New Haven, Connecticut-based Yale, said the university wouldn't be able to confirm or comment today on the report.
Once Yale's only dining room, the giant hall serves students at long tables under candelabras. It has often been compared to Hogwarts, the school for wizards in the Harry Potter books. In 2009, Harvard University ended hot breakfasts in its residential dining halls as part of measures to compensate for endowment losses. That decision was met with organized sit-in protests by students.
At Yale, no dining staff members will be laid off or have their hours reduced, the newspaper reported. Conroy was able to confirm that Yale Dining employees are unionized and contractually immune from layoffs through 2016.
Breakfast will still be served in Yale's residential colleges.
To contact the reporter on this story: Kelly Blessing in Boston at kblessing1@bloomberg.net
To contact the editors responsible for this story: Lisa Wolfson at lwolfson@bloomberg.net Niamh Ring