AbbVie Moves Closer to Shire Deal With $53.7 Billion Bid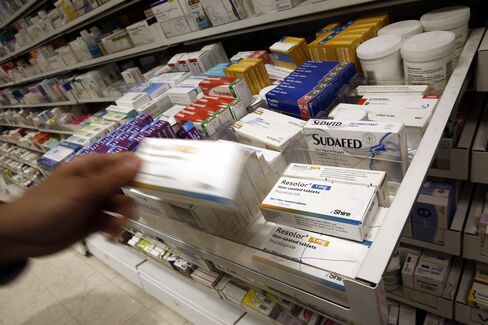 AbbVie Inc. moved a step closer to buying Shire Plc after the Dublin-based company said it is willing to back a fifth offer of 31.4 billion pounds ($53.7 billion) just four days before the deadline to strike a deal.
Shire would support a formal bid of 53.20 pounds a share, or 9.2 percent more than Shire's closing share price on July 11, Shire said in a statement today. That price would make the acquisition the biggest in the industry this year. AbbVie made four previous offers for as much as 30.1 billion pounds.
Buying Shire allows AbbVie, currently based in North Chicago, Illinois, to move its tax residence to the U.K. and add treatments for rare diseases and attention deficit disorder, easing the company's reliance on the rheumatoid arthritis injection Humira. The companies have a July 18 deadline set by U.K. regulators to work out an agreement, though Shire could now seek an extension.
"I think this is probably it," said Alex Arfaei, a New York-based analyst at BMO Capital Markets Corp., in a telephone interview. "At this level, it's a pretty high probability it'll be able to go through."
Shire said in its statement that AbbVie yesterday proposed paying 24.44 pounds in cash and 0.896 AbbVie shares for every Shire share.
Shire's stock gained less than 1 percent to close at 49.03 pounds in London, the highest price since the company's 1996 initial public offering. AbbVie shares fell less than 1 percent to close at $54.85 in New York.
Still in Talks
Shire declined to say if it will seek an extension to nail down the bid, which would give Shire investors ownership of about 25 percent of AbbVie stock. The two companies are still in talks on other issues and there's no certainty a deal will be done, Shire said.
If no deal is approved by July 18, or by an extended deadline agreed to by U.K. regulators, AbbVie must walk away for as long as six months. Adelle Infante, a spokeswoman for AbbVie, declined to comment on the new offer.
Pfizer Inc.'s pursuit of London-based AstraZeneca Plc earlier this year ran into the U.K. Takeover Panel's deadline as the companies could not agree on a price. New York-based Pfizer can approach AstraZeneca again after six months.
"The board of Shire has indicated to AbbVie that it would be willing to recommend an offer at the level of the revised proposal to Shire shareholders subject to satisfactory resolution of the other terms of the offer," Shire said in today's statement. "Accordingly, the board is in detailed discussions with AbbVie in relation to these terms."
Inversion Deals
AbbVie's potential purchase of Shire, which comes at a time of increased merger and acquisition activity in the industry, would be a so-called inversion deal, allowing AbbVie to cut its tax rate to 13 percent from 22 percent by moving its legal address to the U.K.
Mylan Inc. said today it will acquire Abbott Laboratories' generic-drug business and incorporate the new company in the Netherlands. Medtronic Inc., a Minneapolis-based medical-device maker, last month also said it would renounce its American address as part of its planned $42.9 billion takeover of Dublin-based Covidien Plc.
AbbVie "probably paid a higher premium because of the tax inversion, which is the number one reason for this deal," BMO Capital's Arfaei said.
Bid History
Shire's board had unanimously rejected AbbVie's first three offers, saying they undervalued the prospects of its rare-disease medicines. Shire didn't formally respond to the fourth offer, though managers from the two companies began talks last week.
While other drugmakers including Bristol-Myers Squibb Co. and Allergan Inc. were rumored as being interested in buying Shire, there's little chance a counterbidder will make an offer, said Guillaume van Renterghem, an analyst at UBS AG in London.
"I don't think that Shire either has found or is willing to find a white knight," van Renterghem said by phone today. "If nobody has come now, I think it's unlikely that anybody will come."
Flemming Ornskov, Shire's chief executive officer since May 2013, had argued for keeping the company independent, projecting that product sales will double to $10 billion by 2020 as Shire expands in drugs for eye maladies and rare diseases.
AbbVie's bid for Shire is the latest merger in a period of increased acquisition activity in the drug and medical device industry.
Not including the AbbVie offer, there were deals proposed or completed worth $263 billion in the second quarter, according to data compiled by Bloomberg, five times more than any quarter since at least 2009. Pfizer Inc.'s failed $117 billion bid for AstraZeneca Plc was the largest proposed deal in drug industry history.
Before it's here, it's on the Bloomberg Terminal.
LEARN MORE