Goldman Keeps Rate-Cut Call Seeing RBA Pivot: Australia Credit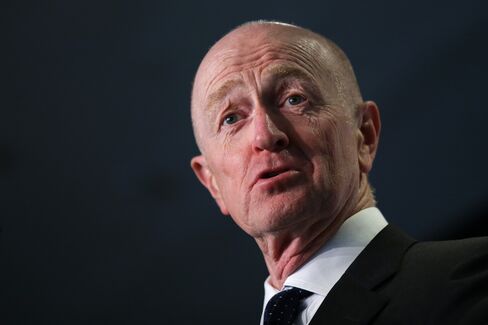 Goldman Sachs Group Inc. is holding out as the only bank predicting an interest-rate cut in Australia. It's now winning converts to that position as the nation's bonds deliver world-beating returns.
The Reserve Bank of Australia will lower its benchmark in September as the non-mining economy shows weakness and Governor Glenn Stevens signals a shift to a more dovish stance, Tim Toohey, Goldman Sachs's Melbourne-based chief Australia economist, said in a July 11 phone interview. Thirty-day interbank futures show a 44 percent chance the central bank will reduce its cash rate from a record-low 2.5 percent by year-end, up from 30 percent odds on June 30.
Australia's bonds surged in the past month and two-year yields fell below the central bank's benchmark as Stevens said the economy has a way to go to be weaned off a dependence on mining investment and warned investors are underestimating the chance of a "significant fall" in the currency. Goldman Sachs is the only bank predicting a rate cut this year after Macquarie Group Ltd. and JPMorgan Chase & Co. changed their forecasts in June. Research firm 4Cast Ltd. also predicts a reduction.
"I don't think it's a case of the RBA just saying they'd like the currency lower and it'd be nice if market expectations got there," Toohey said. "They've taken a position and they're making an incremental step toward a more dovish stance."
Strong Signal
Goldman Sachs is forecasting policy makers will lower borrowing costs by a quarter-percentage point at their Sept. 2 meeting, the only company to predict that among 32 firms responding to a Bloomberg survey published yesterday. 4Cast predicts a cut of 25 basis points in the fourth quarter. The RBA will probably raise its key rate to 2.75 percent by the second quarter of 2015, the survey's median estimate showed.
"If the RBA shifts its bias and enacts a rate cut while most people's forecasts indicate it's clearly not anticipated, that would be a quite strong signal for financial conditions to ease via the currency," Toohey said.
The Australian dollar has strengthened even as the central bank kept its key rate at a historic low since August. The currency rose 5.3 percent this year to 93.91 U.S. cents as of 3:43 p.m. in Sydney, the biggest gain after New Zealand's kiwi among Group of 10 currencies.
'Early Ones'
While there are indications of a transition away from mining-led growth, "these signs remain early ones" and "there is quite some way to go yet before the episode is completed," Stevens said in a July 3 speech in Hobart. Mining investment as a share of gross domestic product has probably declined about a percentage point and is expected to fall a further three or four percentage points in coming years, he said. Stevens also said the Aussie "is overvalued, and not by just a few cents."
While low borrowing costs were working to support the economy, it was hard to judge the extent they would offset a decline in mining investment and the impact of fiscal consolidation, policy makers said in minutes of their July 1 meeting published today.
"The RBA retains a clear neutral policy stance, but the subtle changes are material and consistent with an incremental progression towards a more cautious/dovish outlook," Goldman economists including Toohey wrote today in a note to clients, in reference to the minutes.
Best Performer
Australia's two-year note yield was at 2.49 percent today. It dropped 20 basis points, or 0.2 percentage point, in the month through yesterday, the biggest decline among 21 developed markets tracked by Bloomberg.
Australian bonds maturing in 10 years or longer returned 4.2 percent during the period, the best performers among 144 indexes tracked by Bloomberg and the European Federation of Financial Analysts Societies.
Macquarie predicts the RBA will keep its key rate on hold through 2015, compared with a previous forecast for a reduction in September in a Bloomberg survey published June 16.
"An additional rate cut is possibly not really going to have that much more of an impact on the economy," James McIntyre, the bank's head of economic research for Australia in Sydney, said by phone yesterday. "It would have to be something a lot more significant to get the RBA to cut."
Jobless Rate
The statistics bureau said last week full-time employment in Australia declined in June, while the jobless rate climbed to match the highest in more than a decade. The nation had a trade deficit in May that was almost 10 times the amount forecast by economists, a July 2 report showed.
4Cast's Singapore-based economist Waqas Adenwala said the company was sticking with its call for a rate cut in the fourth quarter amid weaker economic data and after Stevens indicated on July 3 the RBA has room to revise its policy rate.
Traders are betting the central bank will cut its benchmark rate by 12 basis points during the next year, after forecasting 22 basis points of increases as recently as April 10, a Credit Suisse Group AG index based on swaps shows.
"The underlying story of economic growth has deteriorated," Goldman Sachs's Toohey said. "Mining investment's been declining and it's got a lot further to go. Given the broader backdrop where a lot of the other components of the economy appear to be petering out somewhat, then that's clearly a cause for concern."