Doctors Running for Congress Ditch Suits for White Coats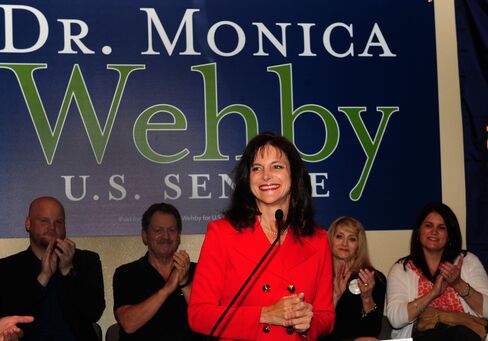 On the 2014 campaign trail, white is the new olive drab.
After the 2001 terrorist attacks on the U.S., political candidates with military ties showed up in their ads in uniform. This year, those with medical backgrounds are attacking Obamacare wearing their white coats.
It's no accident: polls show nurses and doctors are among the most trusted people in America. Politicians are among the least trusted.
All three commercials for Monica Wehby, an Oregon Republican seeking to unseat Democratic Senator Jeff Merkley, have shown her in a hospital setting.
"As a pediatric neurosurgeon, I know firsthand how devastating Obamacare is for Oregon families and patients," Wehby said in one of her ads, which was interspersed with footage of the candidate in surgical scrubs.
The "Grey's Anatomy" backdrop comes as Republicans seek to gain control of the U.S. Senate and, with their House majority counterparts, pass a law repealing 2010's Affordable Care Act. The quest is gaining urgency as Americans become more accepting of the law. Republicans need a net gain of six seats for a Senate majority.
Fifty-three percent of Americans oppose the law, though just 32 percent say it should be repealed, according to a Bloomberg National Poll last month. Fifty-six percent say they want to keep Obamacare with "small modifications."
Wardrobe Messaging
The latest wardrobe preferences for political ads also put distance between some candidates and the unpopular Congress they are seeking to join.
About 82 percent of Americans say nurses have a "high or very high level" of honesty and ethical standards, the top spot among 22 professions rated in a December Gallup survey. Pharmacists were tied for second at 70 percent, and medical doctors were tied with military veterans for fourth at 69 percent. Medical professionals have high approval ratings because people view them as "primary care-givers," said Frank Newport, Gallup's editor-in-chief.
Members of Congress ranked second-to-last at 8 percent, ahead of only lobbyists. Congress had a 16 percent favorability rating in a separate Gallup poll last month, on pace to be the lowest figure in a midterm election year since data were first collected in 1974.
Health-care professionals running for office are telling voters "you can trust me more than you can trust Congress," and "you can trust me on health-care reform because I have extra knowledge because I know the health-care system," said Elizabeth Wilner, senior vice president at New York-based Kantar Media's CMAG, which tracks political advertising.
Clark-Kerry
The only other profession invoked as regularly is the military, Wilner said. Among the highest profile examples: the 2004 Democratic presidential primary that included retired General Wesley K. Clark, the former NATO Supreme Allied Commander, and then-Massachusetts Senator John Kerry, the current secretary of state and a former U.S. Navy captain who served in Vietnam.
Almost all of candidates touting their health-care backgrounds on television in this year's campaign are Republicans running on a platform of repealing and replacing a health law that's divided Americans.
"I say replace Obamacare with a plan that gives the power to you, not the politicians and bureaucrats," Bill Cassidy, a Republican seeking to unseat Democratic Senator Mary Landrieu in Louisiana, says in an ad in which he's wearing a doctor's uniform with a stethoscope draped around his neck.
Though Cassidy has served in the U.S. House since 2009, the spot refers to "Dr. Bill Cassidy."
'Hurting Louisiana'
A Landrieu ad countered that while "Bill Cassidy is running for Senate as a doctor," he's been "hurting Louisiana" with his votes on health issues affecting seniors.
Landrieu, who voted for Obama's health-care measure, is seeking a fourth term in a state the president lost by 17 percentage points in the 2012 election. Polls show a close race between her and Cassidy.
Both Republicans seeking an open congressional district in southeastern Georgia are playing up their health-care backgrounds as they campaign against the health-care law.
All eight of Buddy Carter's broadcast TV spots have called attention to his background as a pharmacist and shown him wearing his profession's white coat. Just two of the spots noted Carter's political background as a state senator and former small-city mayor.
"Our nation needs healing, and I can fill that prescription," Carter said in one of his ads.
Carter's opponent in the July 22 runoff election, Bob Johnson, is an orthopedic surgeon who's also appeared in uniform in ads that refer to him as "Dr. Bob Johnson."
Pulling Teeth
Brian Babin, a Republican dentist from eastern Texas favored to win a House seat in November, topped 11 other Republicans after running on the slogan, "it's going to take a dentist to pull all the teeth out of Obamacare."
The approach has limits to its effectiveness. Some candidates who prominently emphasized their health-care backgrounds lost in the primaries.
Representative Phil Gingrey, a Georgia Republican obstetrician who sought a Senate seat this year, appeared in a doctor's lab coat in a spot in which he promised to leave the Senate after one six-year term if he didn't repeal Obamacare. He finished fourth in the party primary.
'Angels' Actress
In a California House district around Santa Barbara, "Charlie's Angels" actress Jaclyn Smith narrated an ad for her husband, Republican Brad Allen, a pediatric heart surgeon. She said Allen was once at a child's bedside for 18 hours, and "will bring the same kind of determination to fixing our health-care system."
Allen's campaign ended in the state's June primary.
Valerie Arkoosh, a Philadelphia anesthesiologist running for a House seat, is a rare Democrat with a health-care background who promoted Obamacare in her ads.
Arkoosh's ads touted her work "building a national coalition" to help enact the law. It wasn't enough to top a primary field that included three politically experienced candidates.