China's Local Governments Pile On Stimulus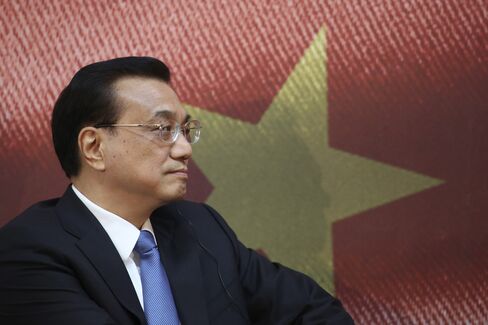 China's regional governments are starting to pull out their own stimulus cards to shore up growth as central authorities limit aid for the economy.
Northern Hebei province, whose 4.2 percent first-quarter expansion pace was less than half that of a year earlier, will invest 1.2 trillion yuan ($193 billion) in areas including railways, energy and housing. Heilongjiang province in the northeast, with 2.9 percent growth that was China's lowest in the first quarter, will spend more than 300 billion yuan over two years in areas including infrastructure and mining.
Any borrowing to fund the investment risks exacerbating financial dangers from local-government debt that swelled to about $3 trillion as of June 2013. While Premier Li Keqiang is trying to expedite spending from existing budgets and avoid broad stimulus, provinces such as Hebei are facing bigger shortfalls on their own growth goals than the national government, which has a target of about 7.5 percent.
"The motivation is there -- currently GDP is still the key performance indicator for local officials," said Shen Jianguang, chief Asia economist at Mizuho Securities Asia Ltd. in Hong Kong, who previously worked at the European Central Bank.
Figures today from the People's Bank of China showed that the broadest measure of financing, new yuan loans and money supply all topped estimates in June, signaling policy makers' shift toward supporting economic growth over reining in shadow banking.
Growth Steady
The world's second-largest economy probably expanded 7.4 percent in the April-June period from a year earlier, based on the median estimate of analysts surveyed by Bloomberg News ahead of tomorrow's report from the National Bureau of Statistics. That would be the same pace as the previous period, which was the weakest in 18 months.
Industrial production may have increased 9 percent in June from a year earlier, up from 8.8 percent in May, economists estimated ahead of data also due tomorrow. First-half growth in fixed-asset investment, excluding rural households, probably maintained the same 17.2 percent pace as in January-to-May.
Li said yesterday that economic growth is in a reasonable range and he's confident it can remain at a medium-to-high level, according to a central government statement.
"Debt growth can indeed possibly increase risks, but if the economy collapsed, the problem would be even bigger," said Chang Jian, chief China economist at Barclays Plc in Hong Kong. Authorities are balancing short-term and long-term issues, with the result of "maintaining the current growth pace and gradually paying off the old debts," Chang said.
Investment Gains
Hebei's plan is designed to curb an investment slowdown and aid the economy, according to an article in the official Hebei Daily posted June 26 on the central government's website. The amount would be equivalent to 42 percent of 2013 GDP in the region, where the government is cutting steelmaking capacity.
The article didn't indicate how much of an increase the 1.2 trillion yuan represents over previous plans. Hebei Daily said the province would strive to complete 450 billion yuan of investment in city infrastructure this year. In 2012, the most recent data available, Hebei's fixed-asset investment was 272 billion yuan for the categories that include transportation and public facilities.
Oilfield Slump
Heilongjiang's plan, described in a June 23 government statement, is also aimed at boosting an economy that's slumped on lower output from a major oilfield. Heilongjiang said it will "step up the construction of important infrastructure projects," listing 83 billion yuan of railway, road and airport plans over two years. The province's fixed-asset investment in transportation was 49.9 billion yuan in 2012.
Hebei's 2014 growth target is 8 percent, while Heilongjiang's is 8.5 percent.
Neither government specified how it would finance the spending. Heilongjiang said it will open some projects to market bids and make full use of funds from the central and regional governments to support agriculture.
"There is no other way" to fund projects other than through local-government financing vehicles, said Xu Gao, chief economist at Everbright Securities Co. in Beijing. While typical returns are half the cost of financing, indicating "there are certainly risks," repayment depends ultimately on China's financial sustainability, which is strong, Xu said.
Another province outlining spending plans is Guangxi in the south, which will spend 630 billion yuan over three years on 166 infrastructure projects, according to a July 4 statement.
Home Purchases
Investment spending isn't the only form of local stimulus. Hohhot in Inner Mongolia province and the eastern city of Jinan have eased home-purchase restrictions amid a nationwide property slump.
The local investment plans are relatively small compared with nationwide totals and it's hard to judge whether the spending was already planned, Wang Tao, chief China economist at UBS AG in Hong Kong, told reporters in a conference call yesterday.
At the same time, Wang said in a report that "as the most direct way to boost investment and growth, increased investment in infrastructure and public services will be an indispensable part of the policy mix."
— With assistance by Xiaoqing Pi, and Josh Zhang
Before it's here, it's on the Bloomberg Terminal.
LEARN MORE