Germany Fresher as Messi's Form Dips Ahead of World Cup Final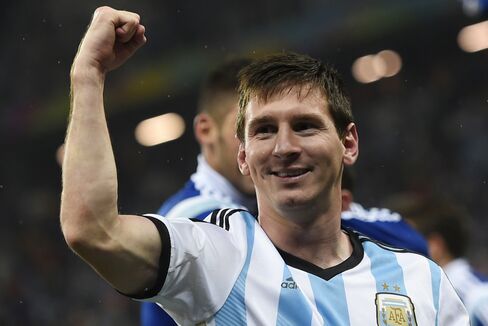 Germany is the fresher squad heading into today's World Cup final against Argentina.
The Argentines led by four-time world player of the year Lionel Messi played extra-time in two of their last three matches and have had a day less to recover from their semifinal than the Germans. Argentina beat the Dutch on penalty kicks on July 9, a day after Germany downed Brazil 7-1.
"It's a factor in favor of Germany, undoubtedly," Argentina coach Alejandro Sabella told reporters yesterday, referring to Germany's extra day of recuperation.
The final at the Maracana stadium in Rio de Janeiro will be the third between the two countries. Diego Maradona's Argentina beat Germany 3-2 in 1986 for its second world title, and the Germans captained by Lothar Matthaeus avenged the defeat with a 1-0 win in 1990 for a third title.
Neither team has won the soccer showpiece since.
Messi has covered 51.9 kilometers (32.3 miles) in six matches at the World Cup, more than Germany midfielders Bastian Schweinsteiger and Sami Khedira, who have both played a game less, according to tournament organizer FIFA.
Forward Thomas Mueller, who has five goals, and midfielder Toni Kroos have covered the most distance for Germany at about 68 kilometers each -- about a kilometer more than Argentina's defensive midfielder Javier Mascherano.
Messi's performance has tailed off since the group phase when he scored four goals in three games.
In the July 9 semifinal against the Dutch, Messi was limited to one shot on goal. Before extra time, he sat on a cooler box as the coaching staff patted him on the back and appeared to ask him how he was feeling.
100 Kilos
According to Folha de Sao Paulo newspaper, which cited comments by his father Jorge, Messi complained of exhaustion before Argentina's quarterfinal against Belgium and said that his leg felt like it weighed 100 kilos.
Tired or not, Argentina has shown determination to get to the final and in Mascherano -- who made a sliding tackle on Dutch winger Arjen Robben in the 90th minute of the semifinal -- they have the leader of their "pack of wolves," according to Schweinsteiger.
As many as 70,000 Argentines have traveled to Rio for the final, according to the city's mayor Eduardo Paes. Of those, about 13,000 have match tickets. Germany's supporters have about the same number of entries, FIFA says.
"We'll give everything we can, like we always have," Argentina coach Sabella said. "We can't do more than that."