Carmelo Anthony Is Returning to NBA's Knicks, ESPN Radio Says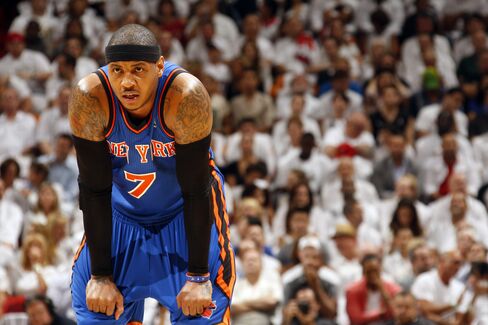 Carmelo Anthony is staying with the Knicks, as the seven-time All-Star spurned free-agent offers from the Los Angeles Lakers, Chicago Bulls and Houston Rockets to attempt to win a championship in New York, ESPN Radio in New York reported yesterday.
Anthony, 30, last month opted out of the final year of his contract with the Knicks to test the free-agent market. He made trips to Chicago, Houston, Dallas and Los Angeles -- meeting team executives and fellow players -- before opting to return to New York, where he's spent the past 3 1/2 seasons, and join new team President Phil Jackson.
Anthony will receive a five-year contract from the Knicks worth about $129 million, the Knicks' flagship station said, citing people familiar with the situation.
"It sounds like it could be done soon," Knicks coach Derek Fisher said after the team's summer league game yesterday, according to video on the club's website.
Anthony, who last year said he knows the "window is closing" to bring a championship to the Knicks, is coming off a season in which he missed the playoffs for the first time in his 10-year career. His return is a coup for Jackson, the 11-time championship winning coach who was hired this offseason as the Knicks' team president.
Jackson had already started reshaping the team, hiring Fisher as coach after firing Mike Woodson and trading center Tyson Chandler and point guard Raymond Felton to the Mavericks. That deal brought the Knicks two draft picks along with point guard Jose Calderon and three other players.
The Bulls were listed at the start of free agency by online sports book Bovada.lv as the 2-3 favorites to sign Anthony, who has averaged 25.3 points a game over his NBA career. Chicago, which had sought to team Anthony with Derrick Rose and Joakim Noah, had a red-carpet welcome for Anthony at the United Center that featured video signs of him in a Bulls jersey.
Lakers' Push
The Lakers also made a push to team him with Kobe Bryant as part of a rebuilding effort following a 27-55 season, their worst record since the franchise moved from Minneapolis in 1960. Among those involved in the Lakers' pitch to Anthony was team President Jeanie Buss, who is engaged to Jackson.
Anthony is close friends with Bryant, a 16-time All-Star who has won five titles with the Lakers, and has an offseason home in Los Angeles, yet ultimately opted to stay in New York.
Fisher, who played alongside All-Stars such as Bryant, Shaquille O'Neal and Kevin Durant over 18 NBA seasons, said having Anthony back in New York would have a significant impact on his rookie season as a coach.
"Having played with some of the greatest players that have every played the game, it makes everyone's job easier to have those kind of guys around," Fisher, 39, told reporters following practice during the week.
Anthony averaged 27.4 points, 8.1 rebounds and 3.1 assists a game last season as the Knicks went 37-45.