Slim's Assets Offer Suitors Rare Opening in Mexico: Real M&A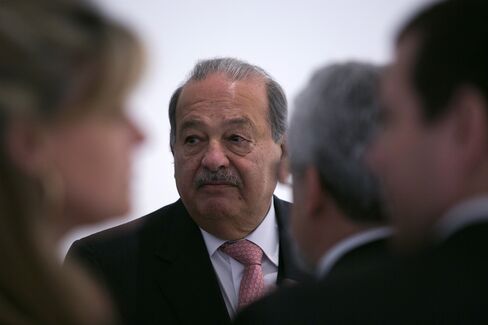 July 12 (Bloomberg) -- America Movil SAB's plan to break up its dominant Mexican phone unit opens the door for another international telecommunications giant to succeed where many, from Verizon Communications Inc. to NII Holdings Inc., have failed -- becoming a major competitor in Mexico.
Majority owner Carlos Slim announced earlier this week that America Movil, the country's biggest mobile and landline carrier, is seeking to sell assets to reduce its market share there below 50 percent. Potential buyers must have experience running a network and the financial wherewithal to invest, Slim's company said.
That puts at least 19 million mobile and landline subscribers up for grabs to companies that fit America Movil's parameters, whether it's a U.S. powerhouse like AT&T Inc., which is showing new interest in Latin America, or a multinational operator such as Vodafone Group Plc, which has experience in the developing world.
"There's a lot of space to grow in Mexico's mobile market," said Carlos de Legarreta, an analyst at Corporativo GBM SAB in Mexico City. "Whoever is willing to enter is going to look for an integrated operation, more than someone who just wants to offer one or two services. It presents an interesting opportunity, no doubt."
The surging demand in Mexico for mobile data and video may be more alluring now that America Movil's market power will be diminished. An America Movil press official didn't immediately respond to requests for comment.
Slim doesn't plan to sell America Movil's wireless towers in Mexico, instead renting them to competitors, he told Reuters two days ago. In an interview with Bloomberg News earlier this week, he said he remains bullish on Mexico.
One Requirement
America Movil is still determining which assets it will sell, and the only requirement it's outlined is that they shrink the company's subscriber base, which includes 70 percent of Mexico's wireless accounts and 80 percent of its landlines. The interested parties will depend largely on the assets the company chooses to sell, such as customers or network infrastructure, said Manuel Jimenez, an analyst at Grupo Financiero Banorte SAB, in a phone interview.
Entering Latin America would thrust an outsider into competition with America Movil's three largest rivals: Telefonica SA, Grupo Iusacell SA and NII's Nextel.
"America Movil said it wants to sell to a strong operator, with experience, that can surpass the investment obstacles of its competitors," Jimenez said.
Landline Option
One option would be to split off America Movil's Mexican landline network, along with some of home-phone and wireless customers, to create a new business, said Gregorio Tomassi, an analyst at Banco Itau BBA. To get regulatory backing, the new company would offer all competitors access to its landline network, while Slim's carrier would share its mobile infrastructure, he said. The two Mexican companies resulting from such a split would be similarly sized, he said.
"Slim is not thinking about selling the bad part and keeping the good -- he's going to try to maximize the value of America Movil while selling something that is attractive," Tomassi said. "It's a big opportunity because the two companies that would result are even bigger than the ones that already exist in the market."
America Movil can sell sections of its valuable fiber-optic cables that extend throughout Mexico's largest cities, where a new operator could potentially offer phone, Internet and TV services.
AT&T Candidate?
Slim's carrier has to persuade regulators to sign off on its breakup plan, so it must find a single strong, viable buyer that can make the market more competitive, Arturo Elias, a vice president at America Movil, said in a Mexico City radio interview this week.
AT&T, which parted ways this year with Slim by selling its stake in America Movil after 24 years, is a viable candidate for buying the assets, said David Heger, an analyst at Edward Jones & Co. with a buy rating on AT&T stock.
The U.S. company sold its 8.3 percent stake in Slim's carrier for $5.6 billion last month because it's acquiring DirecTV, which competes with Mexico City-based America Movil for TV customers in South and Central America. DirecTV also has a minority stake in Sky Mexico, the nation's largest satellite-TV company, giving AT&T a new investment in Mexico that it could seek to expand.
Low Penetration
"They might be able to come into the market and be creative and aggressive in pricing options, and may have a better ability to finance an operation than America Movil's prior competitors," Heger said about the Dallas-based company valued at $185 billion.
Latin America trails the developed world in the percentage of households that use pay-TV and high-speed broadband services, Heger said, making it an attractive target.
An acquisition would help bolster the Latin American presence that AT&T is gaining with the DirecTV deal without breaking the bank, said Thomas Lieu, a Dallas-based fund manager at Westwood Holdings Group Inc.
"It shouldn't stretch their balance sheet too much," Lieu, whose firm overseas about $19 billion including AT&T shares, said in a phone interview. Combining the America Movil assets with DirecTV's operations "makes some sense. They could leverage the two to help each other as an international strategy," he said.
Vodafone Experience
AT&T had $3.6 billion in cash and equivalents and $80 billion in total debt at the end of March, according to data compiled by Bloomberg. It's financing the $48.5 billion DirecTV acquisition with cash on hand, debt and funds from asset sales, including the America Movil stake. Brad Burns, an AT&T spokesman, declined to comment.
Among other companies that fit America Movil's description of potential buyers, Vodafone has experience in emerging markets such as India and enough leeway to explore acquisitions after its $130 billion sale of its Verizon Wireless stake, GBM's Legarreta said. On the other hand, the Newbury, England-based company is focused on Europe right now, which would limit its interest in Latin America, he said. Ben Padovan, a Vodafone spokesman, declined to comment.
Vodafone and most other international operators would be new entrants to Mexico with few opportunities for cost savings, Credit Suisse analyst Andrew Campbell said in a note this week. They would only consider it under highly favorable terms, he said.
Telefonica's Struggles
Telefonica, based in Madrid, has sought for years to expand its market share in Mexico above 20 percent, to no avail. The Spanish company has complained that regulators hurt smaller competitors by requiring industrywide fee cuts instead of singling out America Movil. A law passed by Congress this week would address those complaints, requiring Slim's company to eliminate some fees while competitors can still charge them.
A Telefonica press official, who can't be named under corporate policy, declined to comment on the company's possible interest in the Slim assets.
Iusacell is co-owned by Grupo Televisa SAB, which is also the majority owner of Sky Mexico -- meaning it will soon be partners with AT&T after the DirecTV deal closes. Billionaire Ricardo Salinas owns the other half of Iusacell.
Bitter Rivals
When Slim entered the phone business in 1990, Iusacell was the largest mobile-phone provider in Mexico's nascent wireless market. It struggled to keep up with America Movil's growth, even when Verizon and Vodafone took control of the business for a brief period a decade ago.
Televisa, which acquired its 50 percent stake in Iusacell in 2012, said this month it would like to use mergers to make the wireless company bigger and more competitive in Mexico.
Still, Televisa and America Movil compete bitterly for Internet and phone customers in Mexico, making it difficult to envision Slim selling America Movil's assets to one of his fiercest rivals.
While Slim aims to keep the wireless towers, he may try putting them into a real estate investment trust, said Itau's Tomassi.
"The tower business is intimately tied to real estate and the properties and agreements over the sites they're on," he said. "Slim likely has these towers on a real estate footprint that he controls, and no one will have the competitive advantage he has over controlling that real estate."
To contact the reporters on this story: Patricia Laya in Mexico City at playa2@bloomberg.net; Caitlin McCabe in New York at cmccabe11@bloomberg.net
To contact the editors responsible for this story: Sarah Rabil at srabil@bloomberg.net Crayton Harrison, John Lear