Singer's Wing Hang Stake Pits Him Against OCBC: Real M&A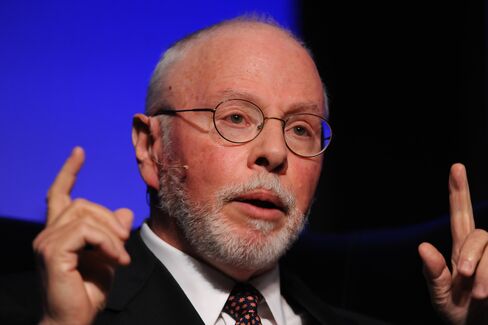 Billionaire hedge-fund manager Paul Singer may have met his match.
His Elliott Capital Advisors LP is in a face-off with Singapore's Oversea-Chinese Banking Corp. over a family-owned Hong Kong bank. OCBC is trying to buy Wing Hang Bank Ltd. for $5 billion, and Singer has amassed a 7.8 percent stake in what may be an attempt to extract a higher bid from OCBC, Mizuho Financial Group Inc. says. If Elliott gets a bigger stake or enough shareholder support, the hedge fund could stop OCBC's plans to delist Wing Hang and cap its ownership at 75 percent.
OCBC, which won regulatory approval for the deal last month, is buying Wing Hang because it offers a foothold in a growing international hub for yuan trading. While Elliott, fresh from a $1.5 billion court victory over Argentina, may want a better payoff, Sanford C. Bernstein & Co. says OCBC has little room to increase its HK$125-a-share offer. The Singapore-based bank also can beat out Elliott by holding firm longer than the investor, according to Maybank Kim Eng Research Pte.
"If I were OCBC, I would sit tight and sit pretty until the hedge fund managers have run out of patience and offloaded their shares in the open market," Wee Siang Ng, Singapore-based head of research at Maybank Kim Eng, said by phone.
Wing Hang fell 0.2 percent to HK$125.30 at the close in Hong Kong today, after earlier falling below OCBC's offer price for the first time since Elliott's stake was disclosed last week.
Buying Race
Wing Hang is among the last remaining family-owned banks in Hong Kong, a hub for crossborder financing and a launchpad into mainland China's financial services market.
OCBC, Southeast Asia's second-largest lender, offered HK$38.4 billion ($5 billion) for Wing Hang on April 1. By July 4, OCBC had garnered 50.4 percent of the shares, including those of Chairman Patrick Fung's family. A few days earlier, Elliott had raised its stake in Wing Hang to about 7.8 percent, also paying HK$125 for each share in its latest purchase.
In an interview yesterday in Singapore, OCBC Chief Executive Officer Samuel Tsien said the bank is paying a "very fair" price for Wing Hang and won't alter course because of Elliott.
"We know that they're there," Tsien said. "Would it distract us or change us from what we're currently doing? It will not."
Representatives for Wing Hang and Elliott in Hong Kong declined to comment.
Elliott Record
Singer, whose company had $24 billion of assets under management as of April 1, is laying bets in Asia after notching up a victory in South America. Last month, the U.S. Supreme Court left intact rulings that may force Argentina to pay billions of dollars to holders of repudiated bonds. The case was brought by bondholders led by Elliott that refused to provide Argentina debt relief following its 2001 default.
The Wing Hang standoff wouldn't be the first time Elliott has tried to use a stake to block a deal or push bidders to pay more.
In November 2007, Hong Kong builder Henderson Land Development Co. raised its bid for Henderson Investment Ltd.'s biggest asset by 7.3 percent. Elliott owned about 9 percent of Henderson Investment. In April 2008, minority shareholders of Pacific Century Premium Developments Ltd., then 16 percent-owned by Elliott, blocked a buyout by parent PCCW Ltd. Elliott sold its Pacific Century stake in 2012, after the company declared a special dividend in 2010.
Time Standoff
That's likely the type of strategy Elliott will employ in this case, according to Keith Pogson, a Hong Kong-based senior partner in the Asia-Pacific financial services practice at Ernst & Young Global Ltd. Elliott has generated a 14 percent cumulative annual return for investors since its inception in 1977, according to a fact sheet for the company.
"They're going to push OCBC to offer them some more money for the same deal," Pogson said in an interview. "That's what the game is."
Elliott's Wing Hang stake was valued yesterday at HK$3.02 billion after the shares closed at HK$125.60. While the hedge fund is betting it can profit from OCBC's desire to own 100 percent of the bank, the Singapore suitor may end up outlasting Elliott, said David Webb, founder of Webb-site.com, which provides corporate-governance reports on Hong Kong.
"OCBC may call their bluff and just stand pat," Webb said in an e-mail.
No Boost
Hong Kong regulations allow OCBC to delist Wing Hang once it owns 90 percent of the shares. Should it fall short, OCBC must ensure that at least 25 percent of Wing Hang stock remains in public hands, meaning it may have to sell shares to cut its stake. The offer closes July 29.
OCBC has already met its most important goal -- buying more than half of Wing Hang, CEO Tsien said in the interview.
"I'm pretty sure we can get more," Tsien said. "If we cannot get 90 percent, we'll keep the company listed."
It's not in OCBC's interests to increase the offer, said Desmond Chua, a market analyst at CMC Markets Singapore Pte. OCBC shares would slide amid investor concern it's overpaying for the deal, he said.
"It's already known to be quite a pricey undertaking," Chua said by phone. "I foresee problems if they go down the route of paying a premium to Elliott."
Before OCBC's interest, shares of Wing Hang, which was listed in 1993, had never reached HK$125. The current offer price values Wing Hang at the highest earnings multiple of any Hong Kong bank, according to data compiled by Bloomberg.
Shareholder Desires
OCBC risks losing any benefit it stood to reap from the acquisition should it sweeten its offer, said Kevin Kwek, an analyst at Bernstein.
"They were facing some challenges making it pay off anyway," he said by phone from Singapore. "It already hangs on strong execution and everything falling into place."
Even so, the stock has been rallying above the OCBC offer this week, signaling some investors may be convinced OCBC could pay more. OCBC is paying 1.8 times book value for Wing Hang, less than the 2.1 multiple Yue Xiu Group offered for Chong Hing Bank Ltd. last year, according to data compiled by Bloomberg. Including the special dividend from a property sale, Yue Xiu's bid valued the lender at 2.35 times book value, according to a Barclays Plc report at the time.
"The general view in the market place was that OCBC got a bargain on Wing Hang," Pogson said. "We're not talking a big bargain, but a slight bargain."
Also, Elliott's investment time horizon could stretch beyond OCBC's current offer, said Kwek at Bernstein.
"They're saying, 'we have a unique opportunity to corner a stake that, at some point, OCBC will come paying a premium for,'" Kwek said.
Still, unless Elliott can generate a return of at least 20 percent on its Wing Hang investment, it's not worth the battle, Maybank Kim Eng's Ng said.
"Whenever you're fighting a hedge fund manager, what's on your side is time," Ng said. "Regardless of how rich they are, they still need a certain return."
Before it's here, it's on the Bloomberg Terminal.
LEARN MORE