Piggy Banks Being Raided Signal Swedish Housing Dilemma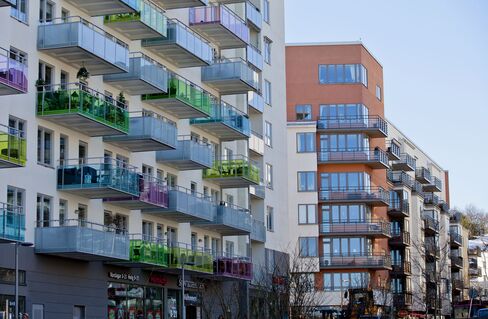 Increasing numbers of Swedes are turning to family and friends for help in buying a home, side stepping government efforts to cool soaring housing prices and growth in private debt.
Swedes who received non-bank assistance to fund mortgages rose to 52 percent in the period from 2012 to 2014, the highest level since at least the 1970s and up from 25 percent in the early 2000s, according to data last month from state-owned mortgage lender SBAB.
The rising numbers seeking help to buy a home are a sign that Sweden is struggling to find answers to rising personal debt even after the government capped mortgages at 85 percent of a property's value in 2010 to slow house-price growth. Prior to that, first-time buyers could often get a loan covering 100 percent of the purchase price.
"The big problem for policy makers is the high household indebtedness," said Bengt Hansson, an analyst at Sweden's National Board of Housing, Building and Planning, in an interview last month. "It's obvious by now that the loan-to-value cap hasn't been sufficient to solve the debt problem and a stronger amortization culture is long overdue."
The lack of rental housing and the difficulty of being able to afford a first home have left many young adults struggling to start their own lives. Almost a quarter of Swedes 18 to 34 were living with their parents in 2012, compared with 19 percent a decade ago, according to Eurostat.
"The combination of the mortgage cap and price gains have resulted in more people needing help with the down payment," Tor Borg, chief economist at SBAB, said in an interview last month. "This is a big problem for the young in particular."
Further Measures?
That development looks unlikely to change, as policy makers contemplate further measures to stem debt growth. The financial regulator, which has twice raised the risk weights banks must apply to their mortgage assets, has said it would consider lowering the mortgage cap further if problems persist and the government is now preparing to force amortization.
Low rates over the past years and a limited housing supply have fueled a surge in home prices and pushed debt levels to records in the $550 billion economy.
Directly Contain
Sweden's main bank association in May recommended lenders force more borrowers to pay down their home loans. The Swedish Bankers' Association will ask banks to force households to amortize on mortgages that exceed 70 percent of the property value, from a previous level of 75 percent.
The International Monetary Fund in June called for more measures to curb household debt, suggesting Sweden should consider lowering the cap on mortgages to 75 percent, introduce binding amortization periods, consider debt service-to-income limits and cutting the tax deductibility on interest costs.
"To stem the increase in already high levels of household debt, moving beyond credit supply measures to directly contain mortgage demand is a priority," the IMF said on June 13.
The central bank, which had been reluctant to lower rates because of the high debt burdens, last week cut its benchmark rate by a more than estimated half a point to defend against deflation and said it was now urgent that the government step in to cool debt growth.
Complicated Rules
The number of households with mortgages representing more than 85 percent of property values has declined to 6.4 percent in 2013 from 14.5 percent in 2010, the regulator said in March. The average loan-to-value ratio on new mortgages was 70 percent last year, rising to 71 percent if unsecured loans taken by some Swedes to help cover the cash payment are included.
The average debt burden has almost doubled since the mid-1990s to a record 175 percent of disposable incomes and is forecast to continue rising. Homeowners owe creditors an average 370 percent, according to the Riksbank. Apartment prices jumped an annual 9 percent in May while house prices rose 7 percent, according to data from Svensk Maeklarstatistik.
While SBAB's Borg welcomed measures to contain private debt growth, he said policy makers should shift focus from mortgages to the lack of housing supply to help unlock the market.
"I'd like to see less complicated rules for building new homes, reforms of rent levels and lower income gains taxes on housing to increase turnover on the housing market," he said.