Turkey Embracing Iraq's Kurds as Trade Erodes Old Enmity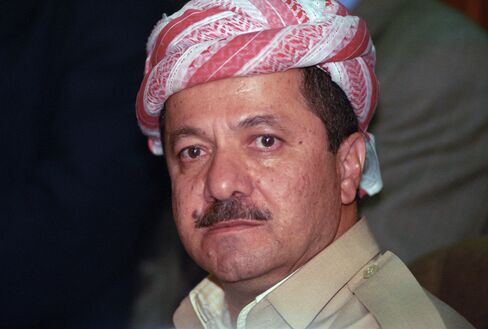 July 11 (Bloomberg) -- Once branded an enemy of the state, the leader of Iraq's Kurds, Massoud Barzani, has become Turkey's best friend in the Middle East.
For decades, Turkey regarded Barzani's aspirations for independence as an incitement to ethnic Kurds on its soil who had taken up arms for self-governance. During the 2003 U.S. invasion to topple Saddam Hussein, Turkey came close to sending troops into northern Iraq to prevent the Kurds extending their borders to oil-rich Kirkuk. Last month, amid Iraq's latest crisis, Kirkuk fell to the Kurds without a fight, and without any sign of Turkish concern.
A trade boom with the Iraqi Kurds in the intervening decade has changed the perspective. As the Kurdish oil industry expands, Turkey offers the sole route to market, and as the proceeds fuel a resurgent economy in the stablest part of Iraq, Turkish companies provide builders and consumer goods. At home, Prime Minister Recep Tayyip Erdogan has taken the once-taboo step of starting peace talks with armed Kurdish rebels.
"The main reason behind the change of Turkey's stance toward the Iraqi Kurds and Barzani lies in its commercial interests," Nihat Ali Ozcan, an analyst at the Economic Policy Research Foundation in Ankara, said by phone on July 9. "The Turkish government has stopped viewing Kurds both at home and in Iraq as a threat to its unity. It's now seeking to exert economic and political influence over them."
Islamist Insurgents
Trade with the Kurdish region of 4 million people accounts for a growing share of Turkey's exports to Iraq, which reached $12 billion last year, making it the second-biggest market after Germany. About 1,300 Turkish companies are working in the Kurdish region. And the Kurds' estimated 45 billion barrels of oil reserves offer an alternative supply for Turkey's $800 billion economy, which is dependent on energy imports.
The relationship has flowered as other Middle Eastern ties were fraying. Since the wave of Arab unrest in 2011, Turkey has fallen out with former allies in Syria, Egypt and the Persian Gulf. Both Erdogan and Barzani have been at loggerheads with Nouri al-Maliki's Iraqi government.
Barzani swung the long-standing dispute with Baghdad over territory and oil revenue in the Kurds' favor after Islamist insurgents seized Mosul and other Iraqi towns last month. As Maliki's army fled, Kurdish forces took full control of Kirkuk, home to the largest northern oil field. In a further advance today, they seized more energy assets in the region.
'Irreversible' Change
Barzani called the move into Kirkuk irreversible and asked officials to prepare for a referendum on Kurdish independence, as U.S. Secretary of State John Kerry flew to the Kurdish capital Erbil to seek assurances that Iraq would remain united.
After increasingly bitter exchanges, the Kurds' involvement in Maliki's government ended today with an official suspension of ties, the Al Arabiya satellite channel reported, without elaborating. A statement from the Kurdish regional government accused Maliki of being "hysterical" after claiming the Kurds were "harboring terrorists."
Whatever the future shape of Iraq, Turkey is laying the groundwork for closer political and economic relations with the Kurds "once the military situation on the ground resolves itself," Charles Dunne, director of Middle East and North Africa programs at Freedom House, a research institute in Washington., said by e-mail on July 2.
It will probably remain wary of outright statehood for the Kurds, which still carries domestic risks, said Dunne. "Successful moves toward Kurdish independence in Iraq, which appear to be gaining momentum, will increase demands for political autonomy or even independence in neighboring states that also have large Kurdish populations."
Kirkuk Claim
Turkey's fight with Kurdish insurgents has been long and bloody. As many as 40,000 people have been killed since 1984 as the military sought to suppress guerrillas from the Kurdistan Workers' Party, or PKK.
Erdogan's peace initiative led the group's leader Abdullah Ocalan to call for a cease-fire last year, and order his fighters to leave Turkish soil. Lawmakers in Ankara yesterday approved a bill to improve rights for Kurds and disarm militants. Erdogan has political reasons for seeking to meet the Kurds' demands, since their votes may be key to his bid for the presidency in next month's election.
The first leaders of the Turkish republic, founded in 1923, sought to include Kirkuk and Mosul within its borders. Turkey abandoned its claim to the territory in 1926, yet it has continued to seek influence there. The Turkish army has stationed a tank battalion near the Iraqi frontier town of Bamerni for almost two decades, and it has frequently sent planes and troops across the border to target PKK fighters who used the region as a springboard for attacks.
Turkey Leverage
Under a 2013 deal with the administration in Erbil, Turkey has since May allowed exports of Kurdish oil through its Mediterranean Sea terminal at Ceyhan, dismissing legal action by the Iraqi federal government, which calls the trade illegal.
Last week Genel Energy Plc, the oil explorer headed by former BP Plc Chief Executive Officer Tony Hayward, said Kurdish production jumped by a third in June to 84,000 barrels a day. The Kurdish regional administration has sold a cargo of oil at international prices and deposited the proceeds in a Turkish bank, Genel said.
If there's any sign now that separatist sentiment is spreading across the border, the Iraqi Kurds' economic dependence on Turkey will give Erdogan some leverage, according to Ozcan. "Turkey is controlling the valve of the pipeline that carries oil from Kurdish-held northern Iraq to the world."
To contact the reporter on this story: Selcan Hacaoglu in Ankara at shacaoglu@bloomberg.net
To contact the editors responsible for this story: Alaa Shahine at asalha@bloomberg.net Mark Williams, Ben Holland