Tesco Hires M&S Finance Chief Stewart to Bolster Clarke Team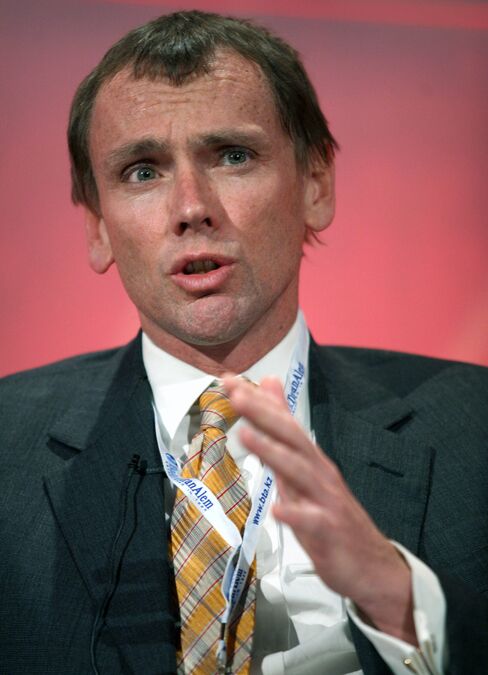 Tesco Plc recruited Marks & Spencer Group Plc Chief Financial Officer Alan Stewart as the U.K.'s biggest supermarket owner taps the country's largest clothing retailer to shore up its executive team.
Stewart, 54, will join after contractual obligations with Marks & Spencer have been met, Cheshunt, England-based Tesco said today in a statement. He will replace Laurie McIlwee, whose departure was announced in April amid reports of differences over strategy with Chief Executive Officer Philip Clarke.
Tesco is seeking to strengthen its leadership after the departure of six directors since Clarke took over as CEO in March 2011. The loss of Stewart is a blow for Marks & Spencer CEO Marc Bolland, who this week reported a 12th straight quarterly decline in non-food sales.
Stewart "is well-liked by the investor community and he was good at finding areas of cost cutting at M&S," said Jamie Merriman, an analyst at Sanford C. Bernstein in London who has known the executive for three years. "He is not really known for setting strategic direction though."
The new CFO has the depth of experience to "play a leading role in the transformation of Tesco," CEO Clarke said. Stewart's previous roles include running U.K. operations for Thomas Cook Group Plc, a tourism and travel company, and serving as CFO at companies including WH Smith Plc, a retailer of books and newspapers.
Share Performance
Stewart, a Scot who grew up in South Africa, is joining a retailer that's under increasing pressure from investors impatient with Clarke's inability to turn the business around as shoppers defect to discounters and more upscale stores, including Marks & Spencer. Tesco shares have dropped about 30 percent since Clarke took the helm three years ago and are close to a 10-year low.
"Alan Stewart was one of the likely targeted hires from the retail sector," though the company was probably looking to hire a CFO from an international consumer goods company, John Kershaw, an analyst at Exane BNP Paribas in London, said in an e-mailed note. "M&S sort of qualifies but we were expecting someone from Unilever or the like."
Clarke pleaded for more time from shareholders at the annual general meeting on June 27, saying the company is undergoing its "most radical" changes in years.
Lower Prices
He has maintained that it's impossible to beat the discounters on price and that success hinges on refreshing large stores and retraining staff. Even so, he announced in February that the retailer would invest at least 200 million pounds ($342 million) a year to lower prices on essential food items such as milk, eggs and produce.
Marks & Spencer's food business, which concentrates on upscale own-brand ready meals and fresh produce, has outperformed its clothing range. Same-store sales at the food unit advanced 1.7 percent in the first quarter, the company said July 8.
Stewart's recruitment is "a solid appointment for Tesco but an unhelpful disruption for M&S," said Richard Marwood, who helps oversee about $700 billion in assets at Axa Investment Managers in London, including Tesco and Marks & Spencer stock.
Tesco shares rose as much as 0.9 percent and were up 0.4 percent at 280.55 pence at 2:31 p.m. in London. Marks & Spencer fell 0.1 percent to 417.40 pence.
Stewart will receive a basic annual salary of 750,000 pounds and standard benefits, Tesco said. That's 30 percent more than the 579,000 pounds in basic pay he earned at M&S. He will be granted replacement share awards worth 1.74 million pounds in lieu of deferred M&S awards that he will forfeit, the grocer said.
Before it's here, it's on the Bloomberg Terminal.
LEARN MORE