Sterling Trust Revocation Seen Putting Bank Loans at Risk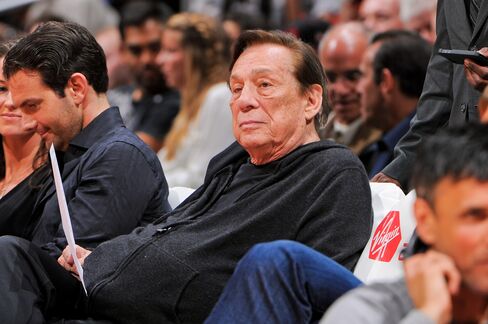 Donald Sterling's revocation of a family trust in his fight to retain the Los Angeles Clippers gives banks the right to call in $500 million in loans, his wife testified at a trial over the basketball team's sale.
Sterling revoked the Sterling Family Trust after his wife removed him as a co-trustee to sell the National Basketball Association franchise without his consent. The trust doesn't have $500 million in cash and would need to sell property if the banks seek payment, Shelly Sterling said yesterday.
She is asking a state probate judge in Los Angeles to rule that she has authority to close the $2 billion sale of the Clippers to former Microsoft Corp. Chief Executive Officer Steve Ballmer. Donald Sterling, 80, claims his wife of 58 years duped him into being examined in May by two doctors who found him to be mentally incapacitated.
California Superior Court Judge Michael Levanas, who's been presiding over the trial, ordered both sides back on July 21 to resume testimony. The NBA has said it may force a sale if Donald Sterling delays the deal beyond Sept. 15. The sale was scheduled to close July 15.
"He was very happy and proud of me," Shelly Sterling testified yesterday about when she first told her husband she had an agreement to sell the team to Ballmer for a record price for an NBA team. "He said 'Wow, you did a really good job.'"
Biggest Concern
She said her husband's biggest concern was to sell the team before June 3, when the league planned to take action to seize it.
The NBA banned Donald Sterling for life and fined him $2.5 million in April after TMZ.com reported that he told a girlfriend in a secretly recorded conversation that he didn't want her to bring black people to Clippers games or post photos online of herself with former NBA All-Star Earvin "Magic" Johnson.
After agreeing in May to let his wife sell the team, Sterling reversed himself and sued the NBA in federal court in Los Angeles the day after Ballmer agreed to buy it.
Sterling said in testimony earlier this week that he'll "never, ever" sell the Clippers, and that he'll sue the NBA until the day he dies. He called his wife a "pig" in court after testimony had ended that day.
One of the Sterling Family Trust loans, for $350 million, was made by Bank of America Corp., said two people with direct knowledge of the agreement who requested anonymity because of pending litigation. Bank of America advised Shelly Sterling on the sale of the team.
The trust put up $2 billion in real estate as collateral for the loan, the people said. Shelly Sterling said she intends to use proceeds from the team sale to Ballmer to pay off the banks. She was allowed yesterday by Levanas to answer questions about the loans over objections by her husband's lawyers.
Bank of America
Bill Halldin, a spokesman for Charlotte, North Carolina-based Bank of America, declined to comment about what the revocation of the trust means for the loans.
"That's outside my bailiwick," Max Blecher, an attorney for Donald Sterling, said in an e-mail. "So far as I know the banks have not reacted."
Sterling, a billionaire, testified that his real estate holdings are financed with mortgages and named Bank of America as an institution with which he has loans. He owns more than 200 buildings, he said.
'Everything' Mortgaged
"There's a mortgage on everything in the world," he said, adding that he's never been late or missed a payment in 50 years.
Gary Ruttenberg, one of Donald Sterling's lawyers, asked Levanas yesterday to exclude the evidence from the two doctors who examined Sterling and diagnosed him with Alzheimer's disease. The lawyer said the doctors went behind his client's back and violated his privacy rights by helping Shelly Sterling and her attorneys to have him declared incompetent.
Shelly Sterling, under cross-examination, denied she was aware of communications between her lawyers and the doctors, including one of the doctors billing the trust for 5 1/2 hours she spent consulting with the lawyers.
Ruttenberg said he will call Shelly Sterling's lawyer,Pierce O'Donnell, to testify under oath about what he discussed with the doctors.
Levanas reserved judgment on Ruttenberg's request to strike the doctors' testimony.
The case is In the Matter of the Sterling Family Trust, BP152858, California Superior Court, Los Angeles County (Los Angeles).